Sterling VA's Best Maid Services For Home Cleanings of All Sizes!
Trustworthy, Professional Home Cleaning Services In Sterling, VA
With over 19 years in the business, Maid Bright is the number one family-owned and -operated Sterling maid service. We clean to make your life easier and brighter. No job is too big or small. We have the staff, the vehicles, and the equipment to do it all. Our professional cleaners are background-checked for security purposes and to ensure that they have the experience to get the job done right. Customer satisfaction in our maid services is our top priority, and we scrub hard to make your life easier.
There's nothing worse than coming home from a hard day at work ready to cook a huge meal for your family then realizing that you have a ton of housecleaning to do. Let's face it. Taking care of a family, maintaining a career, and dealing with piles of dishes is overwhelming at best. Hiring a professional home-cleaning service can give you the tidy house and peace of mind that you deserve without lifting a finger.
Recurring Cleaning Service

The first time we clean your home, we get a feel for what you need and your preferences. We note areas that require deep cleans and hit every room in your home.

Moving Cleaning

Moving to a new home is daunting. There is much to do, and the last thing you have time for is providing the deep clean you need before moving into or out of a home. Let us do it for you and take something off your plate.

First-Time Cleaning

The first time we clean your home, we get a feel for what you need and your preferences. We note areas that require deep cleans and hit every room in your home.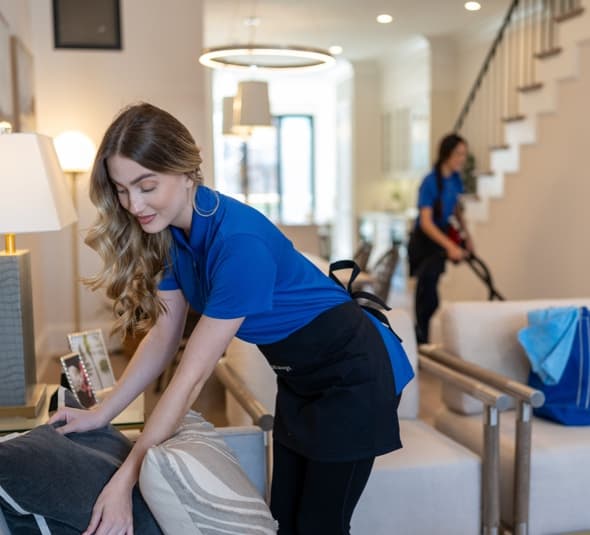 Custom Home Cleaning Services
Every home has different needs, and that's why we offer tailor-made cleaning packages designed to meet the requirements of every customer. Whether you want a one-time cleaning for a big event, a little tidying, or a thorough scrub, we'll get the job done, so you don't have to.
Afraid to commit? Don't worry because we have you covered. Maid Bright offers an initial cleaning package that allows us to demonstrate our skills so you can inspect the quality of our work and feel assured that you're satisfied before you sign up for recurring services. When you're ready to commit, we'll create a cleaning schedule that works for you.
Just need maids in Sterling, VA for a one-time gig? Our crews will save you a fortune in time by cleaning your space for your special event. Impress your friends and colleagues with a spotless home without overworking yourself. We also offer move-in and move-out services, so your home is pristine before you change residences. We know you're busy, and that's why we're committed to saving you time so that you can relax and precious hours with your family while you enjoy your fresh, clean home.
Our Locations
When we clean for you, we don't just clean. We go beyond your expectations. Our professionals are highly trained individuals who go through a rigorous background check so that you can trust your home with us. We serve some of the greatest cities in the DMV including:
Work With a Trusted Cleaning Company Today!
Schedule your free in-home estimate in Sterling, VA today. A Maid Bright Manager will evaluate your home, discuss any special instructions, and provide you with a free quote today. On the day of the cleaning, your crew will leave your home cleaner than it's ever been before.
We are dedicated to providing you with a cleaning experience that exceeds your expectations and leaves a lasting impression.
Yusuf Mehmetoglu
CEO of Maid Bright