It's Time to Get Your Time Back!
Special house cleaning services in McLean, VA
Maid Bright is your local partner for quality and reliable cleaning services in Mclean, VA. We believe that professional cleaning is more than just leaving your home sparkling clean, so we only hire quality staff and use only safe, environmentally friendly products. Our team goes through thorough background checks, ensuring your home is always safe in our hands. Quality service is our number one goal. If you are not 100 percent satisfied, we will always make it right.
Cleaning can be a burden, but your McLean Maid Bright team is ready to do the dirty work for you. When you partner with us, you gain valuable time back in your day, allowing you to spend more time with friends and family. We know that you would rather come home and relax than wipe your baseboards, so let us help!
Getting started is easy. A Maid Bright manager is ready to create a customized cleaning plan for your unique needs. Call for your free estimate today!
Free Consultation

When you call in the Dunn Loring Maid Bright team, you get a completely free initial consultation. In this time, we go over everything we offer and how we can get your home as clean as can be.

Client-First Focus

We always show up promptly for your requested scheduled time, and we're ready to get to work when we get there. The Maid Bright team also checks in periodically to verify the quality of service and make any needed adjustments.

We Clean Every Inch

At Maid Bright, we believe in exceeding expectations and leaving your home sparkling clean from corner to corner. Our detail-oriented staff goes beyond the standard areas to ensure a full service cleaning, door knobs, drip pans, and other often-forgotten items.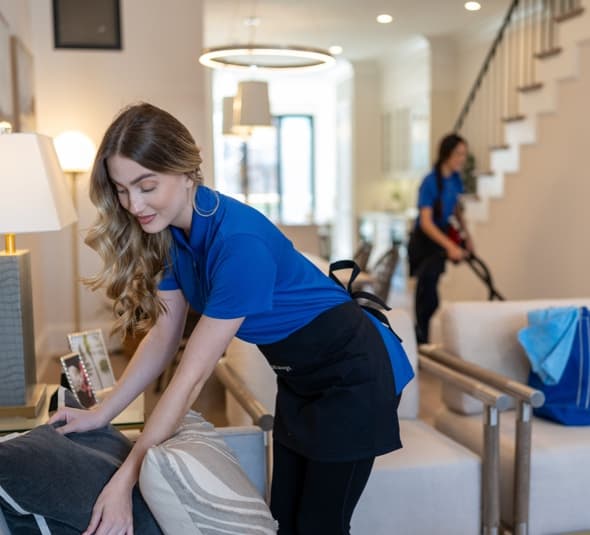 Best McLean Cleaning Professionals
Cleanings as unique as you! Every client is different, so we offer a variety of services to meet each of their needs. Whether you are looking for a one-time visit to prepare for your holiday party, or weekly visits to help with everyday cleaning needs, Maid Bright has you covered.
As a family-owned cleaning company we believe in tailoring our services to you, not the other way around. We offer free, no obligation in-home estimates, so it is easy to create a cleaning plan that works for both your budget and your home. Don't wait — call today to create your custom cleaning plan!
Our Locations
When we clean for you, we don't just clean. We go beyond your expectations. Our professionals are highly trained individuals who go through a rigorous background check so that you can trust your home with us. We serve some of the greatest cities in the DMV including:
How Maid Bright Works
Are you ready for service that sparkles and a home that shines? Give Maid Bright a call today to schedule your free in-home, no obligation assessment and receive customized recommendations for your home and budget! Don't let your busy schedule stand in the way of a clean home — let Maid Bright be the solution to your busy schedule.
We are dedicated to providing you with a cleaning experience that exceeds your expectations and leaves a lasting impression.
Yusuf Mehmetoglu
CEO of Maid Bright