Make Your Dunn Loring, VA Home Shine Like Never Before!
Professional and Reliable Home Cleanings Services in Dunn Loring, VA
Dunn Loring has become one of the most exciting places to live in Northern Virginia. You can spend an entire day at the Mosaic shopping center and never run out of things to do. Enjoy cuisine from around the world at nearby family-owned restaurants or ride into D.C. on the Metro and take part in one of the many cultural activities downtown. With so much to do, the last thing you want is to spend your valuable time cleaning your home.
We have a solution. Let Maid Bright do the things you don't want to — cleaning your home until it sparkles. Our team has the knowledge, experience, and motivation to whip your home into shape. Contact us today to schedule a no-obligation in-home consultation and learn more about how we can help you.
Free Consultation

When you call in the Dunn Loring Maid Bright team, you get a completely free initial consultation. In this time, we go over everything we offer and how we can get your home as clean as can be.

We Have a Client First Focus

Our crew makes it a goal to get your home to be the cleanest in the neighborhood! We're also on time for every cleaning. We know how important your time is, and that's why we take it seriously.

Satisfaction Guaranteed

The Dunn Loring team here at Maid Bright knows how to clean all the little details. When something is hard to reach or tucked away, our team gets in there and cleans it right up so that your home is sparkling again.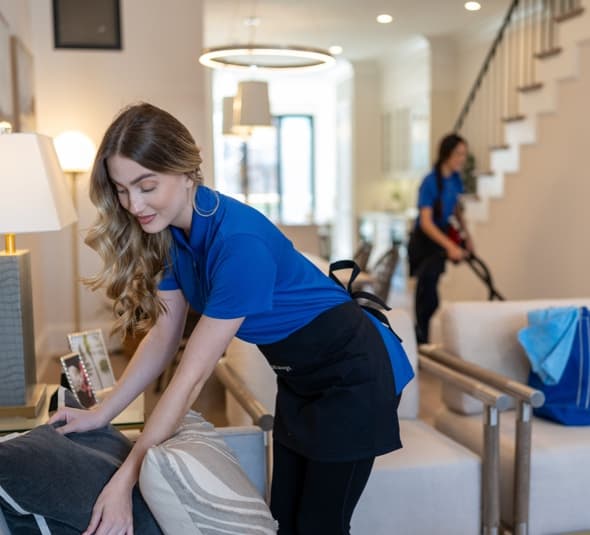 Professional and Deep Cleaning in Dunn Loring
If you have a Dunn Loring home that needs cleaning, we're the company for you. Our family-owned business values not only your home, but also your time. Our service is extremely reliable so that you can count on us when you need us. All our packages come at affordable costs.
The team shows you how much your home matters to us by going above and beyond when we clean for you. All our staff are not only highly trained professionals, they are also put through a rigorous background check so that you know you can trust them. When we work with you, your home is safe and sound.
Are you stressed about not having enough time for family? We're here for you! The Dunn Loring Maid Bright team is standing by to make your house spic and span. Ready to start? Great, so are we. Give us a call now for your personalized cleaning plan.
Our Locations
When we clean for you, we don't just clean. We go beyond your expectations. Our professionals are highly trained individuals who go through a rigorous background check so that you can trust your home with us. We serve some of the greatest cities in the DMV including:
Schedule Your Free Estimate Today
Are you prepared to get started having a happy and clean home? All you need to do is call us and we'll set up your no-obligation cleaning assessment. When you're ready for an offer that fits your vision and your budget, we'll be ready to take care of you. Here at Maid Bright we take the stress out of cleaning and make your life far simpler. Call us at (888) 624-3274, book a cleaning online, or fill out our estimate form.
We are dedicated to providing you with a cleaning experience that exceeds your expectations and leaves a lasting impression.
Yusuf Mehmetoglu
CEO of Maid Bright