Enjoy a Spotless Home in Maryland
Maid Bright is a trusted, award winning residential cleaning service in Montogomery County, Maryland that can help you maintain your home with personalized plans. With our services, we can ensure your home is a clean space to relax and create memories. Whether you are getting ready to sell your home or you are looking for a bi-weekly service, we can provide a customized cleaning plan for you.
When you choose Maid Bright to tackle your cleaning needs, you're hiring a family-run business that is dedicated to building strong relationships and providing high-quality services to the local Montogomery County area. A job isn't just a job for us — it is another opportunity to strive for excellence and save you valuable time that you can spend with your loved ones.
Detailed Cleaning

At Maid Bright, our client-first mentality helps us maintain your home and exceed your expectations. We clean your house from top to bottom using our detailed checklist and even get into the areas you never knew were dirty.

Free Estimates

With our free in-home consultations, we provide transparent estimates to ensure you know exactly how much our services will cost.

Professional Team

We only hire professional individuals who are knowledgeable about our high standards and will do whatever it takes to make sure your needs are met. They will show up to your house on time, geared up and ready to clean!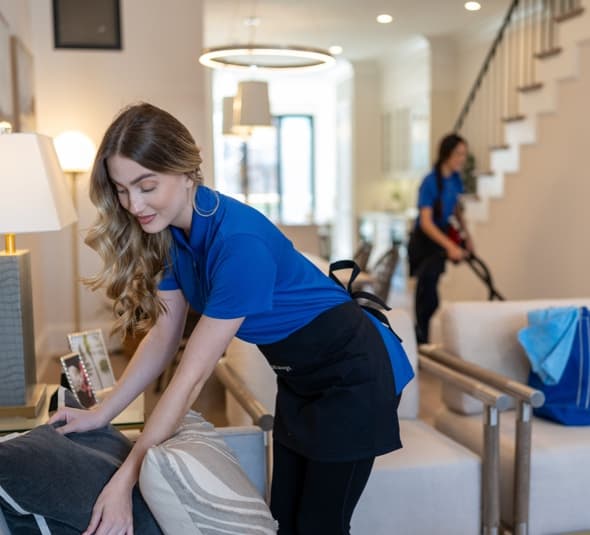 Efficient, Professional Home Cleanings For Homes of All Sizes
With 17 years in the industry, Maid Bright is a family-owned, trusted, and reliable source for professional maid services in Maryland. Our primary objective is to make life easier with excellent home cleaning services. We are well-furnished with the essential tools, equipment, and vehicles for any job size.
We Do Our Part for the Environment
At Maid Bright, we only use environmentally friendly cleaning products to clean your home. These solutions have the industry Green Seal of Approval deeming them safe for kids and pets. Our cleaning supplies effectively remove tough stains and dirt with safe chemicals that protect your family from harm.
Make Your House Shine With Maid Bright
Are you ready to say goodbye to the stress of cleaning your home? We'll take on the responsibility of turning your Montogomery County, Maryland home into a refreshing sanctuary. Book your cleaning now by calling 1-888-624-3274 or visiting us online to set up your free in-home consultation or virtual estimate today!
We are dedicated to providing you with a cleaning experience that exceeds your expectations and leaves a lasting impression.
Yusuf Mehmetoglu
CEO of Maid Bright
Check out some of the great cities we service in Maryland: