An Awe-Inspiring Clean for Your Home in Glen Echo
This on-demand cleaning service is right at your fingertips. Your local Maid Bright is the absolute best place for high-quality residential cleaning. We offer impeccable services at a price that fits your budget. And every one of our services is backed by our 100 percent satisfaction guarantee.
Free Quotes

We provide a free, no-obligation, in-home estimate with every new customer. After getting to know you and your space, we'll be able to explain our services better and develop a customized plan at an incredible price.

We Care About Your Satisfaction

Our team is professionally trained to offer you the best services at the highest quality possible. If you're ever unhappy with our services, call us within 24 hours, and we'll come right back to your home to ensure your satisfaction.

We Cover Every Corner

If our cleaning doesn't exceed every expectation, then we're not done cleaning. Our keen-eyed staff goes above and beyond to ensure that your home is polished from top to bottom, including the spots often forgot, like doorknobs and stove handles.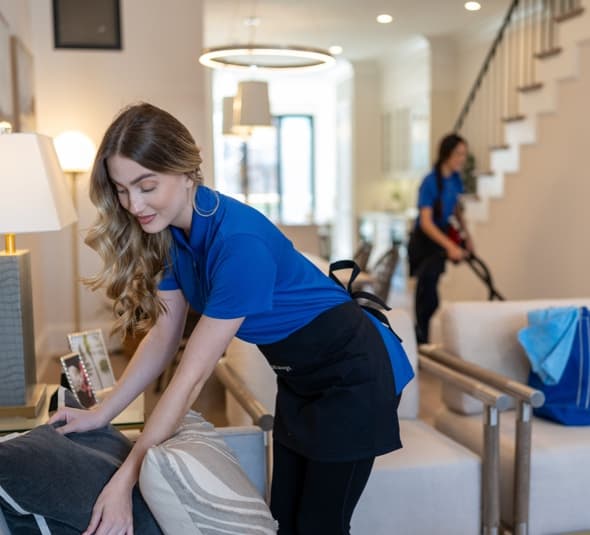 Stunningly Clean Homes, Tailored to You
As a family-owned and operated cleaning company, we pride ourselves in customizing our services to your budget and needs. Take advantage of our free, no-obligation, in-home estimates, and we'll create a cleaning plan tailored to your home and schedule.
Whatever your needs – be it a one-time cleaning for a special event or weekly visits to keep your home in tip-top shape – we have you covered. So what are you waiting for? Call us today for your custom cleaning.
On-Demand Cleaning Services in Glen Echo, MD
We don't just focus on leaving your home sparkling clean – though that's a high priority for us, too. We also care about keeping your home safe and secure. That's why we only hire professional staff that goes through extensive background checks. And we believe in cleaning green, so all of our products are environmentally-friendly.
We know cleaning can take up a lot of your free time. Our experts want to take over your chores so that you're free to enjoy your weekends and downtime. Spend your days off doing what you want to do, and we'll take care of scrubbing the toilets and mopping the floors.
Getting started is easy. We're ready to create a customized cleaning plan for you today. Just pick up the phone and call us for your free, no-obligation estimate.
Get Your Free In-Home Estimate Today
You deserve a Glen Echo home that inspires envy in every person who steps foot in it. Call Maid Bright today to schedule your free, in-home cleaning assessment, and we'll get started on a personalized plan for you. Your busy schedule won't be able to stand in the way of a clean home anymore.
With Maid Bright, your home will always shine.
We are dedicated to providing you with a cleaning experience that exceeds your expectations and leaves a lasting impression.
Yusuf Mehmetoglu
CEO of Maid Bright
Interested in our other service areas? We serve some of the greatest cities in the DMV including: