Enjoy a Spotless Home in Washington, D.C.
Providing Reliable, Trustworthy Maid Services In Washington, DC, Since 2004
Do you keep wondering how you're going to manage taking care of yourself and your family? Maybe even your career, plus the dirt, dust, laundry, and dishes that pile up throughout your residence? Despite your best efforts, home cleaning cuts into your free time week after week. Therefore, hiring a professional home cleaning company in Washington, DC, is the answer to your daily concerns. No more worries about how you will manage to keep your home clean, safe, and healthy for your family.
Give us a call today to find out how you can enjoy an immaculate home each week without lifting a finger. Get your free quote today, and leave the cleaning to the professionals!
Environment Friendly Products

We use green cleaning products and methods that we know are safe for your family, your pets, and the environment. Every product we use has earned the industry's Green Seal of Approval, certifying they aren't harmful to the planet or your household members.

We Leave No Corner Behind

Our Washington DC cleaning crews go to great lengths to provide detailed cleanings, giving attention to every inch of your home. From the ceiling to the baseboards we ensure no corner is left behind. We utilize a comprehensive checklist to ensure a thorough cleaning.

Free In-Home Estimate

We never begin cleaning a home without the customer understanding our pricing model up front. Give us a call today for a quote! A Maid Bright manager will tour your home, understand any special instructions you may have, and provide you with an estimate.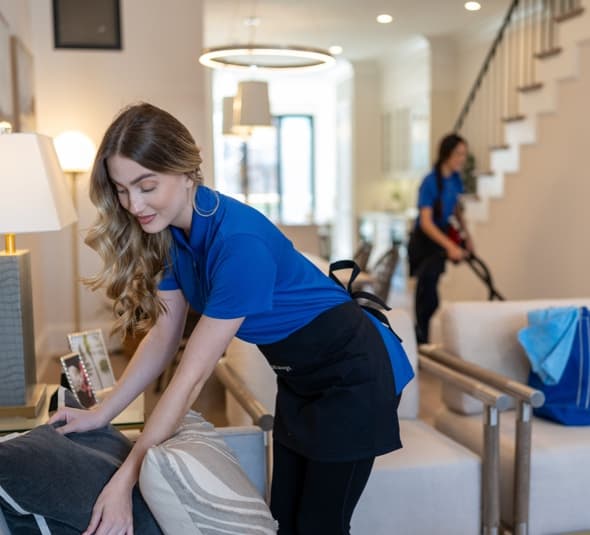 A Prompt, Professional Team
When you trust Maid Bright to handle your home cleaning services in Washington, DC, you can be confident in the reliability and quality of our work. We choose each one of our employees carefully based on their past employment and references. Then, each one is trained by one of our supervisors to ensure they have mastered our cleaning techniques before they come to your home.
Our cleaning team will come to your home with a Maid Bright supervisor to guarantee safe, top-quality service. This policy, plus the fact that our team is equipped with all the tools and eco-friendly cleaning supplies needed, ensures that you'll always experience a spotlessly clean home.
We are also proud to deliver prompt service. When you call us and schedule an appointment, we will always be there on time and respect your home and belongings as if they were our own. If you provide us with your house key, you can be confident that we'll keep it safe and secure. We store each key in our Maid Bright lockbox system, with additional security measures in place.
Efficient, Professional DC Home Cleanings For Homes of All Sizes
Our top-rated, vetted local professionals are all background-checked and have the right skills and expertise required. We have been serving residential clients with top-notch services at competitive rates for over a decade. Moreover, customer satisfaction is our primary goal. We aim to leave our clients happy with their homes looking fresh, sparkling clean, and beautiful.
Begin Living A Cleaner Life Today With Our Cleaning Services in Washington, DC
Schedule your free in-home estimate today. A Maid Bright Manager will evaluate your home, discuss any special instructions, and provide you with a free quote today. On the day of the cleaning, your crew will leave your home cleaner than it's ever been before.
We are dedicated to providing you with a cleaning experience that exceeds your expectations and leaves a lasting impression.
Yusuf Mehmetoglu
CEO of Maid Bright