Enjoy a Spotless Home in Northern Virginia
When there isn't enough time in the day to achieve everything you want to, consider using Maid Bright's cleaning services to keep your house tidy. We're Northern VAs leading residential cleaning company. With our help, you can come home to a fresh and clean area after running errands all afternoon. Our dedicated cleaning service will put your schedule and needs first.
Maid Bright has been a family-owned business local to the Northern Virginia area since 2004, and we treat all of our customers as though they are a part of our family. If you're local to the Virginia area, Maid Bright can help you.
Seasonal Cleaning

For any holiday, we let you focus on the fun and we will make your home sparkle and shine.

Family Gathering

Expecting out-of-town guests? Hosting a party? Let Maid Bright do a thorough cleaning before or afterwards.

Special Circumstances

Whether you're welcoming a new baby, your sick and unable to clean or you are in mourning? We can ease your workload.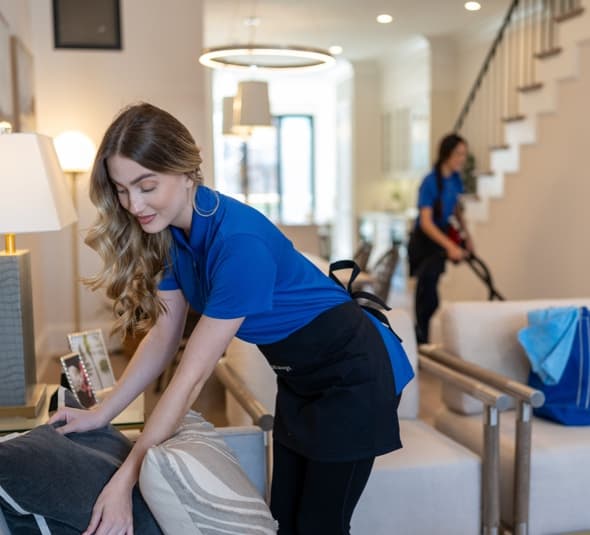 Efficient, Professional Virginia Home Cleanings For Homes of All Sizes
Maid Bright is a family-owned, trusted, and reliable source for professional maid services in Northern Virginia. Our primary objective is to make life easier with excellent home cleaning services. We are well-furnished with the essential tools, equipment, and vehicles for any job size.
At Maid Bright, we know how important your home is to you, which is why we are committed to providing you with the highest quality cleaning services. The Maid Bright Difference ensures you'll meet a detail-oriented team that strives for excellence and puts your needs first. As an award-winning cleaning service, we can clean your house efficiently and allow you to focus on what matters.
Clean Your Northern Virginia Home With Maid Bright
We provide competitive pricing without sacrificing our high standards. When you request your free home estimate, a Maid Bright representative will assess your situation and work with you to create a customized cleaning plan. After answering your questions and explaining our service, we will provide you with a transparent, no-obligation quote.
Our extensive cleaning checklist will ensure that your home sparkles after every clean. Also, our 100% satisfaction guarantee ensures that we will come back and reclean any missed areas free of charge. You can have confidence that we will take care of your home at Maid Bright. Our prompt and professionally trained team will work diligently to cater to your unique requirements and ensure your home glows.
Save Time With Maid Bright
We are a leading, award-winning specialized cleaning service with a mission to provide positive experiences to our clients every time. Wherever you are in the Maryland, Virginia, or Washington, D.C., area, we aim to be your expert solution for every cleaning job.
We are proud of the relationships we have built since our founding in 2004 and are excited to create new ones. At Maid Bright, we work hard to provide high-quality, personalized cleaning services at prices that fit your budget. Book your cleaning now by calling (838) 201-3274 or visiting us online to set up your free in-home consultation or virtual estimate today!
We are dedicated to providing you with a cleaning experience that exceeds your expectations and leaves a lasting impression.
Yusuf Mehmetoglu
CEO of Maid Bright