We Can Make Your Home Sparkle in Annandale, VA
Maid Bright is a professional cleaning service that offers customized solutions to help you keep your house tidy. When you hire our reliable professionals to clean your home, you can trust that they will deliver excellent service and work around your schedule. With the time you save from our services, you can have fun bowling at Bowlero Annandale or spend time with your children at the Hidden Oaks Nature Center.
More free time

Your little free time shouldn't be spent scrubbing floors or cleaning bathroom counters. Spend your days off with the ones you love and let the professionals keep your home spotless.

Deeper clean

Maid Bright has the equipment and experience to ensure that we effectively clean your home from top to bottom, including the tough areas.

Greater peace

We offer a recurring cleaning option where we can clean your home even when you're away. Knowing that your home will be clean when you walk through the door is stress-relieving.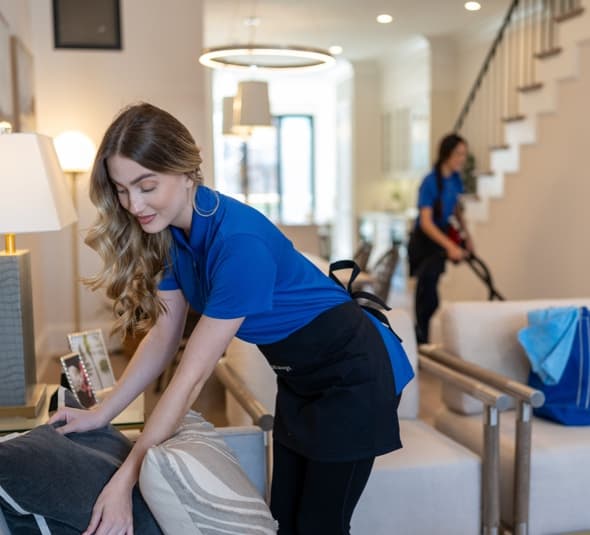 100% Custom Home Cleaning Services
Cleanings should be as unique as you! We offer a variety of services to meet each client's unique needs. Whether you are looking for weekly visits to help with everyday cleaning or a one-time appointment to prepare for a holiday party, Maid Bright has you covered.
Our team even offers free, no-obligation, in-home estimates, enabling us to create a cleaning plan that works for both your budget and your home. As a family-owned cleaning company, we believe in tailoring our services to you — not the other way around. Call today to get started on your Annandale home!
Our Locations
We are a leading, award-winning specialized cleaning service with a mission to provide positive experiences to our clients every time. Wherever you are in the Maryland, Virginia, or Washington, D.C., area, we aim to be your expert solution for every cleaning job.
Get Your Free Estimate Today
Make your Annandale, VA, home shine! In the process, you can reduce your worries and increase the time you spend on the things that matter in life. Get in touch with a Maid Bright representative today when you call us at (838)-201-3274 or sign up for your free estimate on our website.
We are dedicated to providing you with a cleaning experience that exceeds your expectations and leaves a lasting impression.
Yusuf Mehmetoglu
CEO of Maid Bright