Relax and Leave the Cleaning to Us!
Trusted and verified home cleaning professionals in Oakton, VA.
Maid Bright is your local, reliable, family-owned cleaning company that offers home cleaning services on which you can depend. Our goal is always to have you return to a sparkling clean home, without having to dedicate hours toward cleaning it.
We go beyond just leaving your house sparkling clean, making sure your home is always safe. We only hire high quality individuals that go through rigorous background checks, so you know that your home is secure in our capable hands.
Don't let the dust bunnies get you down let your Oakton Maid Bright team come do the dirty work for you. When you partner with us, you hand over the the time-consuming cleaning tasks, giving you more time to spend with friends and family. Stop wasting your weekends scrubbing floors, and let us provide in-depth, detailed cleaning on a schedule that works fo you.
Getting started is easy. A Maid Bright professional is ready to help you create a custom cleaning plan that fits your unique needs. Call for your free estimate today!
Free In-Home Consultation

After you call and set up your free estimate, one of our managers will come to your home and discuss cleaning options based on your unique needs. We go over our cleaning services, answer your questions, and create a plan for your needs.

Satisfaction Guaranteed

Our professional staff checks in periodically to make sure service is going smoothly and that you are 100 percent satisfied with the results. If you're not, call us within 24 hours and we will come back out to make it right.

We Clean Every Inch

Our detail-oriented staff digs deep to ensure a full service cleaning, wiping down door knobs and light switch plates, among other often-forgotten items. We make sure to get into the hard-to-reach spots, too, leaving you with a home that really shines.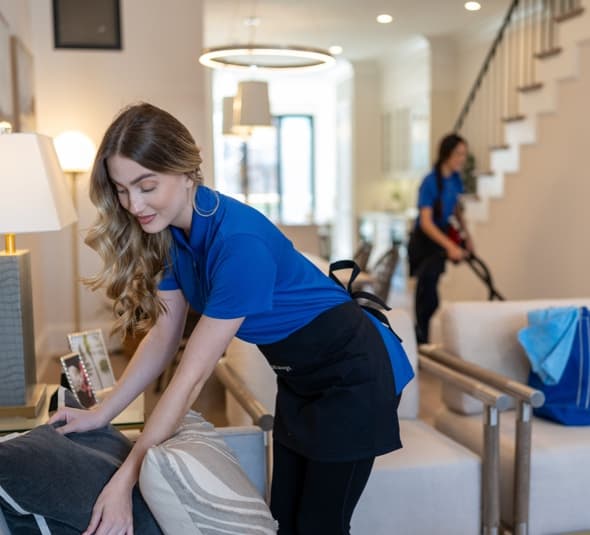 Personalized Cleaning Services Designed to Accommodate Your Busy Lifestyle
As a family-owned cleaning company, Maid Bright believes in tailoring our services to fit you and the things your Oakton-area home needs, not the other way around. With our free, in-home estimates, we answer questions and make sure you are taken care of. If your home needs something not provided on our list, bring it up during your initial consultation. We want to create a plan that fits both your budget and vision. Don't wait — call today to create your custom cleaning plan!
Our Locations
When we clean for you, we don't just clean. We go beyond your expectations. Our professionals are highly trained individuals who go through a rigorous background check so that you can trust your home with us. We serve some of the greatest cities in the DMV including:
Want a Free Estimate Now?
Are you ready for service that sparkles and an Oakton-area home that shines? Give Maid Bright a call today to schedule your free in-home, no obligation assessment and receive customized recommendations that fit your budget! Don't hide from your dust bunnies — let Maid Bright be the solution to your busy schedule by setting up quality cleaning services on which you can depend.
We are dedicated to providing you with a cleaning experience that exceeds your expectations and leaves a lasting impression.
Yusuf Mehmetoglu
CEO of Maid Bright