Let Us Take Care of Cleaning So You Can Relax!
Trusted Home Cleaning Professionals in Merrifield, VA
Merrifield is a small part of Fairfax County with an oversized amount of things to do. Whether you're going to a movie at the Mosaic District, enjoying one of the fine restaurants serving global cuisines or taking the Metro to a job in D.C., you are likely on the move. If you don't have time to clean regularly, why not let Maid Bright do it for you?
We offer comprehensive cleaning services to residents of Merrifield, VA, and surrounding areas. Our excellent team saves you time and accomplishes cleaning tasks you don't have time to do yourself. Imagine the relief when you can cross cleaning off your long to-do list. You will emerge with a sanitary home and more time on your hands — it's a win-win.
At Maid Bright, we believe in always being friendly. We only hire the best staff and only use environmentally friendly products, all of which meet the industry's Green Seal of Approval. This means our cleaning solutions are safe for your family and pets, don't have any harmful chemicals, but still leave your house sparkling clean.
Client-First

Our crew makes it a goal to get your home to be the cleanest in the neighborhood! We're also on time for every cleaning. We know how important your time is, and that's why we take it seriously.

We Clean Every Inch

When you partner with Maid Bright, you won't be disappointed. If something doesn't meet your expectations, call us within 24 hours of your cleaning and we'll make it right. We check in with you periodically to ensure you're satisfied with our work.

Free Quotes

When you call in the Merrifield Maid Bright team, you get a completely free initial consultation. In this time, we go over everything we offer and how we can get your home as clean as can be.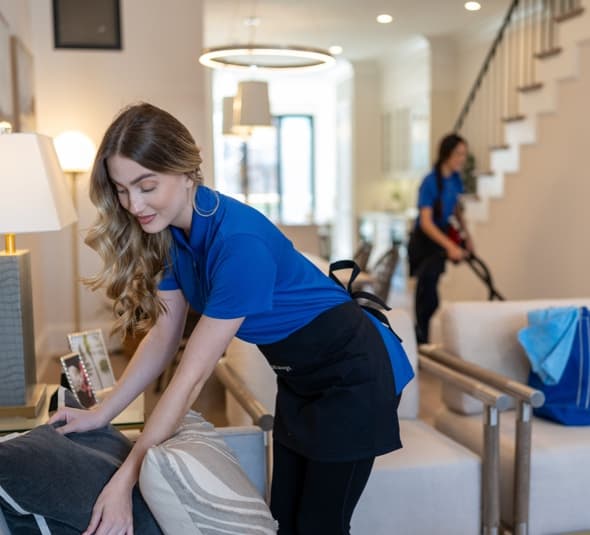 Personalized Cleanings in Merrifield, VA
Our family-owned cleaning company is not only local, we're also reliable! No matter where you live or what your home looks like, you can trust us to get the job done. Even better, you can count on us to provide you with the best price in the neighborhood.
We don't just clean your home and leave it there. We go above and beyond. Your home matters to us, so we make sure you never have to worry about it when you're with us. Our staff is made up of only the best quality professionals who undergo a rigorous background check process. Why? So that when we show up you know you're in good hands.
Don't do the dirty work yourself. Let your Merrifield Maid Bright team handle it. Give us all the time-consuming, dirty, unpleasant jobs and we'll get them done. Then, you can spend more time with the people that matter in your life. Give us a call and we'll work with your schedule to make a session that fits your needs.
Our Maid Bright professionals are standing by to get started. Call for your free estimate today!
Our Locations
Here at Maid Bright, we know that every home is unique. All of our Merrifield clients love us because we work with their individual needs. Wondering how we can work with your home? Schedule a free in-home consultation and get started! We have plenty of services, but if your home needs a little extra TLC, ask us about it during your consultation. We'll work with your ideas, your home, and your budget to create the perfect cleaning plan for you. Ready to start? Call today to create your personalized cleaning plan!
Our professionals are highly trained individuals who go through a rigorous background check so that you can trust your home with us. We serve some of the greatest cities in the DMV including:
How It Works
Want to get started with a Merrifield home that shines from head to toe? Call our team and set up your free, no-obligation assessment and get an offer that works for your budget! Don't let the cleaning stress you out – let Maid Bright take care of you.
We are dedicated to providing you with a cleaning experience that exceeds your expectations and leaves a lasting impression.
Yusuf Mehmetoglu
CEO of Maid Bright