Your Alexandria Home Could Be Sparkling Clean
Home Cleaning By Top Professionals in Alexandria, VA
Maid Bright is your community go-to for quality and reliable cleaning services in Alexandria, VA. Providing high-quality service is our number one goal, but it's not enough to just say we offer exceptional outcomes at competitive prices: We prove it with our 100 percent satisfaction guarantee.
Maid Bright believes that professional cleaning is more than leaving your home sparkling clean, so we only hire quality professional staff that go through thorough background checks and use safe, environmentally friendly products. At Maid Bright, we only offer services and products you can trust in your home.
Cleaning can be overwhelming, but your Maid Bright team is ready to do the hard work for you. When you hire Maid Bright to do your cleaning, you gain valuable time back in your day, enabling you to spend more time with friends and family. No one wants to spend their time off scrubbing their bathrooms, so free up your weekends and call Maid Bright today!
Getting started is easy. A professional cleaning services manager is ready to discuss your customized plan. Call for your free estimate today!
We Offer Free Quotes

One of our professional managers will come to your home and discuss appropriate cleaning options based on your needs. We explain our services, develop your customized cleaning plan, and answer your questions so you know exactly what to expect.

We Guarantee Satisfaction

Maid Bright guarantees quality. Our professionally trained team adheres to the highest cleaning standards so we never sacrifice quality. If you're not 100 percent satisfied with your service, call us within 24 hours and we will make it right.

We Never Miss A Spot

Our detail-oriented staff goes beyond the typical areas to ensure a full-service cleaning, hitting the often-forgotten items and hard-to-reach places to help prevent buildup and mildew. With Maid Bright, your home gets thoroughly cleaned by a team that exceeds expectations.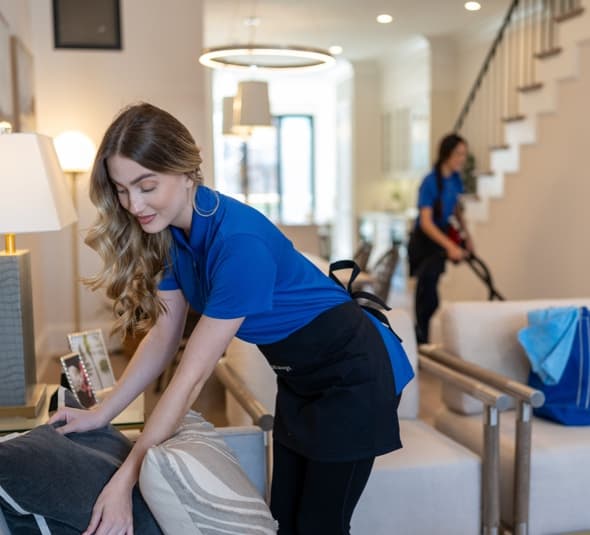 Home Cleanings With You In Mind
As a family-owned cleaning company, we believe in tailoring our services to you, not the other way around. We offer free, no obligation in-home estimates for residents in the Alexandria area, making it easy to create a custom cleaning plan that fits your needs and budget.
Whether they live in a cozy city apartment or a sprawling suburban home, every renter and homeowner wants to return to a clean space. But where do you find the time and energy after a long day's work? That's the magic of Maid Bright.
Our team works with clients of all kinds across Alexandria, VA. No home is too big or too small for our service. Whether you're a renter or a homeowner, we can work with you to offer one-off or regular cleaning services. We're also a trusted resource for clients in the commercial sector, including property managers, realtors, and vacation rental owners. If you need your home to make a lasting impression, our house cleaning crew will rise to the occasion.
Every client is different, so we offer personalized cleaning plans to meet each of their needs. Whether you are looking for a one-time visit to prepare for a party, or weekly visits to help with home upkeep, Maid Bright has you covered. Don't wait — call today to create your custom cleaning plan!
Why Count on Professionals for Your Cleaning Services in Alexandria, VA?
You wouldn't trust your investments or car service to anyone but the experts, so why settle for less when it comes to one of your greatest possessions? Our professional maid service in Alexandria, VA, is trained and practiced in the art of bringing every home to top-notch condition. We apply years of experience to thoroughly dust, clean, and sanitize spaces in no time. Schedule our professional home cleaning services in Alexandria, and enjoy long-lasting benefits for the whole family, including:
The satisfaction of a clean home: There's nothing like a spotless, sparkling, sweet-smelling home. Sit back and bask in the relaxation of a job well done.
The relief of a deep clean: Thorough cleaning takes time and elbow grease. Our maid service in Alexandria, VA, will look far beyond the surface at the layers of dust, dirt, and dander that others might miss. No detail is too small for our attention — which means you can enjoy the knowledge that your home is in good hands.
Clean indoor air: Our deep clean of every carpet, drape, and furniture item will help eradicate the buildup of allergens and dirt in your home. You can breathe easy knowing that your indoor air is fresh and dust-free.
Extended furniture lifespan: Regular deep cleanings can expand the lifespan of your furniture and keep each piece looking brand-new for years to come.
More time spent with those who matter: There's no resource more valuable than time. When you hand over the responsibilities of home cleaning to Maid Bright, you'll earn precious time to spend with your family. Make relaxed memories together as you transform your residence from a chore to a joy — the way it was always meant to be.
Begin Living A Cleaner Life Today With Our Cleaning Services in Alexandria, VA
Schedule your free in-home estimate today. A Maid Bright Manager will evaluate your home, discuss any special instructions, and provide you with a free quote today. On the day of the cleaning, your crew will leave your home cleaner than it's ever been before.
We are dedicated to providing you with a cleaning experience that exceeds your expectations and leaves a lasting impression.
Yusuf Mehmetoglu
CEO of Maid Bright