Get Your Home the Care it Deserves!
Professional Home Cleaning That You Can Trust in Dulles, VA
Many of our clients in northern Virginia lead busy lives. From working to parenting to sitting through traffic jams on the Beltway during your commute, you have little time for cleaning. Take something off your to-do list when you choose Maid Bright to handle your cleaning needs.
We provide residential cleaning services to residents of Dulles, Virginia, and surrounding areas. Our outstanding team can handle all the tasks you don't have time for and do it well. You will be thrilled with the results and get more time to spend with your family and do the other tasks that have piled up on your to-do
Flexible Service for Your Dulles Home

We only use environmentally friendly products, all of which meet the industry's Green Seal of Approval. Our cleaning solutions are safe for your family and pets, don't have any harmful chemicals, but still leave your house sparkling clean.

We'll Never Miss a Room

Our detail-oriented staff provides exceptional cleaning by going beyond expectations and attending to the commonly missed areas. We scrub with grout brushes to prevent mildew and build up for easy maintenance, leaving a house that really shines.

First-Class Home Cleaning Professionals in Dulles

At MaidBright, we only hire the best staff and use environmentally friendly products. Every solution we use is free of harmful chemicals and are only the highest quality products. We want your family to be healthy, just like your home!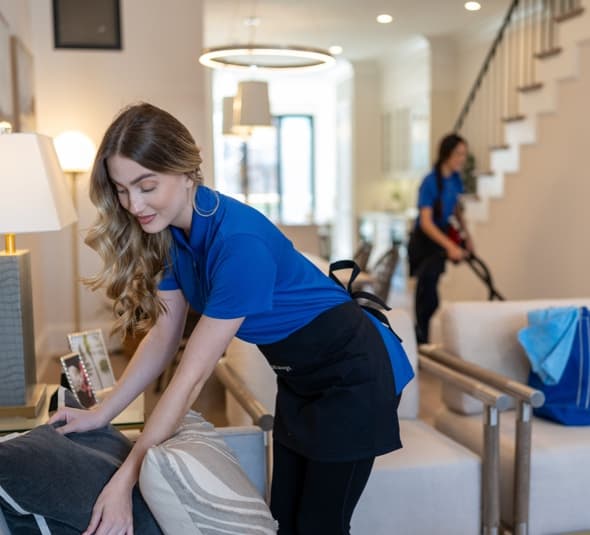 Cleaning Services Tailored To Your Needs
Our team cleans homes of all sizes. Whether you have a townhome near Dulles International Airport or a large single-family home that sits on several acres, we can assist you. No job is too big or too small. You choose when and how often you need our services. It may vary depending on the size of your home, your budget or your schedule
If you're looking for a cleaning tailored to your needs, look no further than Maid Bright! Our dedicated team of cleaning professionals offers a variety of customizable services to fulfill each of our clients' needs. From one-time cleanings to help prep for a party to frequent visits, Maid Bright has you covered. Our family-owned company provides professional services and free, no-obligation, in-home estimates, making it easy to get started. Let us develop a plan that suits both your budget and your priorities. Call Maid Bright to clean your Dulles-area home today!
Our Locations
When we clean for you, we don't just clean. We go beyond your expectations. Our professionals are highly trained individuals who go through a rigorous background check so that you can trust your home with us. We serve some of the greatest cities in the DMV including:
Why Schedule a Free Maid Bright Consultation
Are you ready for an exceptional cleaning service that will leave your Dulles-area house sparkling? Give Maid Bright a call today to schedule your free, no-obligation, in-home assessment with tailored recommendations for your needs and budget! We know that life gets in the way, so let our team be the solution to your busy schedule. When you're ready for personalized cleaning from professionals you can trust, give your local Dulles-area Maid Bright professionals a call.
We are dedicated to providing you with a cleaning experience that exceeds your expectations and leaves a lasting impression.
Yusuf Mehmetoglu
CEO of Maid Bright