Make Your Brambleton Home Look as Good as New!
Your Brambleton Maid Bright team is here get your home back in shape. Forget about giving up time to take care of the cleaning. We handle all the hard stuff for you. We work with your schedule to make sure cleanings occur at a convenient time for you.
Maid Bright is a family-owned cleaning company that has been providing outstanding service for since 2004! When you work with us, your home will shine at a cost that works for your budget. All our professionals are highly trained and undergo a background screening to ensure that your home is safe with us.
We Clean Only With Environmentally Safe, Green Products

We only hire the best staff and only use environmentally friendly products, all of which meet the industry's Green Seal of Approval. This means our cleaning solutions are safe for your family and pets, don't have any harmful chemicals, but still leave your house sparkling clean.

We Guarantee You'll Be Satisfied With Our Attention To Detail

If something isn't right with your cleaning, call us and we'll get it taken care of. We want to make sure you're 100 percent satisfied, and that's why if you call us within 24 hours we will come back and fix anything we got wrong.

100% Free, No Obligation Home Cleaning Consultations

Our cleaning professionals are standing by to discuss cleaning options that suit your needs. Give us a call and we'll answer all your questions, explain our services in detail, and create a plan that is custom built for your needs.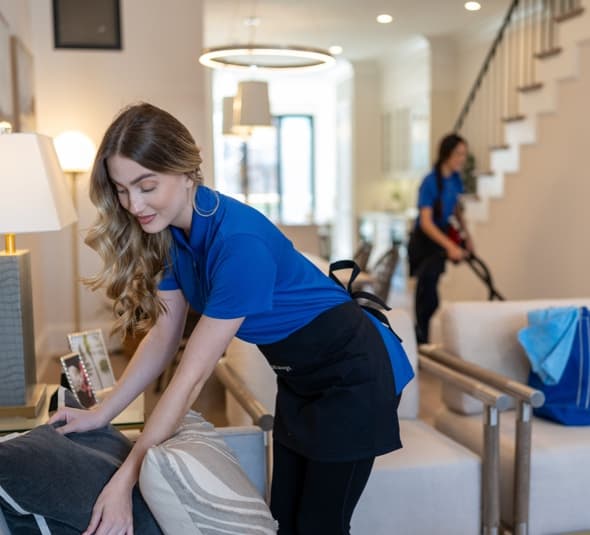 100% Custom Cleanings In Brambleton
We know that your home is unique. In Brambleton, Maid Bright is known as the cleaner that works with your needs. We'll come to your home for a free in-home consultation to discuss exactly what your house needs. Together we'll develop a plan that fits your budget and your vision for your home. Call us now to create your own personalized plan!
Our Locations
Interested in our other service areas besides Brambleton, VA? We serve some of the greatest cities in the DMV including:
Schedule A Free, No Hassle Consultation With Us Now!
Ready to make your Brambleton home the talk of the town? Call us up now and schedule your free, in-home consultation to get started! Don't let the cleaning in your house bog you down. Call Maid Bright and we'll free up your schedule and get your home looking brand new!
We are dedicated to providing you with a cleaning experience that exceeds your expectations and leaves a lasting impression.
Yusuf Mehmetoglu
CEO of Maid Bright