Leave Your Reston Home Cleaning to Us and Win Time!
Professional, customized home cleanings in Reston, VA
Maid Bright is your Reston, VA-area community's go-to partner for quality, reliable cleaning services. As a company that aims to provide high-quality results, we believe professional cleaning services should go beyond leaving your home clean. We pride ourselves on our satisfaction guarantee, environmentally safe products, and professional staff. All Maid Bright employees go through background checks, so that you know your home is safe and secure in our hands. Our goal is to give you more time back in your day. Letting us tackle your cleaning gives you more time with your family and friends, and removes the daily stress of unwanted tasks like dusting and vacuuming. Getting started is easy. A Maid Bright manager is waiting to help take away the tedious burden of cleaning.
Call for your free estimate today on our maid services in Reston, VA!!
Satisfaction Guaranteed

If you're not 100 percent satisfied, call us within 24 hours of service and we will come back and fix what we got wrong. We guarantee you'll be satisfied with our work and the level of care and attention to detail we'll provide to you and your home.

Free Quotes

No one likes an unexpected expense, which is why we offer free in-home estimates. Our team comes to you, explains our services, answers all your questions, and writes down your customized cleaning plan with no obligation.

We Clean Every Inch

Our detail-oriented staff addresses the areas that often get left beyond, such as doorknobs, light switch plates, and drip pans. We go into the cracks with grout brushes to prevent mildew and build up for easy maintenance.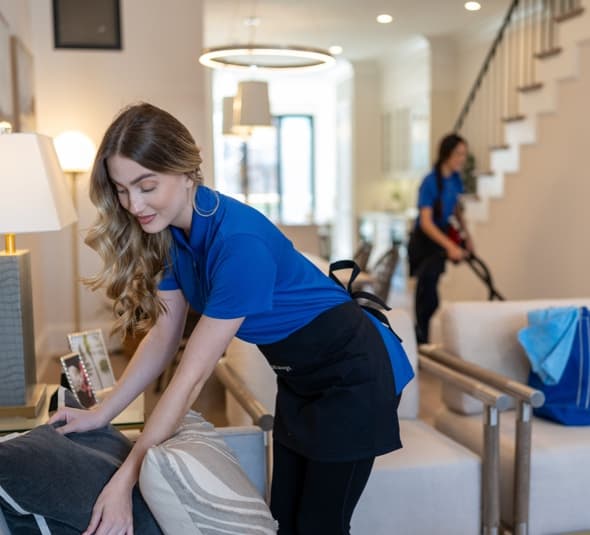 Personalized Attention When Cleaning Your Home
We offer a variety of services to fulfill all of our clients' unique needs. From one-time cleanings to weekly visits, Maid Bright has you covered. Our family-owned cleaning company provides professional cleaning services tailored to your unique needs. We also offer free, no-obligation in-home estimates to develop a plan that suits both your budget and priorities, so let's sit down today and create your custom cleaning plan!
Trust Our Professional Team to Deliver the Best Maid Service in Reston, VA
At Maid Bright, you can trust our team to consistently deliver quality cleaning services. Each one of our team members has been thoroughly trained in our cleaning techniques by one of our experienced leaders. Our supervisors frequently accompany the team to ensure homeowners receive a thorough, safe, and high-quality cleaning service.
When our team arrives, you'll know right away — they'll be dressed in Maid Bright uniforms and come equipped with all the equipment and eco-friendly cleaning supplies needed to make your home spotless.
We treat each home with respect and ensure your property and goods are kept safe. If you provide us with a house key, you can rest assured it will be secured in our Maid Bright lockbox system.
You're more than just a client: You're a part of the Maid Bright family. Your time is important to us, so we show up promptly for your requested scheduled time, ready to get to work. We will also check in periodically to make sure everything is going smoothly and that you're happy with the quality of our service.
We have a positive track record and have won several industry awards for consistently putting our clients first and delivering superior customer service. Regardless of your home's size or service level, we look forward to providing you with this same top-quality experience.
Easy Scheduling
We make scheduling our maid cleaning services in Reston, VA, quick and easy. We are always available to schedule an appointment or answer any questions you may have during our business hours. We're available from 8 a.m. to 5 p.m. Monday through Friday and 8 a.m. to 3 p.m. on Saturday. Just give us a call and we will handle all your scheduling needs for you.
We are dedicated to providing you with a cleaning experience that exceeds your expectations and leaves a lasting impression.
Yusuf Mehmetoglu
CEO of Maid Bright