See Your Home in Centreville in a Whole New Light
Maid services in Centreville, Virginia.
Maid Bright is your local, family-owned cleaning company offering professional home cleaning in Centreville, Virginia on which you can depend. Our goal is always to have you return to a sparkling home, without having to spend hours cleaning it.
Don't let the dust bunnies get you down instead, let your Centreville Maid Bright team leave your house shining. When you partner with us, you leave the time-consuming cleaning tasks to our team, allowing you to spend more time with friends and family. Stop wasting your weekends spending hours dusting. We'll handle the in-depth, detailed cleaning your schedule and home require.
We only hire high-quality individuals that pass thorough background checks so you know your home is always safe and secure. Additionally, our team only uses environmentally friendly cleaning solutions, all of which meet the industry's Green Seal of Approval, leaving your house clean without harmful chemicals.
Getting started is easy. A Maid Bright cleaning expert is ready to create a custom cleaning plan to fit your unique needs. Call for your free estimate today!
Free In-Home Consultations

New clients start off with free, in-home consultations to develop customized cleaning plans. A Maid Bright professional comes to your home, discusses our services, answers your questions, and develops a tailored cleaning plan to fit your home and budget.

Satisfaction Guaranteed

Client satisfaction is our number one goal at Maid Bright. Our staff will check in periodically to make sure you're 100 percent satisfied with our service, but call us within 24 hours if you're not and we will come back to make it right.

We Clean It All

Our team exceeds expectations, going beyond the standard areas to clean door knobs and scrub grout lines. We get into the hard-to-reach places, leaving you with a home that truly shines. The Maid Bright team gives your home the detailed cleaning it deserves.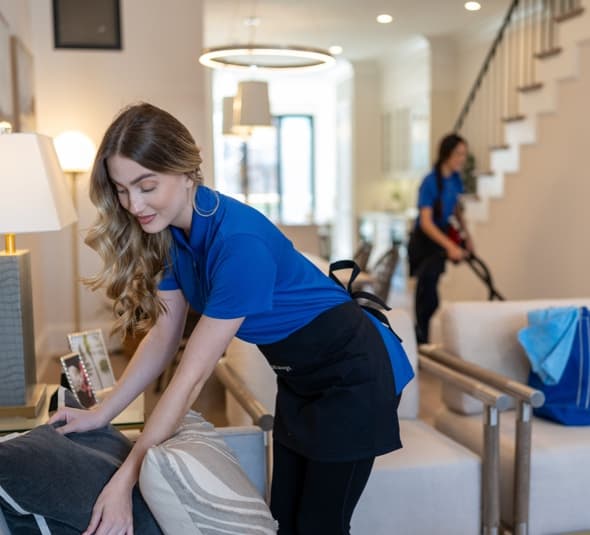 Turn All Your Busy Centreville, Virginia, Spaces Spotless!
When you have a personalized cleaning plan with Maid Bright, you can be sure that all the high-traffic areas in your Centreville home will look their best.
Some of the most popular cleaning requests we get are for spaces such as:
Bathrooms: What could be busier than a household master bathroom, shared bathroom, kids' bathroom or first-floor powder room? We know how to scour and sanitize any bathroom so that it gleams. Make sure your bathroom is a healthier, fresher-smelling place with our help.
Kitchens: Is your kitchen getting a bit dull? Do you find it hard to keep up with all the little messes? We're experts on using safe, green products to restore your kitchen's luster. From baseboards to appliances and countertops to floors, we do it all.
Living Spaces: Families love to hang out together in a few special spaces in their Centreville homes. Let us know what rooms get the most use from everyone in your household. That way, we can ensure to tend to them during our treatment.
Bedrooms: A dust-free, spa-like bedroom is one Maid Bright cleaning visit away. Drift off to sleep knowing that our team has dusted and vacuumed your bedroom to perfection.
Get the Benefits of One-Time and Recurring Cleaning Services
Maid Bright has built a reputation by offering world-class recurring Centreville home cleaning services. However, we provide one-time cleanings as well. For instance, you may want to call on Maid Bright to help with spring cleaning or prepping before the holidays. If you're relocating to a different home in Centreville, Virginia, our team can perform moving cleanings in either of your vacant properties as well.
Remember that having a clean house has more benefits than meets the eye:
Remove the stress of having to clean everything yourself.
Be sure that your home is a safer, healthier place for your family and visitors.
Extend the lifespan of everything from your flooring to fixtures by keeping everything spotless.
Ensure that your backgrounds look great if you have remote work meetings.
Reduce the number of airborne allergens in your house that may cause distress for humans or pets.
Why wait to gain the advantages of living in a professionally cleaned home? Get in touch to talk about our Centreville cleaning services now!
Schedule Your Free Estimate in Centreville Today
If you're ready for your Centreville home to experience a professional cleaning service that sparkles, give Maid Bright a call today! We are ready to schedule your free in-home, no-obligation assessment and customize a cleaning plan to fit your budget! Don't waste your weekends scrubbing your bathrooms — let Maid Bright provide quality service on which you can depend.
We are dedicated to providing you with a cleaning experience that exceeds your expectations and leaves a lasting impression.
Yusuf Mehmetoglu
CEO of Maid Bright