Add Shine and Sparkle to Your Home in Falls Church Today!
Professional and customized home cleaning services in Falls Church, VA
Families in Falls Church have busy schedules. You commute to work, get the children to school, and enjoy taking advantage of the many cultural and culinary delights of the Little City, which leaves little time for taking care of your home. We can give you peace of mind by providing the assistance you need with floorboard cleaning, dusting, and more. Instead of feeling guilty about your lack of time to clean, get your house sparkling when you hire a professional home cleaning company in the Falls Church area.
Maid Bright is an experienced residential home cleaning service that provides service on your schedule. We offer competitive pricing and have been family owned and operated since 2004. Get the clean home you desire and relax a little more, knowing you don't have to lift a finger. Let our professionals do it for you.
As a family-owned cleaning company, we believe in taking care of our customers and offering custom cleaning services to fit their budget and needs. We offer free, no-obligation, in-home estimates, making it easy for us to create a cleaning plan tailored to you. Whether you are looking for a one-time appointment to prepare for a holiday party or special event, or weekly visits to help with daily upkeep, Maid Bright has you covered. Don't wait — call today to get your custom cleaning plan underway!
Free Quotes

We believe in starting with a free, in-home estimate. We will meet with you to discuss recommended cleaning options. We listen to your vision, explain our services, and develop customized cleaning plans so you know exactly what to expect

Satisfaction Guaranteed

The Maid Bright team is professionally trained to adhere to the highest cleaning standards, meaning we never sacrifice quality. If you're not 100 percent satisfied with your results, call us within 24 hours and we will come back to make things right

We Clean It All

Our team leaves your home sparkling from corner to corner, going beyond the common areas to ensure you receive a full-service cleaning. We even get deep into those hard-to-reach sports. With Maid Bright, your home gets the cleaning it deserves.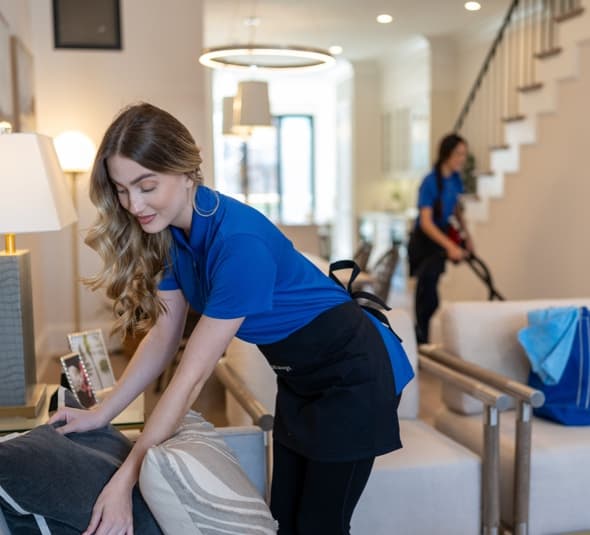 Reliable and Professional Cleaning Services in Falls Church, VA
Looking for quality and reliable cleaning service? Look no further: Your local Falls Church Maid Bright is your community's go-to for high-quality residential cleaning. We believe in offering exceptional services at competitive prices — and all backed by our 100 percent satisfaction guarantee.
High-quality service is more than just leaving your home sparkling clean, so we only hire professional staff that go through thorough background checks and use safe, environmentally friendly products. Your home is always safe and secure with Maid Bright.
Cleaning can be time consuming, but our team of cleaning experts is ready to give you back you weekends and evenings. When you hire Maid Bright to do your cleaning, you get to spend more time with friends and family. No one wants to spend their days off scrubbing toilets, so set down your scrub brush and call Maid Bright today!
Getting started is easy. Your local cleaning professionals are ready to discuss your Falls Church home's customized cleaning plan. Call for your free estimate today!
How Our Falls Church Cleaning Services Work
When you contact us, we'll explain the services we offer on the phone and then come to your home to give you a rough estimate, including a customized-no obligation estimate for initial and recurring services. We perform the initial cleaning, and then we'll follow up with you to discuss how it went. We remain detail-oriented throughout the process.
Our team brings a Maid Bright supervisor to your home, who'll guarantee you receive the top-notch service you deserve. We use the right tools and eco-friendly cleaning supplies to get you a spotless house. Our team always shows up on time and treats your home with respect. Clients who give us a house key can feel confident in its security. We keep each key in our Maid Bright lockbox system, and we put measures in place to ensure it stays safe.
We can also assist you with cleaning under special circumstances. We offer:
Move-in and move-out cleanings
Spring and fall cleanings
Cleanings before or after a special event
We can also customize your schedule depending on how often you want our services. We offer monthly, bi-weekly and weekly cleanings. You can trust us to give you the reliable assistance you need, no matter what your schedule. If you have a preferred cleaning product you want us to use, we can also do that. Just provide the products to our crew, and we'll employ them while we work.
Our cleaning equipment includes HEPA filters to remove pet dander, allergens, bacteria, pollen, and more. Your family members will appreciate the clean, breathable air.
Call Now And Get a Free In-Home Estimate
Are you ready for a Falls Church-area house that sparkles? Call Maid Bright today at (888) 624-3274 to schedule your free, in-home, cleaning assessment and receive a personalized plan for your needs and budget! You can also book a cleaning online or fill out our estimate form. Don't let your busy schedule stand in the way of a clean home — let Maid Bright bring its shine back.
We are dedicated to providing you with a cleaning experience that exceeds your expectations and leaves a lasting impression.
Yusuf Mehmetoglu
CEO of Maid Bright