Clean Your Chantilly Home With Maid Bright
Professional Home Cleanings Designed For You In The Chantilly, VA Area.
All our cleanings are customized for you and your home's needs!
Our family-owned cleaning company provides a variety of customized cleaning services to meet your priorities. Maid Bright offers one-time, weekly, bi-weekly, or monthly visits, and our free, no obligation in-home estimates allow us to develop a plan that suits both your priorities and budget. Whether you're planning a party or just need help with home upkeep, there are options for everyone in the greater Chantilly area. Let's start creating your personalized professional cleaning plan!
All Our Quotes Are Complimentary

Offering top-notch service starts with upfront transparency. Our team will come to your home to discuss what you need in a cleaning service and give you a free, no-obligation estimate. Maid Bright only offers high-quality service at competitive prices.

We Take Your Satisfaction Seriously

Client satisfaction is our number one goal at Maid Bright. Our staff will check in periodically to make sure you're 100 percent satisfied with our service, but call us within 24 hours if you're not and we will come back to make it right.

We Clean Every Part Of Every Home

Our detail-oriented team goes between the cracks to make sure your home is sparking from top to bottom. We clean the areas that can often be skipped. Maid Bright's cleaning expert go beyond your expectations — one inch at time.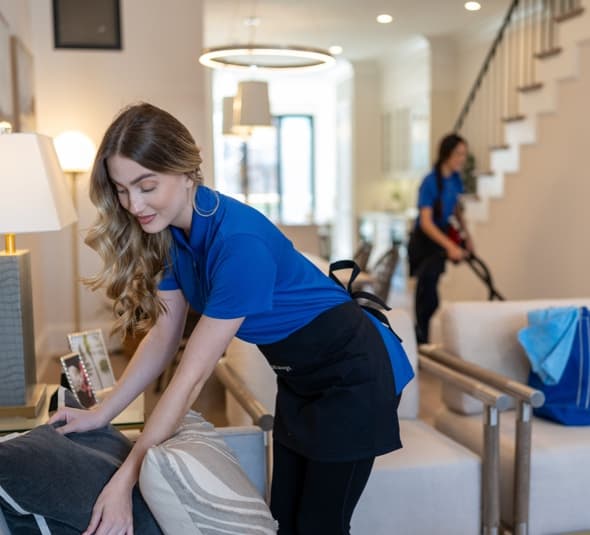 The Best Home Cleaning Professionals In the Chantilly, VA Area
Maid Bright is your Chantilly, VA-area community's go-to residential cleaning company for high-quality cleaning services. We pride ourselves on our 100 percent satisfaction guarantee, professional staff, and environmentally safe products. Our team gives you valuable time back in your day and removes the daily stress of unwanted tasks like dusting and vacuuming. High-quality service is our number one goal, and we believe professional cleaning is more than leaving your home sparkling.
All Maid Bright employees go through rigorous background checks, ensuring your house is always safe and secure with our trustworthy staff. A clean home is a quick phone call away, and a Maid Bright professional is ready to help simplify your day by coordinating all of your cleaning needs.
Call for your free estimate today!
We Only Use Environmentally Safe Products
At Maid Bright, we believe in always being friendly. We only hire the best staff and only use environmentally friendly products, all of which meet the industry's Green Seal of Approval. This means our cleaning solutions are safe for your family and pets, don't have any harmful chemicals, but still leave your house sparkling clean.
Schedule Your Free Estimate With A Cleaning Professional Today
Is your home ready for a cleaning service that shines? Give Maid Bright a call today and schedule your free, in-home assessment with personalized recommendations to fit your needs and budget! Cleaning can be a hassle, so let your Chantilly-area Maid Bright team be the solution to your busy schedule.
We are dedicated to providing you with a cleaning experience that exceeds your expectations and leaves a lasting impression.
Yusuf Mehmetoglu
CEO of Maid Bright