Great Falls Best Maid Service For All Home Cleanings
Everyone wants a clean home, but not to spend the extra time cleaning. A trusted maid cleaning service is no longer a luxury for a few families to enjoy. Whether you're preparing to host, need help with regular upkeep, or are looking for a one-time deep cleaning, Maid Bright can help.
Maid Bright has been a local, family-owned and operated cleaning service since 2004. We see our customers as part of our growing family in Northern Virginia, Maryland, and DC. At Maid Bright, we set ourselves apart by offering superior customer care, professional staff, and top-notch services.
A clean home is well within your reach. Contact Maid Bright today for your no-obligation, free estimate. Learn more about our services here.
Your Satisfaction in Cleanliness, Guaranteed.

If you're not satisfied with the cleaning, contact us within 24 hours and we will happily re-clean the area. We will work to make it right – we want you to be delighted with your clean home!

Ultra-Competitive Prices

We are committed to being the best maid service in Great Falls, VA while remaining affordable to our customers. Check out our current special offers here.

Environmentally Safe Cleaning

We're committed to using products that are safe for your entire family, including children and pets. The cleaning supplies we use meet the Green Seal of Approval. If you have other products you'd like us to use, just have them ready for us!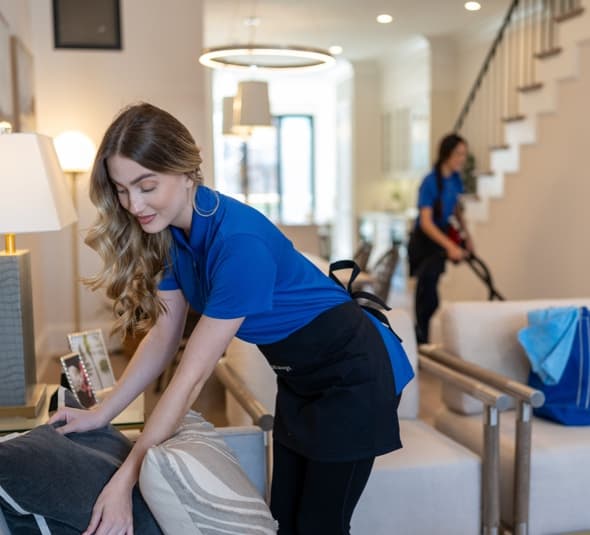 Free In-Home Estimates For Great Falls Residents
We take the time to talk over any areas of your home that might need special attention or questions you may have. Read on for answers to common questions we hear from new clients:
Before your first house cleaning or your free in-home consultation, you'll want to consider a few factors. Be prepared to tell us if there are any rooms in your house that may require extra attention. Also, let us know if there are spaces you prefer we leave alone.
Maid Bright staff are prompt and professional and will ready to work during your scheduled appointment window. We use Green Certified products, but if you'd prefer, please supply alternate products for us.
We strive to make payment a simple, convenient process for our clients. We appreciate full-payment on the day of cleaning – either leave a check or arrange credit card payment ahead of time. We accept Visa, Mastercard or American Express.
Maid Bright cleaning crews consist of two staff members. Sometimes the Quality Control Manager will also accompany the staff. We make every to send the same team to your home each time. Sometimes we may have to send different cleaning staff due to illness or time off. We assure you that our staff follows consistent service guidelines to guarantee a consistent clean every time.
Before your appointment, we ask that you de-clutter any areas we'll be cleaning. This allows us to do our job to the best of our ability.
Our Locations
When we clean for you, we don't just clean. We go beyond your expectations. Our professionals are highly trained individuals who go through a rigorous background check so that you can trust your home with us. We serve some of the greatest cities in the DMV including:
Begin Living A Cleaner Life Today With Our Cleaning Services in Great Falls
Schedule your free in-home estimate today. A Maid Bright Manager will evaluate your home, discuss any special instructions, and provide you with a free quote today. On the day of the cleaning, your crew will leave your home cleaner than it's ever been before.
We are dedicated to providing you with a cleaning experience that exceeds your expectations and leaves a lasting impression.
Yusuf Mehmetoglu
CEO of Maid Bright