Time to Make Your Home Sparkling And Spotless Again!
Professional home cleaners in Franconia, VA
Franconia residents have plenty to occupy their time. When you aren't at work, you may be visiting the Springfield Mall, heading to Huntley Meadows Park, or riding the Metro downtown to visit the Smithsonian. Add in family and work obligations, and that doesn't leave much time for anything extra, including cleaning.
Let Maid Bright take something off your list. We clean homes around Franconia, Virginia, and surrounding areas, offering the outstanding service you want from your home cleaning partner. Our team performs a thorough, excellent job, hitting every crevice and high space in your home. Best of all, we save you time and let you focus on all your other to-dos.
You can get started by scheduling a free, no-obligation quote to learn more about our process and what we can do for you. See why so many satisfied customers have used Maid Bright, the area's best cleaning service for more than 15 years and counting.
Free Consultation

When you call in the Dunn Loring Maid Bright team, you get a completely free initial consultation. In this time, we go over everything we offer and how we can get your home as clean as can be.

We Have a Client First Focus

Our crew makes it a goal to get your home to be the cleanest in the neighborhood! We're also on time for every cleaning. We know how important your time is, and that's why we take it seriously.

Satisfaction Guaranteed

The Dunn Loring team here at Maid Bright knows how to clean all the little details. When something is hard to reach or tucked away, our team gets in there and cleans it right up so that your home is sparkling again.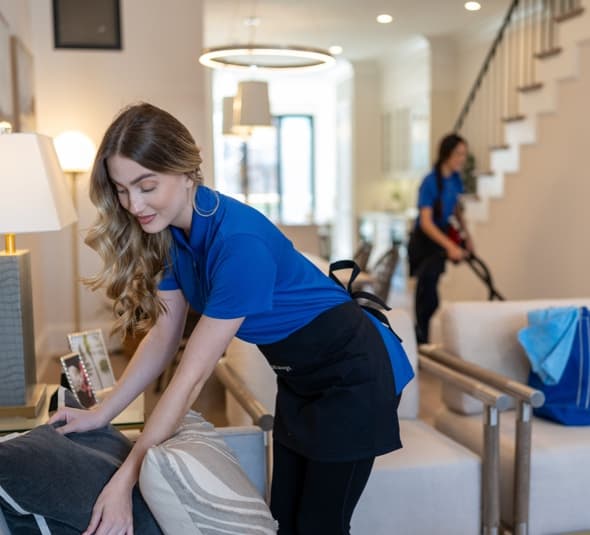 Home Cleaning Professionals in Franconia, VA
Your home is unique and Maid Bright understands this. Every one of our clients in Franconia knows that we will work with their individual needs. You will know this for yourself after your free in-home consultation! If your home needs something not provided on our list, bring it up during your initial consultation. We want to create a plan that fits both your budget and vision.
When you work with us you are handing over all of your time-consuming cleaning tasks, which gives you more time to focus on what matters in your life! Let us take care of your house with a deep cleaning — on a schedule that works for you.
What are you waiting for? Call today to create your custom cleaning plan!
Our Locations
When we clean for you, we don't just clean. We go beyond your expectations. Our professionals are highly trained individuals who go through a rigorous background check so that you can trust your home with us. We serve some of the greatest cities in the DMV including:
Contact Us And Get Your Free In-Home Estimate Today
Are you ready for sparkling service and a shining Franconia home? Call today to schedule your free in-home, no-obligation assessment and get an offer fine-tuned to your budget! Don't let cleaning your home be a source of stress in your life — let Maid Bright be your solution, allowing you to free up your busy schedule by providing you with cleaning services.
We are dedicated to providing you with a cleaning experience that exceeds your expectations and leaves a lasting impression.
Yusuf Mehmetoglu
CEO of Maid Bright