Relax...We Clean for You!
High-Quality Cleaning Services in South Riding, VA
Dreaming of a clean house but don't want to do the work? Your South Riding Maid Bright team is ready to do the dirty work for you! When you partner with us, our friendly and professional staff leave your house sparkling clean, allowing you to get back to the things that matter. Let us help simplify your life by giving you back your free time!
At Maid Bright, we believe in always being friendly. We only hire the best staff and only use environmentally friendly products, all of which meet the industry's Green Seal of Approval. This means our cleaning solutions are safe for your family and pets, don't have any harmful chemicals, but still leave your house sparkling clean.
Professional cleaning is more than just leaving your home sparkling clean, so we make sure it's also safe for your home. Maid Bright only hires quality staff members that go through thorough background checks — ensuring your home is always secure — and uses safe, environmentally friendly products. As a family owned-company, your satisfaction is our number one goal. If you are not 100 percent satisfied, we will always make it right.
Get started today with just a simple phone call. A Maid Bright professional is waiting to create a customized cleaning plan tailored to your home's needs!
Client-First Focus

Your time and feedback are valuable to us. We always show up on time for your scheduled appointments, and we're ready to get to work when we arrive. We also in periodically to verify that we are delivering consistent high-quality services.

Free Quotes

Each new client begins with a free, in-home meeting with one of our professional cleaning managers. We proudly offer high-quality, full-service cleanings at transparent prices. Quality and dependability is something you can expect with Maid Bright.

We Clean Every Inch

When you hire Maid Bright, you get a team that goes beyond the basics. We strive to exceed your expectations by delving beneath the surface to find the dirt that often gets left behind.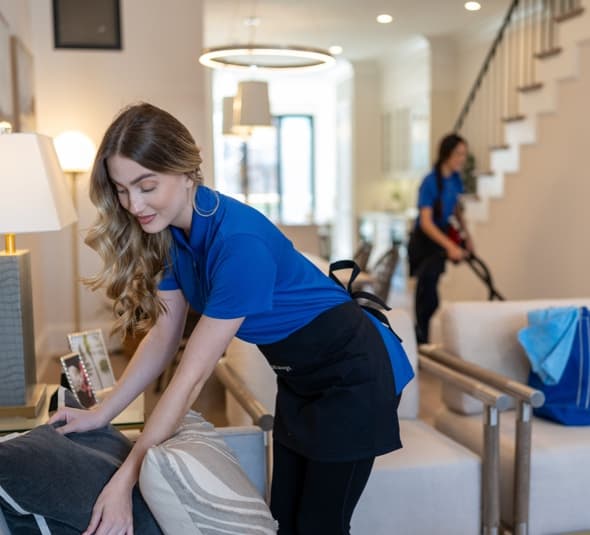 Personal and Customizable Cleaning Services
We offer multiple service arrangements to meet each of our client's unique needs. Customized cleaning plans enable us to better serve you, and Maid Bright has you covered with one-time visits to prepare for holiday parties, weekly cleanings to help with daily living, and everything in between. As a family-owned cleaning company, we believe in tailoring our services to you — not the other way around. Your local South Riding Maid Bright team even offers free, no-obligation, in-home estimates, enabling us to create a cleaning plan that works for your wallet and your home. Call today to get started.
Our Locations
When we clean for you, we don't just clean. We go beyond your expectations. Our professionals are highly trained individuals who go through a rigorous background check so that you can trust your home with us. We serve some of the greatest cities in the DMV including:
Schedule a Free On-Site Consultation
A clean home is a beautiful thing, but the actual cleaning process can be far from it. Let Maid Bright do the dirty work for you. Give our South Riding Maid Bright team a call today to schedule your free in-home, no-obligation assessment and receive customized recommendations for your home's needs and budget! You deserve a house that sparkles and a service that shines. Start your customized service today!
We are dedicated to providing you with a cleaning experience that exceeds your expectations and leaves a lasting impression.
Yusuf Mehmetoglu
CEO of Maid Bright