Recurring Home Cleaning Service in Herndon, VA
Your Neighborhood Maid Service
Maid Bright is a family owned and operated house cleaning company serving homeowners in the Herndon, VA area. We offer a variety of one-time and recurring cleanings to help you save time and keep a spotless home.
When you work with our expert cleaning crews, you'll enjoy a clean home without any hassle. So just relax and leave the cleaning to us!
Nothing Left Untouched

From the ceilings to the baseboards, they won't leave your home until every inch has been thoroughly cleaned. Using the comprehensive checklist above as well as any special instructions provided by you, you are guaranteed a house that's never been cleaner.

Community Minded

We donate a portion of our proceeds to Children's National Hospital to raise the standard for pediatric care in the U.S.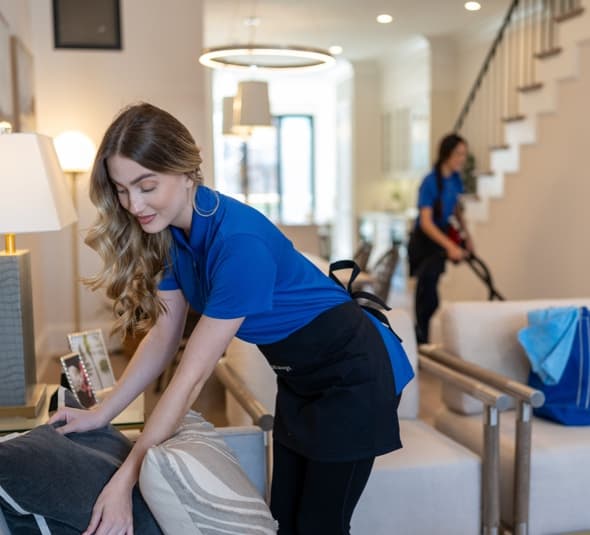 Customized Cleaning Services
At Maid Bright, our team understands that every home needs different cleaning protocols. Whether your concern is viruses or allergens in your home, odors, or just staying on top of the clutter, we can customize our services so they fit your lifestyle perfectly. We can handle everything from tough stains to thorough spring cleanings and ongoing tidy-ups.
Each of our customers has unique needs when it comes to home cleaning, and we're here to help you get the most from your service. We offer a variety of services from one-time deep cleaning to weekly, bi-weekly, or monthly service.
Maid Bright lets you gain control of your space and allows you to enjoy a clean, sanitized home on your terms while saving you time and effort. If you want help keeping your home spotless, contact Maid Bright for a free estimate.
Why Hire Our Herndon, Virginia, Cleaning Company?
When you hire Maid Bright, you enjoy the gift of time. We take care of clutter, dirt and grime, and we thoroughly clean your home. The time you save can be spent with loved ones, at work or pursuing what you love. Cleaning a home properly is time-consuming and ongoing. With Maid Bright, we take care of it so you don't have to.
Maid Bright helps you keep your home pleasant and healthier, too. Maid Bright can get rid of clutter and even stains, but we also help you tackle dust, dander and other allergens which could be impacting your indoor air quality. We even sanitize after an illness.
Our team also cleans your home safely. With our expertise, we understand how to use cleaning agents safely in your home. We also have the tools to clean properly, including cleaning on top of or behind tall or heavy objects. If you can't easily get to every part of your home, leaving it to the experts ensures you won't injure yourself trying to clean.
We bring expertise to your cleaning jobs. Maid Bright can even handle cleaning jobs you're not sure how to tackle. Don't know how to clean an oven without scratching or harming the surface? Not sure how to clean delicate curtains without ruining the fabric? Maid Bright has the steamers, vacuums and other implements needed. We also have the know-how to not just clean your home but also care for it. With Maid Bright, your home is in good hands.
Your Herndon, VA, Cleaning Company
Herndon has many busy workplaces, including Amazon offices, Fannie Mae and others. Long hours at work can mean less time and energy for cleaning at home. The workers at these job sites and beyond can count on Maid Bright to keep their homes spotless.
When you contact Maid Bright, we offer a free in-home estimate that allows us to evaluate your needs and offer recommendations for the best cleaning solutions. We'll tailor our services to your home and your preferences and we'll let you know upfront how much you can expect to pay.
When we arrive at your home to clean, our teams come equipped with all the tools and cleaning agents needed to clean your space. We also arrive with a supervisor who can oversee the work and ensure every area is cleaned to our high Maid Bright standards.
If you want to breathe easier in a sparkling home, contact Maid Bright for a free estimate to find out how competitive our prices are.
We are dedicated to providing you with a cleaning experience that exceeds your expectations and leaves a lasting impression.
Yusuf Mehmetoglu
CEO of Maid Bright