Create A Squeaky Clean North Bethesda Home
Professional and personal cleanings in North Bethesda, MD
All Our Consultations Are 100% FREE

All our cleanings come with a free, no obligation estimate to make sure that your home is taken care of. One of our team members will meet with you at your home and design a cleaning plan that fits your needs, and your budget.

We Ensure Satisfaction

All of our clients deserve the best service, and that's why our professional team sticks to only the highest standards. When you hire Maid Bright, you know that you're going to love your home.

We Clean Even The Details

Our team is trained to be detail-oriented and to make sure that not a single spot in your home is missed. We'll always go above and beyond to ensure that your entire home is as clean as it can be.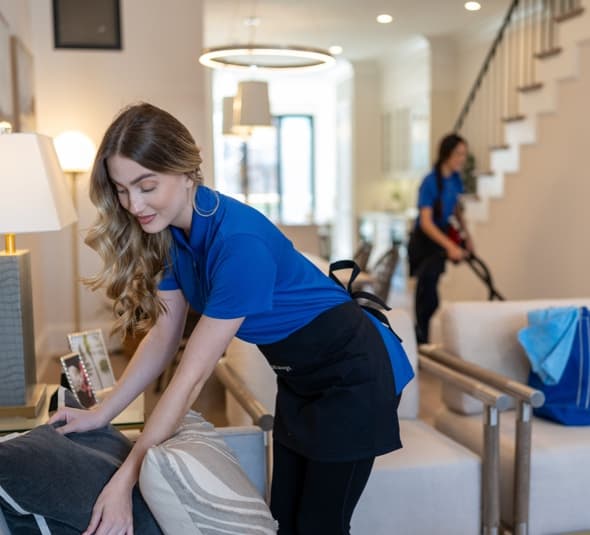 Home Cleanings Made With You In Mind
Maid Bright proudly offers 100 percent customized cleanings for all of our North Bethesda customers. We work with you to create a cleaning plan that makes sense for you and your home. And, we make sure it fits your budget as well. Your handy North Bethesda cleaning team is ready to get to work. Whether you're wanting one time cleanings, weekly cleanings, or move-out cleanings, let's get started. Call now to create your customized cleaning plan!
North Bethesda, MD's Favorite Home Cleaners
Here at Maid Bright, we partner with all our North Bethesda, MD residents to make sure you get tip-top professional cleaning services. Our team doesn't just dust and vacuum, we go above and beyond to make sure that your home shines from top to bottom.
Our goal is to tackle even the hard-to-see spots and make your day easier to manage. Don't waste your time cleaning your home, let your North Bethesda Maid Bright team take care of the dirty work. You deserve the break.
Are you ready to get started? We're ready to help you! Call us today for your free in-home estimate.
Our team of trusted professionals will treat all delicate items with care, moving from the ceiling to shelves and furniture to the rest of your home's surfaces. They will clean every nook and cranny and won't leave a corner untouched. We are committed to leave your home bright and shining clean. Our clients say that our maids and services are the best in Georgetown, and we are obviously proud to agree!
All our cleaning professionals undergo a rigorous background check process so that when we show up you know you're in good hands. Moreover, all our employees are properly trained to make sure your experiences are more than acceptable and that you can leave the stress of mind on making sure your home is well taken care of. You can trust us to get the job done quickly and accurately every time.
The Maid Bright team in Rockville is ready to deliver the best home cleaning services and to revive your home. Give us a call and we'll work with your schedule to fit all your needs.
Schedule Your Free Cleaning Estimate Today!
Are you wanting a cleaning service that goes above and beyond? Look no further than your North Bethesda Maid Bright team, and call us today to schedule your free cleaning estimate. We'll create customized recommendations that fit your needs and your budget. Give us a call today and get started!
We are dedicated to providing you with a cleaning experience that exceeds your expectations and leaves a lasting impression.
Yusuf Mehmetoglu
CEO of Maid Bright
Check out our service areas outside of North Bethesda! We proudly service homes across Maryland with a dazzling clean: