Make Your North Potomac Home Immaculate!
Professional cleanings for your home in North Potomac, Maryland
Free, No-Obligation Estimates

At Maid Bright we believe in full transparency, we work with you to create a custom cleaning plan that fits your needs and your budget. All our clients get a free, no-obligation estimate where we make a custom cleaning plan.

Love Your Home, Or We'll Make It Right

If you aren't completely satisfied with your clean home, our team will come back to your home and make it right. When you work with Maid Bright, you know you'll get high quality work every time.

Cleanings For Every Corner

When you hire Maid Bright, your cleaning team doesn't just take care of the basics. We go beyond your expectations by cleaning even the hard to reach spots, so that you know your home is as clean as can be.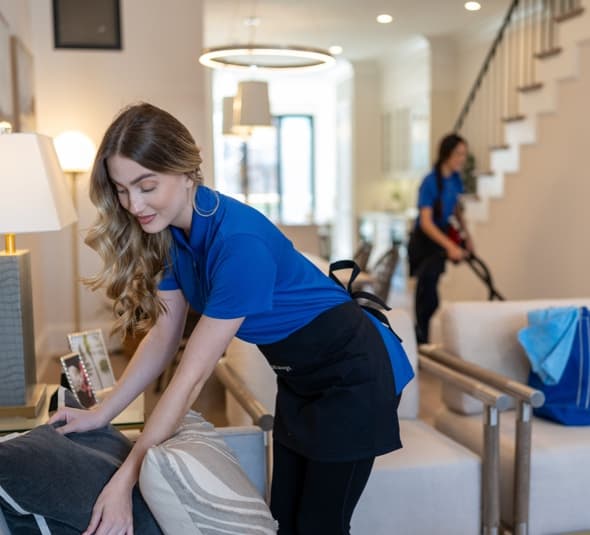 Cleaning Services Customized For You
Our North Potomac Maid Bright team believes that cleanings should be tailored to you. Every budget, home, and space is different, and that's why we stop by your home to come up with a detailed cleaning plan for you. No matter what you need, we'll work with you to make your home as clean as can be.
On top of that, all of our cleaning estimates are free, no-obligation plans which lets us get to know you and your home before we begin. Our family-owned cleaning team believes in making your cleaning services fit your home. Call now and get to work cleaning your North Potomac home!
Cleaning Professionals At Your Service
Your North Potomac Maid Bright team knows how tough and tiresome cleaning can be. That's why we're standing by to help. Our friendly team will make sure that your home is clean as can be so that you can free up time to spend with friends and family.
We believe that in giving your home a professional cleaning, and that's why our team is top quality. We know that your home matters, and we use only safe, environmentally friendly products, too. No matter what we clean, our team goes above and beyond to get your home as cleans can be.
Getting started with Maid Bright is easy. Our professional staff is standing by to help you build a customized cleaning plan that meets your home's needs. Call for your free quote today!
Schedule A Time To Chat With Our Team At No Cost
If you're tired of living in a home that's less than perfect, don't worry! Here at Maid Bright we're standing by to help you get started with a free, in-home consultation at no charge. And, we'll make sure your cleaning plan is custom designed for you. Give our team a call today to get started!
We are dedicated to providing you with a cleaning experience that exceeds your expectations and leaves a lasting impression.
Yusuf Mehmetoglu
CEO of Maid Bright
Interested in our other service areas? We serve some of the greatest cities in the DMV including: