You Name It, We Clean It. Work With The Most Trusted Maids in Rockville Today!
Your home isn't just a house, it's your private space where you relax, unwind, and spend time with your family and friends. At Maid Bright, we go beyond the basic services and provide you with a comprehensive clean that will reinvigorate your home and improve your well-being. From everyday cleanings to routine and seasonal services, our professional Rockville team can provide you with an incomparable experience.
Call For a Free In-Home Consultation

Call us and schedule a free in-home consultation. We'll come to your home at the scheduled date and time and will discuss your cleaning needs, preferences, and any other necessary information.

Our Warranty

We offer remarkable cleaning services with a 100% satisfaction guarantee. Call us within 24 hours of your cleaning and our team will come back and make sure what was wrong is made right.

Detailed and Comprehensive Home Cleaning Services

At Maid Bright, we offer detailed and thorough home cleaning services in Rockville and its surrounding area. We always make sure that nothing is missed when your home is thoroughly cleaned.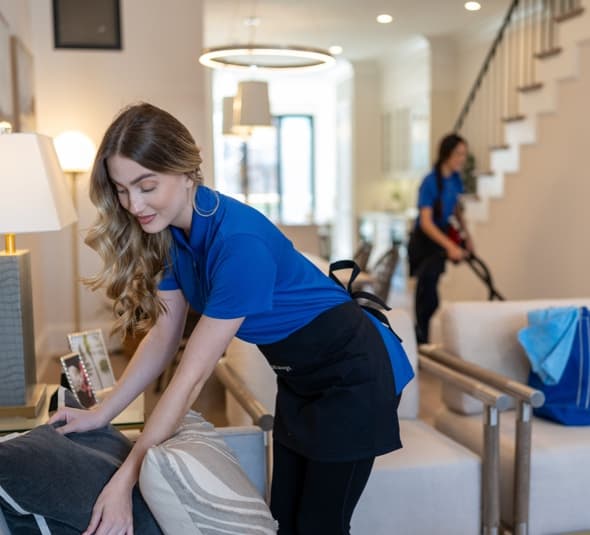 Every Home Is Different, Every Client Is Special, and Every Maid of Ours Cares.
Enjoy the kind of service you deserve. Mix and match your cleaning services from a routine cleaning to a deep cleaning so that your home is always sparkling clean. Let us know your cleaning needs and our Rockville Maid Bright team will create your very own personalized plan. Our cleaning methodology is developed to handle special requests in order to deliver the perfect cleaning service for each of our clients.
On top of that, all of our cleaning estimates are free, no-obligation plans which lets us get to know you and your home before we begin. Our family-owned cleaning team believes in making your cleaning services fit your home. Call now and get to work cleaning your North Potomac home!
Reliable and Trustworthy Professional Cleaners
Our team of trusted professionals will treat all delicate items with care, moving from the ceiling to shelves and furniture to the rest of your home's surfaces. They will clean every nook and cranny and won't leave a corner untouched. We are committed to leave your home bright and shining clean. Our clients say that our maids and services are the best in Georgetown, and we are obviously proud to agree!
All our cleaning professionals undergo a rigorous background check process so that when we show up you know you're in good hands. Moreover, all our employees are properly trained to make sure your experiences are more than acceptable and that you can leave the stress of mind on making sure your home is well taken care of. You can trust us to get the job done quickly and accurately every time.
The Maid Bright team in Rockville is ready to deliver the best home cleaning services and to revive your home. Give us a call and we'll work with your schedule to fit all your needs.
Schedule A Time To Chat With Our Team At No Cost
If you're tired of living in a home that's less than perfect, don't worry! Here at Maid Bright we're standing by to help you get started with a free, in-home consultation at no charge. And, we'll make sure your cleaning plan is custom designed for you. Give our team a call today to get started!
We are dedicated to providing you with a cleaning experience that exceeds your expectations and leaves a lasting impression.
Yusuf Mehmetoglu
CEO of Maid Bright
Interested in our other service areas? We serve some of the greatest cities in the DMV including: