Recurring Cleaning
Let's get on a schedule together—when you enlist our recurring services, we get to know your home inside and out. We know how hectic life can get and finding time to tidy up or even fit in a deeper clean can be challenging. Our recurring services allow our team of professional house cleaners to customize a cleaning plan according to your specific (and, often, changing) needs. We want your home to stay cleaner longer and we don't believe in surprises, which is why we provide a free in-home estimate so you know ahead of time the pricing structure. The frequency of cleanings is customized for individual preferences—weekly, bi-weekly, monthly, every three weeks, bi-monthly.
Weekly

A sought-after solution for busy executives and families who cannot dedicate time to clean their home.

Bi-Weekly

Ideal for those who do light cleaning every week or every other week but require a deeper clean for upkeep.

Monthly

For people who clean their homes regularly, but could use a little help on occasion.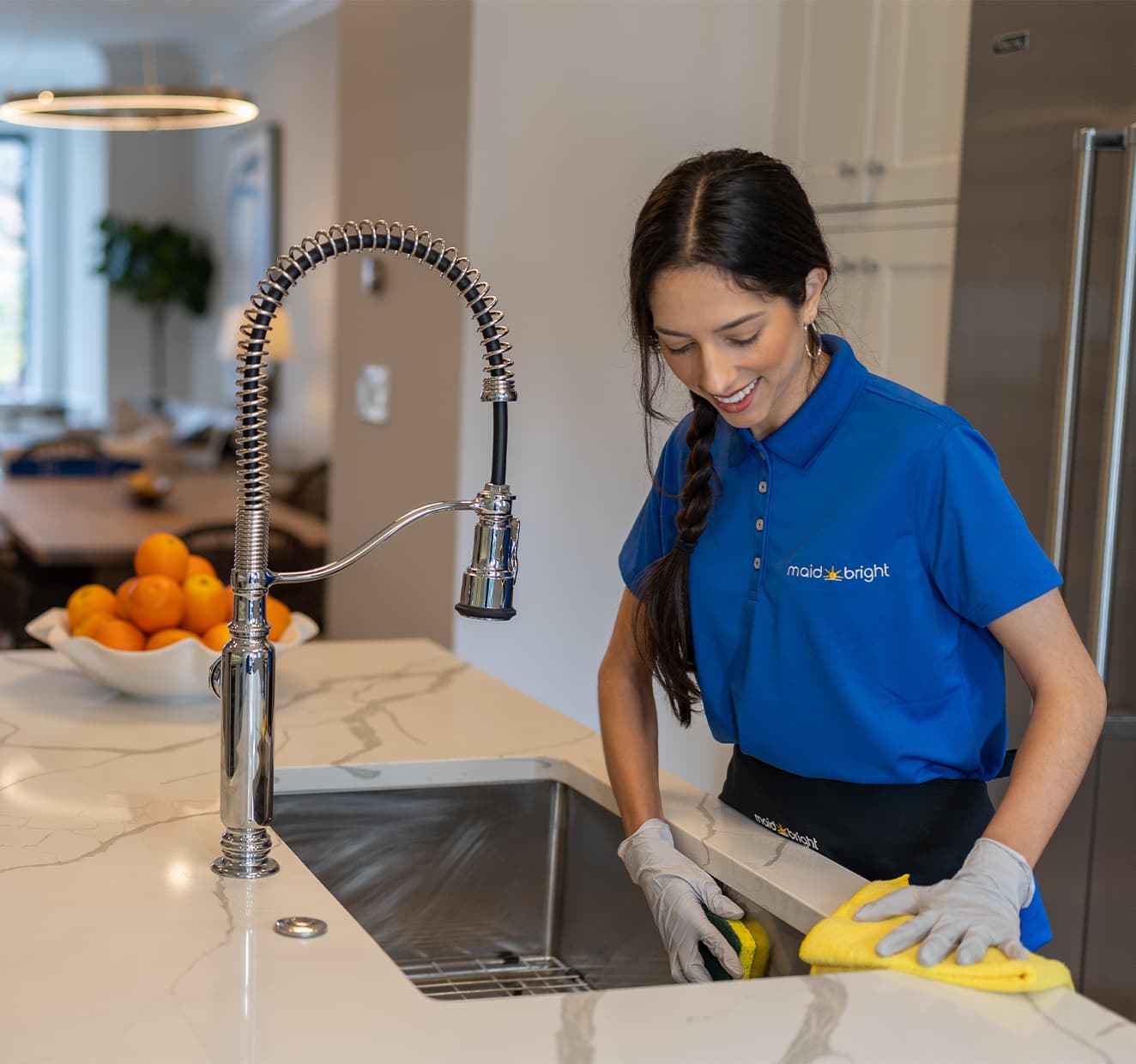 Order & Calmness
Establishing regular cleaning routines helps to maintain cleanliness and hygiene, enhancing your peace of mind. Our professional house cleaning service ensures your home is cleaned to your satisfaction. At your free in-home consultation, we'll discuss conducting an initial cleaning. You may choose to be present at each cleaning or provide Maid Bright access to your home. If you give us a key or garage code, it will be secured once received.
Maid Bright creates a customized cleaning plan tailored to your specific needs. A typical service will include dusting, vacuuming, mopping floors, disinfecting, changing linens, cleaning bedrooms, bathrooms, and the kitchen.
Cleaning Checklist
Kitchen

Cabinet Fronts

Countertops

Stovetop, Front and Hood

Refrigerator Top, Front and Sides

Sink Walls Spot Cleaned

Doors Spot Cleaned

Floors Vacuumed & Washed

Wipe Blinds/Windowsills

Window Over Sink

Clean Accessories

Bathroom

Floors Vacuumed & Washed

Walls & Doors Spot Cleaned

Light Fixtures

Wipe Mirrors

Tubs & Showers

Wipe Baseboards

Wipe Blinds/Windowsills

Sinks & Toilets

Cabinet Fronts

Counter tops

Bedrooms

Floors Vacuumed & Washed

Walls & Doors Spot Cleaned

Light Fixtures

Wipe Mirrors

Tubs & Showers

Living Spaces

Dust Furniture

Dust Picture Frames

Dust Knick Knacks

Dust Ceiling Fans

Dust Lamp Shades

Sliding Glass Door

Vac the Room & Carpet Edges

Wipe Blinds

Wipe Mirrors

Wipe Baseboards

Walls & Doors

Dust Lamps

Wipe Windowsills
Schedule Your Free In-Home Consultation
Maid Bright offers free in-home consultations for those who are interested in recurring cleanings.
Go Green Every Day

Maid Bright is committed to using effective yet environmentally friendly products that are safe for the whole family, including your pets. You can breathe easy knowing that your air has never been fresher or safer — both for you and for our planet.

We Go Above and Beyond

Maid Bright is dedicated to offering an expert cleaning service that leaves our clients smiling and satisfied. If any detail of your recurring cleaning isn't up to your standards, we encourage you to let us know. If you're not 100% satisfied, just reach out within 24 hours of your cleaning so that we can remedy the situation at no added cost.