One-Time Cleaning
We know all too well that schedules tend to shift and change at a moment's notice, and keeping a standing cleaning appointment isn't always at the top of the to-do list. A one-time cleaning allows for a thorough refreshing of your home when you need one—no on-going commitment necessary! Unlike housekeeping services, which are scheduled on a recurring basis, a one-time service is typically requested on an as-needed basis for a variety of situations. Often reserved for special events like parties, gatherings, celebrations, moving in and out, seasonal refreshing, or an after-renovation clean, this one-time service is here to help you get the cleaning boost you need. Plan an affordable one-time cleaning solution when you need one.
Seasonal Cleaning

For any holiday, we let you focus on the fun and we will make your home sparkle and shine.

Family Gathering

Expecting out-of-town guests? Hosting a party? Let Maid Bright do a thorough cleaning before or afterwards.

Special Circumstances

Whether you're welcoming a new baby, you're sick and unable to clean or you are in mourning? We can ease your workload.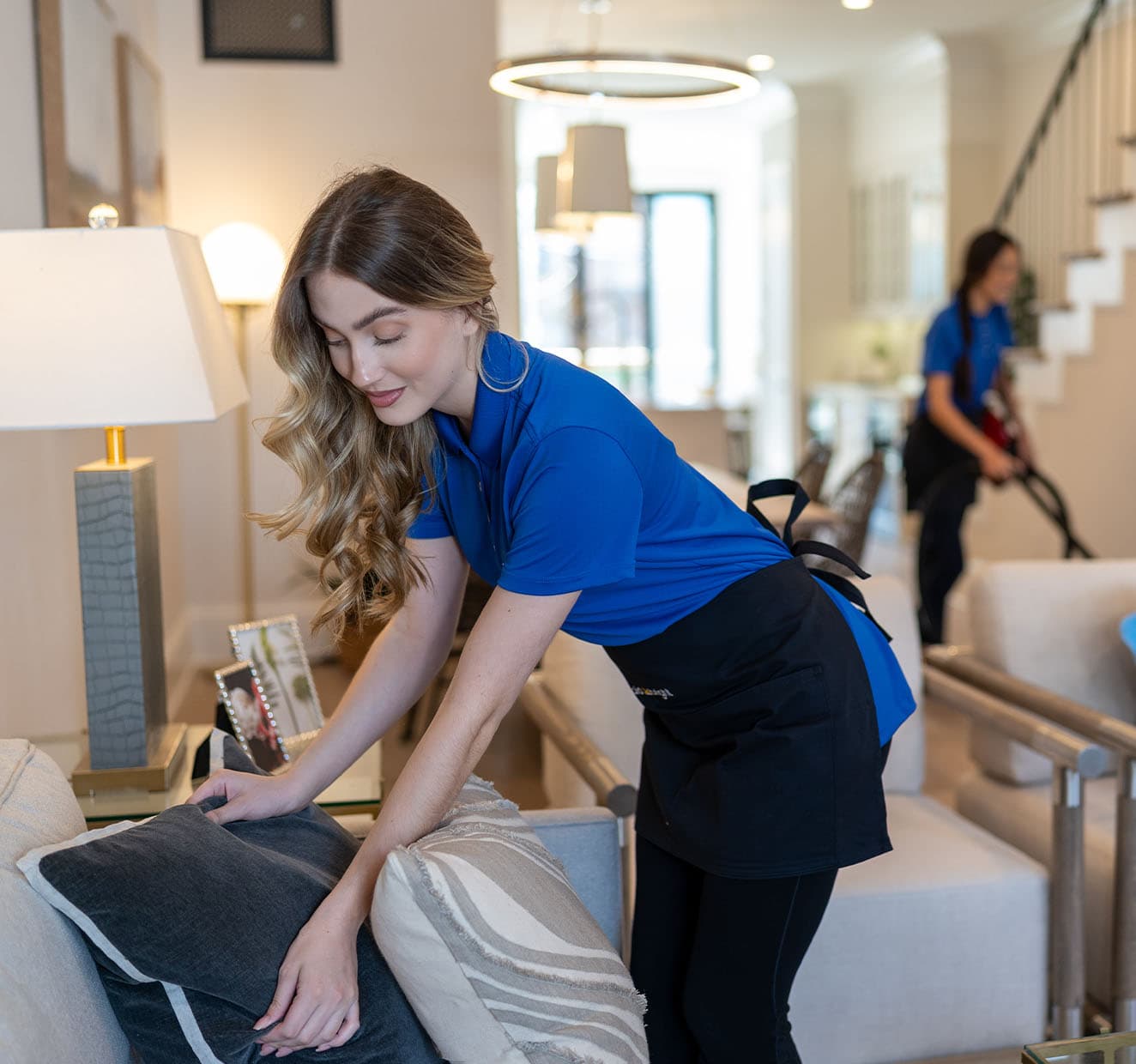 Moment of Ease
Our one-time cleaning service is a way to get your home clean without being regularly scheduled. Our convenient online booking system allows you to choose the day and time that works best for you. Provide us with all the details and we'll make your clean, refreshed space happen.
Additional services include: Inside the Fridge, Inside the Oven, Dishes- Sink Full Only, Windows, Post-Construction, Inside the Garage (Single-Family and Townhomes), and Screened Porch.
Cleaning Checklist
Kitchen

Cabinet Fronts

Countertops

Stovetop, Front and Hood

Refrigerator Top, Front and Sides

Sink Walls Spot Cleaned

Doors Spot Cleaned

Floors Vacuumed & Washed

Wipe Blinds/Windowsills

Window Over Sink

Clean Accessories

Bathroom

Floors Vacuumed & Washed

Walls & Doors Spot Cleaned

Light Fixtures

Wipe Mirrors

Tubs & Showers

Wipe Baseboards

Wipe Blinds/Windowsills

Sinks & Toilets

Cabinet Fronts

Counter tops

Bedrooms

Floors Vacuumed & Washed

Walls & Doors Spot Cleaned

Light Fixtures

Wipe Mirrors

Tubs & Showers

Living Spaces

Dust Furniture

Dust Picture Frames

Dust Knick Knacks

Dust Ceiling Fans

Dust Lamp Shades

Sliding Glass Door

Vac the Room & Carpet Edges

Wipe Blinds

Wipe Mirrors

Wipe Baseboards

Walls & Doors

Dust Lamps

Wipe Windowsills
Schedule Your Free In-Home Consultation
Maid Bright offers free in-home consultations for those who are interested in recurring cleanings.
Go Green Every Day

Maid Bright is committed to using effective yet environmentally friendly products that are safe for the whole family, including your pets. You can breathe easy knowing that your air has never been fresher or safer — both for you and for our planet.

We Go Above and Beyond

Maid Bright is dedicated to offering an expert cleaning service that leaves our clients smiling and satisfied. If any detail of your recurring cleaning isn't up to your standards, we encourage you to let us know. If you're not 100% satisfied, just reach out within 24 hours of your cleaning so that we can remedy the situation at no added cost.