July 14, 2021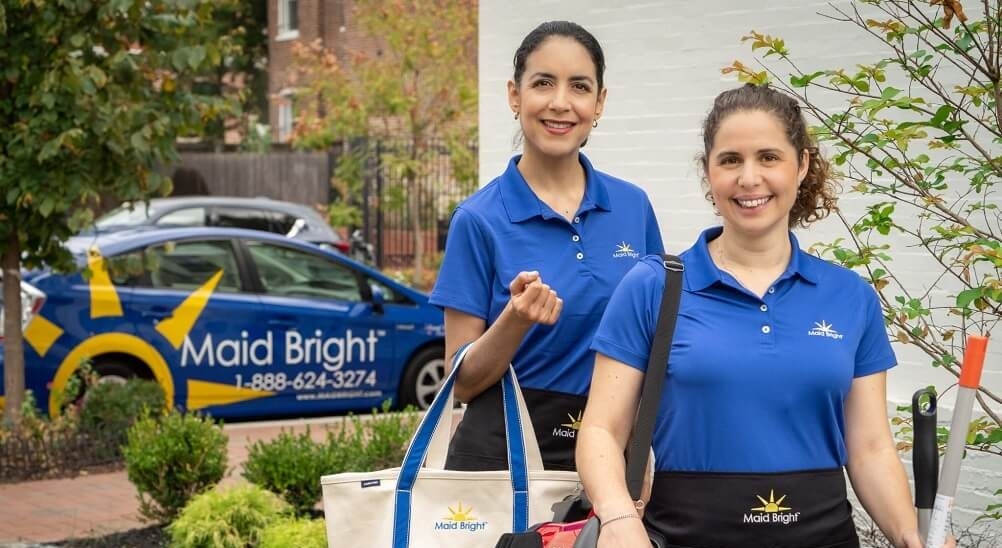 What Can You Expect From Your First Experience With a Professional Maid Service?
Coming home to a clean house is one of the best feelings you can experience. Your daily tasks can get in the way of completing chores, and having some extra help can make a noticeable difference. One practical option is to hire a professional maid service to help with cleaning your home.
But how do cleaning services work? If it's your first time having a professional cleaning service come into your home, you may wonder what to expect. For instance, many homeowners ask whether they need to straighten things up before the cleaning service arrives or if their belongings are safe in a stranger's company.
Hiring a quality professional maid service is an excellent decision. You'll feel less stress about cleaning your home and have peace of mind knowing the company you hired will provide outstanding service.
Follow this guide to learn what to expect from your first house cleaning service.
What Should I Expect From a House Cleaner?
The purpose of a house cleaning or housekeeping service is to ease your workload and keep your home looking tidy. A professional maid service's responsibilities depend on your needs. Professional maid services typically offer various options to cater to each homeowner.
Ultimately, the level of cleaning is up to you. Everything from a basic house cleaning to an intense, deep-home clean is available.
Many homeowners begin with a basic house cleaning. This level is all some homeowners need, or they start here to see if they're interested in a professional maid service long-term.
What Does a Basic House Cleaning Consist Of?
The professional maid service will pay attention to the parts of your house you use the most. These high-traffic areas of your home can include your living room, kitchen, bathrooms, bedrooms and dining room. These aren't the only rooms they will clean, but they're the ones they'll spend extra time working on.
What's included in basic house cleaning? Cleaners will perform specific tasks in each room.
Mop and vacuum all the floors.
Dust all hard surfaces and cabinets in the rooms and wipe down appliances.
Take out the trash and recycling.
Clean all sinks, tubs, showers, countertops, toilets and other hard surfaces.
Restock personal items like paper towels, toilet paper, etc.
Organize and tidy rooms.
Clean mirrors or wall art in the rooms.
Basic cleaning is perfect for keeping your house tidy and allows you to concentrate on your pressing personal and professional responsibilities.
If you need more focus on a specific room in your home or have another cleaning request, you can ask the professional maid service to add services to your cleaning plan. Cleaning plans can include the number of visits during the week or month and tasks the maid service will accomplish while at your home.
What Should I Do Myself?
Professional maid services will provide exceptional cleaning services for your home. While they'll tackle many cleaning duties, there are some they won't handle.
Learn what cleaning tasks the service will not perform so you know to handle them yourself. These cleaning tasks include items that may require an industry-specific cleaner or something you can do independently.
Here are tasks that you'll need to take care of yourself.
Biological waste: House cleaners won't touch hazardous waste materials. These include animal droppings, used medical equipment or deceased animals.
High-up places: High areas that are only reachable by ladders are also not tasks your house cleaner will complete. Climbing ladders can be a safety issue, so make sure you're cleaning your hard-to-reach spaces like bookshelves and on top of your cabinets.
Windows: Your windows require specialized cleaning supplies and care to ensure they look clear and streak-free. Unless you specifically add window cleaning to your house care plan, your cleaning service won't take care of that task.
Laundry services: While your home will be clean after the professional cleaning service, you'll still need to wash your clothes and bed linens.
Pest infestations: Leaveproblems like bedbugs to a pest professional. You should not expose your professional cleaning service to pest infestations.
Strong odors: While your house cleaners will freshen up your home, strong odors like smoke are too intense for typical cleaning supplies. You may need to contact a professional or try and eliminate the smell yourself.
Washing machine: Washing machines can develop a strange odor from wet clothes sitting inside for too long or another issue. You can find helpful tips to freshen up your washing machine to help with the smell.
Washing dishes: You'll need to wash and dry your dishes or load them in your dishwasher. Your house cleaners can clean your sink and your dishwasher's exterior, but not your dishes.
Tackling these cleaning tasks before your professional cleaning service arrives at your home will allow them to focus on their crucial tasks and make your house clean. Even tidying up a little bit before they get there can save them time.
How Cleaning Services Work
Scheduling a cleaning service for your home is simple. Once you decide what you want for your home, choose a high-quality cleaning company like Maid Bright and check out all the services they have to offer.
After filling out a request form, someone from our team will contact you to schedule your cleaning. You can ask any questions or concerns regarding the process. You'll then agree on a time that works best with your schedule.
Before Maid Bright arrives at your house, make sure to tidy up any items you've left out or things Maid Bright is not responsible for cleaning. Doing so will help make the cleaning process smoother and more efficient.
Call Maid Bright to Keep up With Regular Cleaning!