January 17, 2022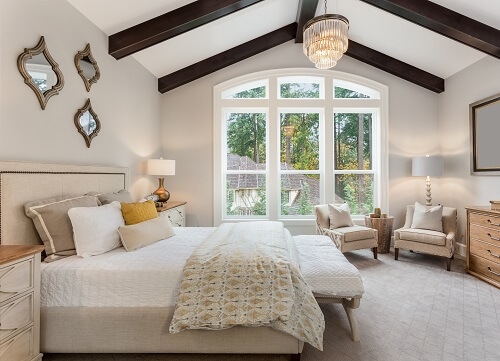 Tips for Cleaning Windows
Does it seem like your windows are hazy or filmy? Your eyes probably aren't deceiving you. Over time, windows pick up indoor and outdoor debris. As a result, they can make a sunshiny day look downright cloudy*—* and you don't want that!
Fortunately, window glass cleans up beautifully. You just have to find the best way to clean your home windows to restore their beautiful shine. Below are some helpful hints to clean windows inside and outside.
Gather the Right Products
For crystal-clear windows, you need the right products and cleaners. You can even make your own cleaners from items you already have at home. Try any of these at-home recipes that work just as well as store-bought cleaners:
Water-Vinegar Window Cleaner: For every one cup of white vinegar you place in a spray bottle, add a half-cup of water. It's a simple, effective cleaner for getting windows spotless.
Soap-Based Window Cleaner: Mix a few drops of your favorite dish detergent with two cups of hot water. Use this window cleaner when you want to do a little serious scrubbing for stuck-on material.
Use a Tried-and-True Window Cleaning System
One of the greatest headaches for homeowners is cleaning their windows only to find streaks afterward. You can avoid this irritating phenomenon by following a proven window cleaning regimen.
Remove all the dust from the window. You can do this with a soft, microfiber cloth.
Spray your window cleaner of choice onto the glass. Be careful not to overspray the cleaner, but be generous.
Use a clean microfiber cloth to scrub the dirty window.
Use another clean microfiber cloth or lint-free paper towel to remove excess dirt and moisture.
Spray warm water onto the freshly scrubbed window.
Glide an appropriately-sized squeegee across the window. Clean the edge of the squeegee after each "pass."
Step back and look at your window to make sure you don't see any remaining streaks. If you do, you may need to clean the window surface again.
Make Window Cleaning a Regular To-Do
You should clean your windows once or twice each year. Polishing your windows from the inside
a few times a season
can ensure they perform better. If you have windows that fold in for cleaning, feel free to clean the outside of the glass for best outcomes.
Don't have the time to make cleaner windows a priority? Let Maid Bright help.
Book your next appointment
or free in-home estimate today.