April 28, 2016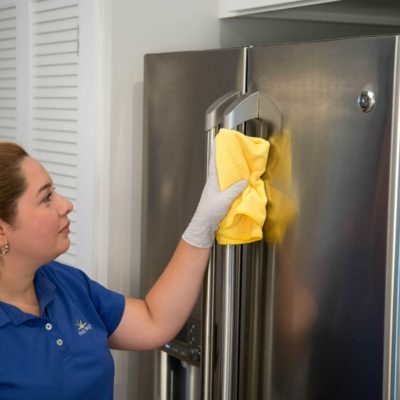 Tackle Your Kitchen Cleaning, One Surface at a Time!
Sticky floors from spilled juice, crumbs from snack time and stains from cooking on the stove top… sound familiar? Kitchens are one of the most high-traffic areas of the home, whether or not you cook. It is also an area that gets the most disorganized and dirty if nothing is done about it.
If the kitchen is left alone, over time getting it clean and organized will become a daunting task that you might have to handle right before a dinner party! The following are some suggestions to cleaning and organizing a kitchen:
Organization
First, de-clutter all kitchen surfaces, including breakfast tables, kitchen islands and stove tops. Organize your pantry with glass or plastic containers that are labeled for certain food items and date them, so you are aware when they need to be disposed of. This way, you will be able to find any item easily and there will not be a big mess in the pantry. Also, organize cooking utensils by putting them in a visible canister so that they are within reach as you are cooking. It is also worthwhile to use cabinet organizers for pots/pans, bowls and food storage containers.
Cleaning
If you cook often, it is essential to wipe down surfaces as you go, so grease does not build up; however, if you cook less often still wipe down surfaces every couple of days to avoid dust and residue build up. Vacuum and mop floors once a week, so you do not end with sticky floors from spilled liquids or other food items.
Appliances/Cabinets
Appliances and cabinets are surfaces that fingerprints are most visible, especially if they are stainless steel. While it is unnecessary to wipe them everyday, it is a good idea to wipe them down inside and out every two weeks. Place liners inside of cabinets, so that there is less of a mess to clean, use microwave covers on food when heating, so it is also easier to wipe down the inside of the microwave.
Tips and Tricks
When cleaning appliances, use blue sponges instead of green because they are less abrasive.
To get appliances to look like new, use a stainless steel cleaner or baking soda to add shine and get rid of any fingerprints. You can also use a touch of olive oil to polish your stainless steel appliances. Do not forget to clean the stainless steel appliances in the direction of the grain.
To clean surfaces, invest in some microfiber towels and that are gentle on surfaces and less costly and environmentally friendly than using paper towels.
Use soap and water to clean, but to disinfect after cooking with poultry or other meats use a vinegar and hydrogen peroxide solution. These natural cleaners are safer for most granites, marble and wooden surfaces.
To clean ovens, use the oven's clean cycle, but remember to ventilate the kitchen while doing so and do not use the appliance for the first 24-hours.
When cleaning inside of refrigerators, also check for food that has gone bad and dispose of it. Also, place a box of baking soda inside the refrigerator to prevent any bad odors from food.
Food disposals can also develop bad odors, throw a couple of lemons and run the food disposal to freshen it.
Keeping up with the kitchen may sound intimidating, but handling it one task at a time will help keep your kitchen fresh and a place to enjoy spending time with the family, enjoying your favorite meal or relaxing with a cup of coffee!