April 03, 2023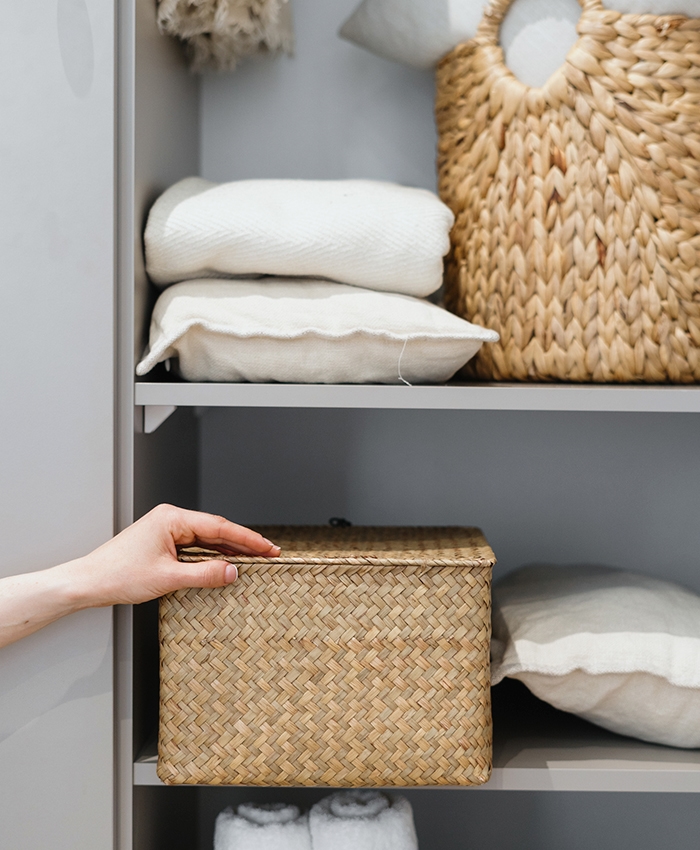 Staging the Interior of Your Home to Sell
Staging is the process of preparing your home for sale by "setting the stage" for a potential buyer. It involves things like: Rearranging furniture, repainting walls, removing personal clutter, and upgrading light fixtures, flooring, or appliances.
Interior home staging often starts with a consultation. A realtor or staging professional evaluates your space, assessing its strengths and offering suggestions for improvement. They can help you determine how to attract prospective buyers before taking listing photos, putting your home on the market, and showing it to the public.
Alternatively, you can examine your home on your own to figure out what it needs. Your home's unique status will ultimately determine your staging requirements.
This guide will cover some effective measures to help stage your home before you put it on the market.
6 Interior Home Staging Tips
Staging your indoor space for potential buyers can be simple with the right tips. Here are six methods for staging your home's interior to sell.
1. Declutter and Organize Your Space
After years of living in a space, it's easy to accumulate things you don't need, from outgrown clothing to papers to books, toys, and games. However, clutter can distract a buyer's eye from other features, make rooms look smaller and disorganized, and lessen the home's overall appeal for buyers.
Decluttering is an essential first step in staging your home. Go through each room and determine what to sell, donate, or throw away. For example, sort clothing in good condition that you no longer wear into sell and donate piles. Discard expired food in your fridge and cabinets, old toiletries and cleaning products, and papers you no longer need. Storage solutions like baskets and plastic bins are great for organizing items you plan to keep.
Once you weed out unwanted items, organize your belongings, and free up space in your home, the rest of the staging process is much easier. As a bonus, you'll also have a jump start on the packing process!
2. Add Some Color
Bright splashes of color can make your interiors stand out, potentially drawing attention. Modifying your home's color palette or enhancing its existing scheme will make for vibrant, eye-catching listing photos.
You have many options for making a colorful, stylish statement with your space:
Natural charm: Potted plants and flowers go a long way when adding a homey, natural charm to a room. Indoor plants can liven up your space with dazzling pops of color, making it significantly more inviting. Remember to space plants out evenly to avoid a cluttered, overwhelmed look. Make sure the plants are healthy and vibrant — withered and dying plants will have the opposite effect.
Bright textiles: Colorful throw pillows and blankets, rugs, curtains, and other textiles are an excellent way to bring pops of color into a room.
Lively decor: Brightly colored wall artwork, vases, and other decorative features can add depth and interest.
Be sure to coordinate and complement the hues you choose. Offset bright colors with a neutral base, such as a beige wall or couch, to keep the room from looking messy and chaotic.
3. Eliminate Odors
Any unpleasant smells lingering in your home, such as pet odors, garbage cans, cigarette smoke, or mildew, will likely deflect potential buyers. Removing unwanted odors is a great way to freshen up your home for staging and selling.
Here are some ways to keep your home smelling its best:
Use candles, air fresheners, or essential oil diffusers around the house.
Wash pet bedding and towels and clean any litter boxes or cages.
Thoroughly scrub walls in rooms with strong odors.
Run a dehumidifier to remove moldy scents.
Clean and deodorize the carpets.
Steam-clean your furniture.
Tuck cedar chips or an open box of baking soda into the corners of closets to remove shoe smells.
You may also want to give your garbage cans a thorough cleaning to be on the safe side. Empty them, take them outdoors, and spray them with an all-purpose cleaner. Sprinkle
half a cup of baking soda
inside and let it sit for 10-15 minutes before washing it out. Once dry, line the bottom of the cans with newspaper or a microfiber towel to absorb moisture.
4. Upgrade Broken or Outdated Features
Take some time to examine each room of your home, looking for any elements you need to fix or replace.
For example, cracked ceilings or walls can signify foundation issues and make prospective buyers wary. If your foundation is structurally sound and only has cosmetic defects, repair these cracks to avoid turning away buyers. If your foundation does have issues, it's essential to alert interested buyers or have them fixed. You can also repaint or re-wallpaper any rooms that need it.
Flooring is another high-profile area. Stained carpeting or rotting hardwood may raise some red flags. Even if your decades-old linoleum flooring has held up well over the years, modernizing it may be in your best interest to entice buyers.
Replacing outdated or broken appliances like refrigerators, microwaves, and dishwashers can also add to your home's appeal.
5. Enhance Lighting
Good lighting does wonders when you're staging your home to sell. Consider opening your blinds and curtains before showing your home to enhance your space's natural light.
Artificial lighting is as essential as natural. Flip on all lights — including those in closets — before showings so buyers won't have to search for light switches. Add lamps or other fixtures in spaces lacking light. More light will help your home look and feel brighter and more inviting.
Remember to wipe and dust light fixtures to keep them looking mint. If any of your light fixtures are broken or outdated, replacing them is generally easy and inexpensive.
6. Adjust Furniture
Furniture ties a room together, making it a crucial consideration when staging your space. Ensure each piece of furniture is the right size for the room and fits with the other pieces.
Too many pieces in a room make it feel cramped and cluttered, while too few can make it feel cold or empty. If necessary, rearrange and organize the furniture to improve balance, aesthetics, and navigability.
Consider replacing any damaged, outdated, or worn-out furniture. You don't have to break the bank to swap out furniture — you may be able to rent pieces solely for staging your interior or borrow some from a family member or friend.
Book Your Cleaning Today
A clean home is essential when staging your space for selling. Let Maid Bright take care of making your interiors shine! We can deep clean your home before you stage it, helping you give it the competitive edge needed to thrive on the market.