February 08, 2022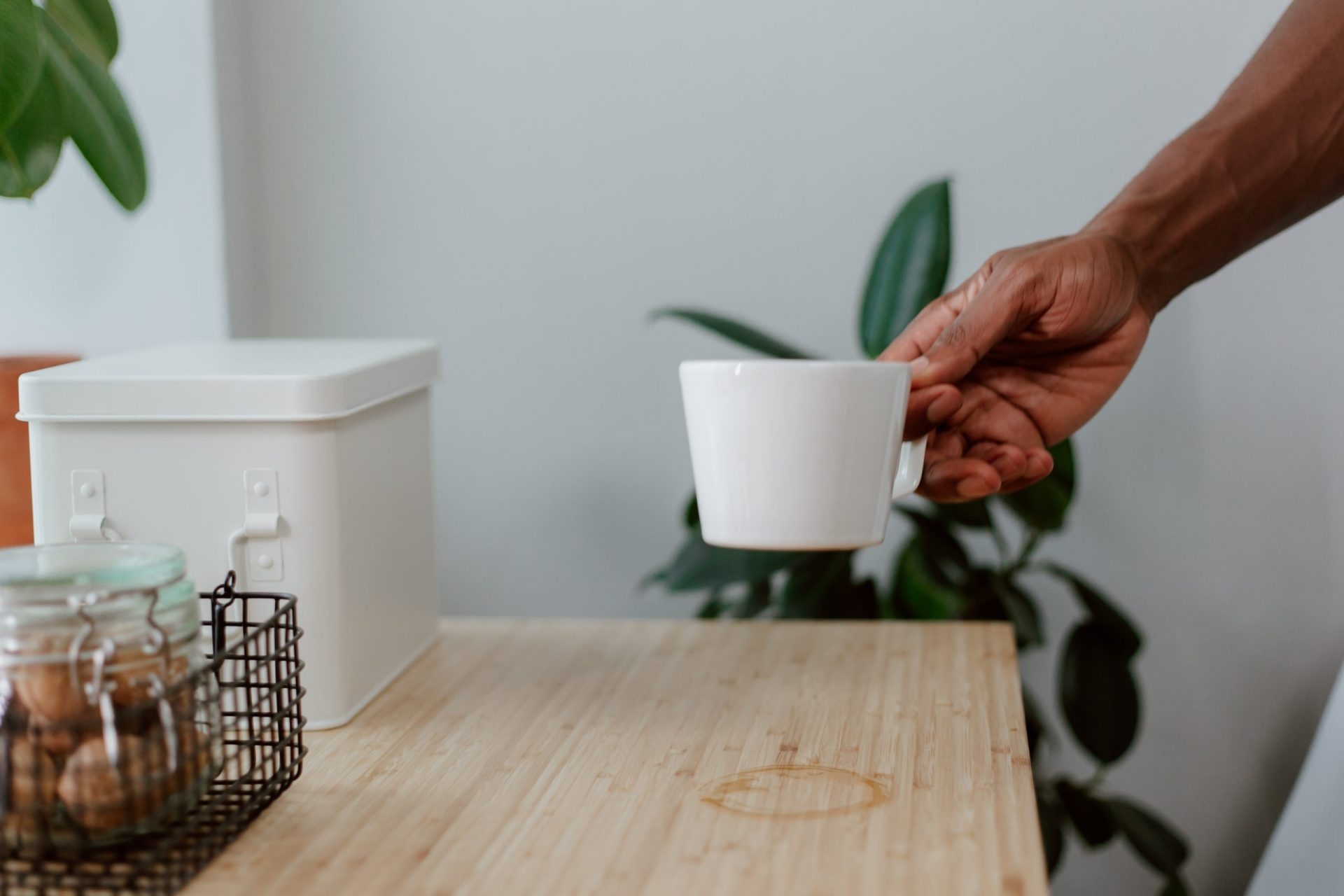 How to Get Coffee Stains out of Your Carpet
We've all been there. You get up, get that warm cup of coffee to start your day, and then disaster happens: coffee spills all over your carpet. If you live in an apartment or home you don't own, it can be stressful thinking about the repercussions of coffee stains, such as a lost security deposit.
What can you do? Learning how to get coffee stains out of your carpet will help you remove those spots and give you peace of mind if you have any more accidents in the future. Read on for helpful tips on how to remove coffee stains from your carpet.
What Supplies Will You Need?
Before you start cleaning, you should know which supplies to use on your carpet. There is a fine line between what works and what doesn't — some products can even cause coffee spills to spread or go deeper into the flooring. Make sure you have these products on hand when tackling coffee spills:
Light-colored towel or rag: Using a light-colored towel can help you tell how much of the stain is coming out and whether you need to use another method.
Sponge: You can also use a sponge rather than a cloth to dab cleaning solution on the coffee spill.
Cold and/or warm water: The water temperature makes a big difference when cleaning anything, especially something as delicate as your carpeting. You may need both cold and warm water at various points to get rid of the stains.
Hydrogen peroxide: This solution won't stain a carpet because it doesn't have any dyes. However, if you're unsure whether your carpet will be safe, test a small spot with just hydrogen peroxide to ensure it won't create an even worse stain. If it does, use a vinegar mixture instead.
Dish soap: Dish soap is known for being a good cleaner for more than just dishes. Use it on your carpet to see if it lifts any existing coffee stains.
White vinegar: Although this substance is not as effective at coffee stain removal as hydrogen peroxide, vinegar can also do the trick if the first choice doesn't work for you.
Bowls for cleaning solutions: Make sure you have bowls or other containers on hand for an easier cleaning process.
Laundry detergent: You will need laundry detergent if the coffee had any milk or sugar in it.
Baking soda: If your chosen coffee stain remover doesn't work on its own, you may need baking soda.
Wet/dry vacuum: If you have a wet/dry vacuum, great! If not, you can likely still lift your coffee stain without it.
What Should You Do for a New Stain?
If you just spilled your coffee, you're in luck. It's much easier to remove new coffee stains than older ones. Use this method to address the issue fast:
Blot it: Try blotting the coffee stain with a white towel. Don't rub the spot — simply lift and press the cloth over it repeatedly.
Use cold water: Once all the liquid has been soaked up, pour a small amount of cold water on the stain. With a different cloth or a clean part of the same cloth, continue to blot the spot as you did before.
Create a solution: If using cold water and blotting doesn't remove the stain, you can create a DIY stain removal solution using either hydrogen peroxide or white vinegar. Mix 1/2 cup of hydrogen peroxide with 1/4 teaspoon of dish soap in a small bowl. You can also mix 1/2 tablespoon of dish soap and 1/2 tablespoon of vinegar with one cup of water.
Apply the solution: Using either another light-colored towel or sponge, dab the mixture onto the coffee stain, moving from the outer edges inward. Once every part of the stain has the solution on it, allow it to sit for about 10 minutes.
Remove the stain: After 10 minutes, blot the coffee stain again using a paper towel or clean cloth towel to soak up all the liquid.
Try a wet/dry vacuum: If neither of those coffee stain removal tips works, you may need to ramp up your cleaning technique. Saturate the stain with the DIY stain remover again and let it sit for another 10 minutes. Then, using the wet setting of a wet/dry vacuum, soak up all the liquid. Continue this process until the stain is removed.
How to Lift Old Coffee Stains
While it's more difficult to eliminate old coffee stains than new spills, it's not impossible! You can try several methods to remove old stains and get your carpet looking more like its original, clean state:
Don't step on them: The most important tip to lift old coffee stains is to avoid stepping on them. If you notice a spill after the fact, inform anyone else who could come in contact with it to avoid touching it. The more the spot absorbs into the flooring, the more difficult it will be to get out.
Use warm water: Pour warm water over the stain to loosen the dried coffee. Then, follow the same steps you would take with a new stain. Blot up the water, and if that doesn't work, proceed with your DIY cleaning solution.
Mix a laundry detergent solution: If the coffee you spilled had cream or sugar in it, your stain removal might need to be more aggressive. Mix a tablespoon of enzyme laundry detergent with 1/2 cup warm water. Dab the mixture onto the stain with a clean cloth. You can then rinse the coffee stain with cold water, blot up as much liquid as possible, and let it dry overnight.
Apply baking soda: Baking soda is great for getting rid of coffee stains and other messes. After you've used the other methods, sprinkle the baking soda over the stain and let it sit overnight or until the carpet is dry. Then, vacuum up the leftover mixture.
Try a carpet cleaner: If all else fails, you may have to get a carpet cleaner or hire a professional home cleaner. While you probably want to get the coffee stain out yourself, some spills are too tough to remove without professional products.
Get Your Home Cleaning Estimate From Maid Bright
Maid Bright offers
various service packages
, you can even schedule a free in-home cleaning consultation to get a transparent price before you hire us. If you need cleaning services and are ready to start, contact us today for your
free estimate
!