August 25, 2022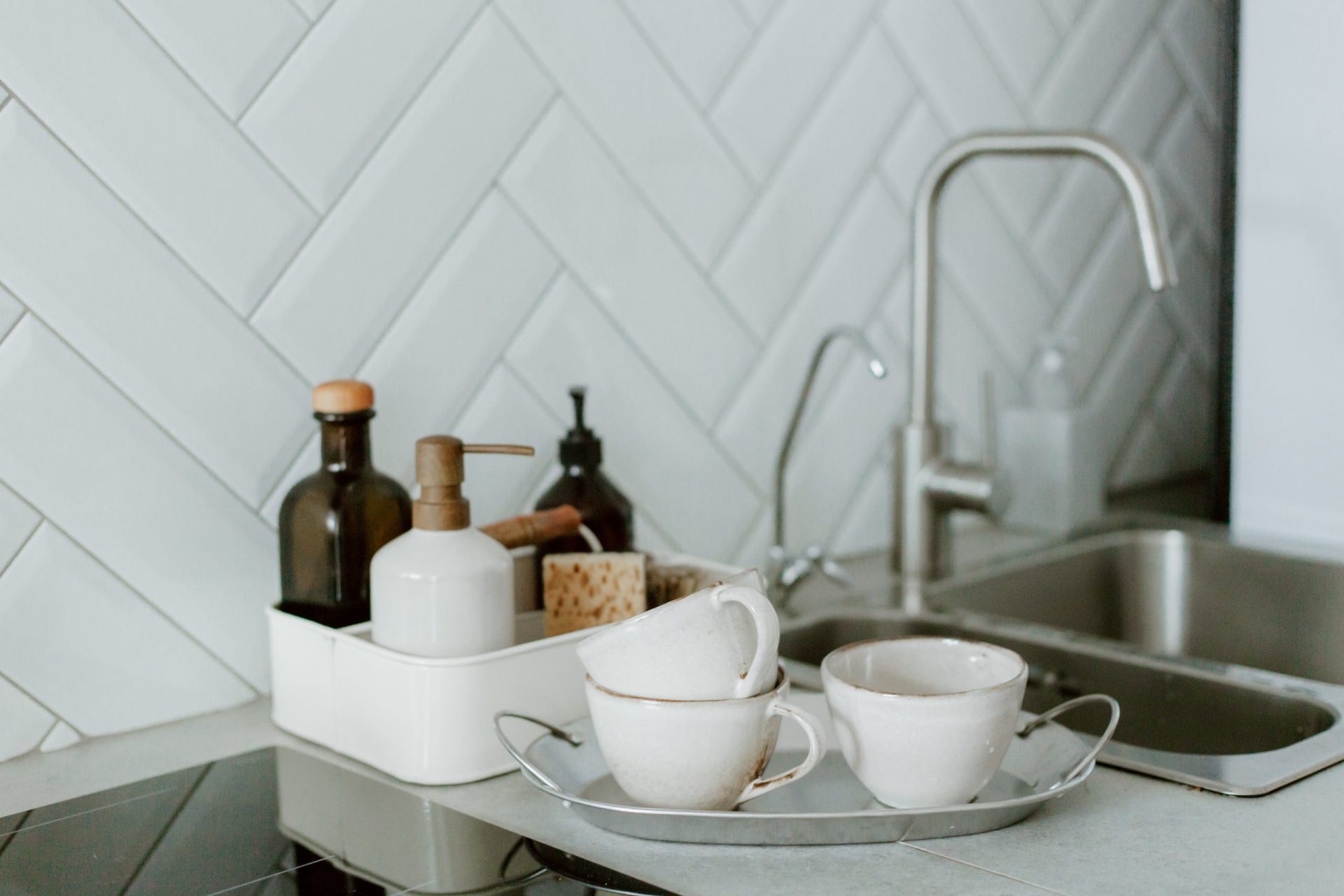 How to Tackle a Sink Full of Dishes
A pristine kitchen helps you feel at peace. Whether your sink has a few dishes piled up or a full tower, you'll appreciate a clean space. Learn these easy, efficient six steps for hand-washing dishes.
Prep
First, remove any leftover food. Dump what you can from the dirty dishes into a waste bin and use a paper towel or rubber spatula to get rid of leftover residue. You should put grease from pans into a glass jar instead of pouring it down your kitchen drain to keep your pipes clear.
Soak
Check your cleaning labels for dosage amounts and add baking soda or detergent to your cookware. Fill each dishware container with hot water and let it soak for 15-30 minutes. If you'd like to wash several stacked plates and collected flatware, consider plugging your drain and filling your sink with water to let them soak.
Wash
Drain and add new water if the suds disappear or the water becomes too cool or greasy. You should first wash dishes with light residues, such as cups, glasses, and utensils, with soapy, hot water, and your choice of a sponge, rag, or brush. Keep your dishes under the water while scrubbing and check to ensure each piece is spotless on every side, including the bottom, before moving to larger items, like plates, bowls, pots, and pans.
Rinse
Remove suds and soapy residue with a stream or spray of hot water. Make sure you wash out the inside of glassware, cups, and bowls. Safely clean and rinse knives one at a time and place them with the handle up in a drying rack.
Dry
Lay your dishes out to air dry or towel dry them. Wiping flatware and glassware with a clean towel helps prevent spots and films over each surface. Change the towel if it becomes too damp and consider using paper towels for drying pots and pans with ease.
Clean Up
Wring out your sponges, dishcloths, and rags and leave them out to air dry and wash or replace them as needed. Provide a tidy space by wiping down the sink and dish drainer. Put dry dishes away in cabinets or open shelving and enjoy your clean kitchen.
Request Cleaning Services With Maid Bright
If you'd like to have your kitchen professionally cleaned, choose
Maid Bright services
in the Northern Virginia, D.C., and Maryland areas. Many renters, homeowners, property managers, realtors, and vacation rental owners trust us for detail-oriented solutions. Schedule regular housekeeping or request cleaning as needed to make your place feel refreshed. Please keep in mind that Maid Bright does not offer dish washing as one of our services, but we can help keep your kitchen clean!
Call 838-201-3274 for cleaning services today!