August 04, 2023
How To Safely Clean Your Books
You may believe that cleaning your books can compromise their quality. However, there are various safe methods for cleaning your books. In fact, cleaning your books can help preserve their quality. It can also help restore worn books to excellent condition and extend their life span. So, how do you clean a book without damaging it?
With suitable cleaning methods and tools, you can preserve and restore your books to spotless condition. Learn how to clean your books — whether paperback, hardcover, or leatherback — in this article.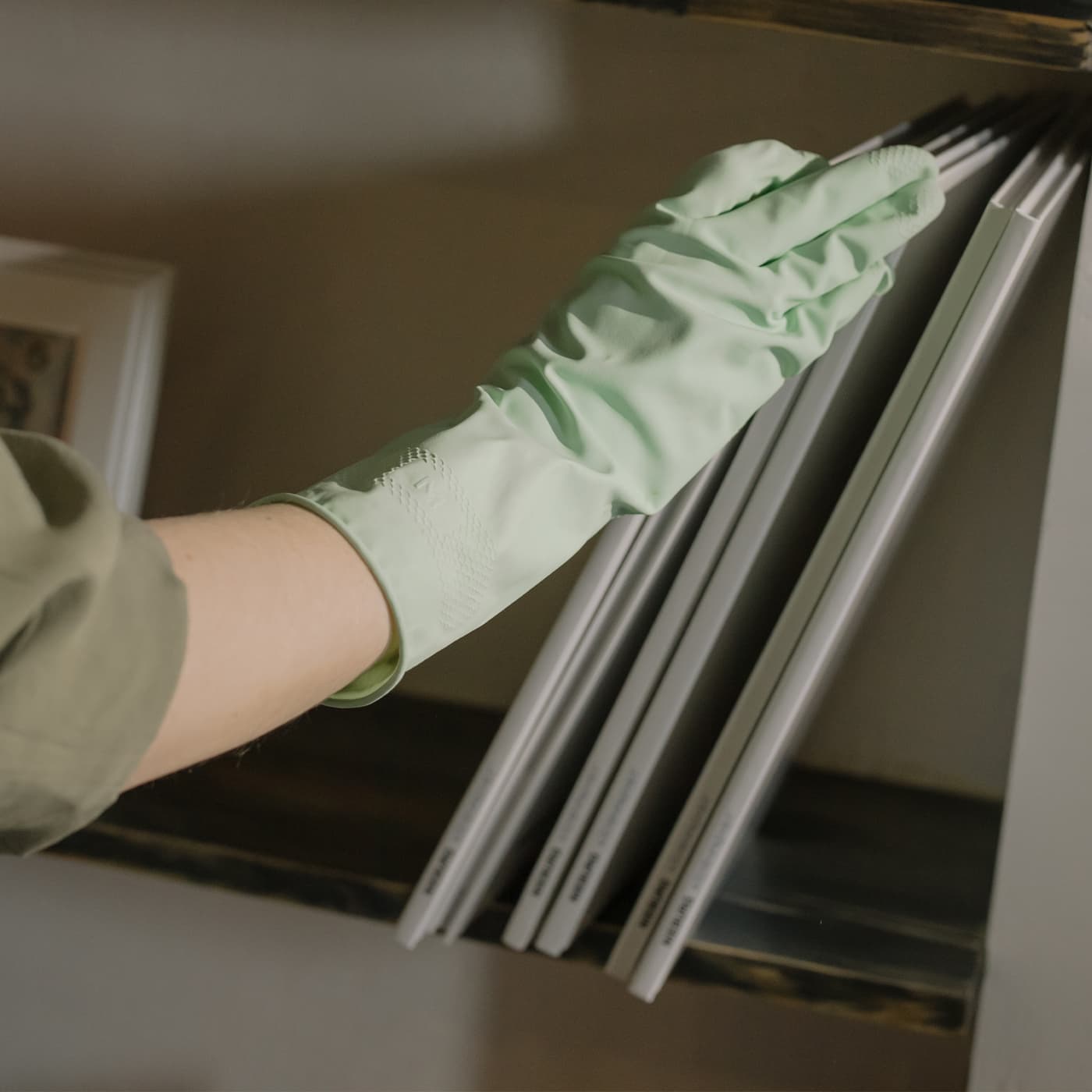 Tools for Cleaning Books
If you're wondering how to clean your books, the answer is "carefully." Books are delicate and can become more fragile with age. Additionally, some books can have softer covers, loose pages, or dainty edges. If you have limited edition or rare books, you might want to speak to a professional before cleaning. Professionals have specialized tools and techniques for cleaning precious books. However, tools like a soft toothbrush and a microfiber cloth are excellent solutions for cleaning and preserving other books on your shelf.
Here's a list of tools that you can use to clean your books:
Microfiber cloth: These cloths are excellent for wiping and shining book covers.
Old T-shirt: Wrap a T-shirt around your books. Place the book in a resealable bag with baking soda on the bottom to help remove musty smells.
Vulcanized rubber eraser: Use a rubber eraser to remove dirt, grime, and marks on book covers and pages.
Baking soda: Baking soda can help remove odors using the method in the T-shirt section.
Soft toothbrush: Brush off dirt, grime, mold, and mildew using a soft toothbrush.
Paper towel: Layer paper towels over covers and pages before ironing away grease stains.
Sealable bag: These are great for holding books and baking soda to remove stains.
Plastic scraper: Scrape off tough marks, residues, and adhesives.
Sandpaper: Sandpaper is excellent for cleaning book edges.
Vacuum: Use a vacuum to remove dust from the book page.
Mesh cloth: Wrap a mesh cloth around the vacuum nozzle to help reduce suction and protect book pages.
Saddle soap: Saddle soap is a great solution for cleaning away dirt and grime from leather book covers.
Wax paper: Use a protective layer of wax paper under a book page when brushing away mildew.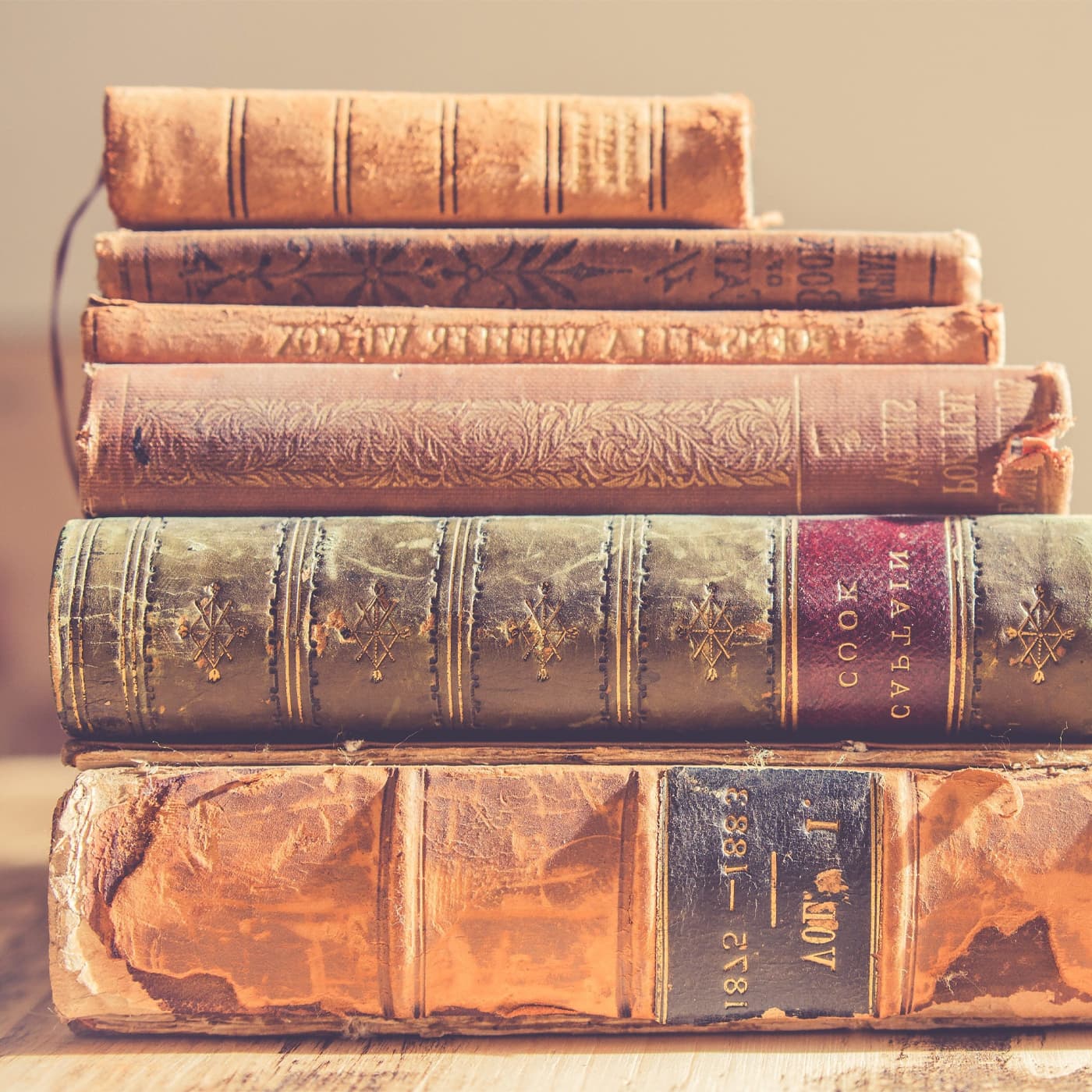 Cleaning Different Book Covers
Different book covers require specific cleaning methods, as they can react differently to cleaning products and tools. For example, hardcover books are usually more durable, while leather is delicate and may require more careful cleaning. But before cleaning according to cover type, you'll want to remove dust using a microfiber cloth or vacuum. Now, you can clean your book covers according to type. Using suitable techniques and tools can prevent damage and ensure you clean your books effectively.
Hardcover
You can use the following techniques to clean a hardcover book:
Smudges: Erase pencil marks and dirt with an art gum eraser. Repeat until all smudges are gone.
Grease: Sprinkle cornstarch on the cover and layer a white paper towel over the cornstarch to protect the surface. Weigh the book down by placing a stack of books on top. Leave the book there for a day. The pressure will allow the paper towel and cornstarch to absorb oil from the cover. Simply wipe the cornstarch away the next day.
Paperback
Here are some tips for cleaning paperback books:
Stains: Put a small amount of rubbing alcohol on a cloth and rub away the stains. Use a clean white cloth to prevent dirt and color from transferring onto the cover. Repeat the process on heavily stained areas.
Smudges: Use an eraser to remove pencil marks and other smudges.
Grease: Use the same method for removing hardback grease stains.
Leatherback
Wipe: Dip a lint-free cloth into a saddle soap and water solution. You can also use petroleum-based cleaners and water. Follow your product instructions for accurate mixing ratios. Wring out the cloth until it's damp before applying it to the cover. Wipe down the leather cover and binding.
Buff: Dry and shine with a soft dry cloth for a glossy finish.
Cleaning Edges of Books
Book edges can become discolored and bent over time. They can also collect dirt, dust, and debris on your bookshelf. Most people overlook cleaning the edges because they think cleaning them will harm their book quality. However, cleaning the edges of your books can preserve their quality. Here are some techniques to clean and restore your book edges: Use a soft toothbrush to brush away dirt and debris lingering on the edges. Vacuum excess dust from pages to prep your edges for cleaning. Wrap a mesh cloth around the vacuum nozzle to weaken suction. Erase any marks on your edges with a rubber eraser. Cut a small piece of sandpaper and hold the book closed firmly to keep the pages together. Sand the edges gently to remove debris and discoloration. Sand until all the dirt is gone and you're happy with the color.
How to Remove Tough Stains From a Book
Book stains can vary. Food stains can become hard, while
liquid stains can seep
into the cover. Stickers and adhesives can leave sticky residues and tough stains. Depending on the stain color and texture, you can use various stain removal methods.
Stains
Stain removal techniques include the following:
Place your book in the freezer for a few hours to dry food stains and loosen dirt.
Take your book out of the freezer and shake out the pages to remove any loose dirt and debris.
Run your fingers over the pages to feel for dried food, and use a scrapper to peel it off.
Remove remaining stains by rubbing them with vulcanized rubber.
Sticky Residue
Removing adhesive from books requires extra attention because you want to avoid harming the page and cover quality. Adhesive removers can work best for removing stickiness. If you don't have any at home, you can try rubbing alcohol. However, use rubbing alcohol carefully to prevent ink runs and thinning out the book cover.
Here are some more tips for removing sticky residue from books:
Use a scraper to peel off as much stickiness as you can.
Apply a little adhesive remover or rubbing alcohol to a cotton swab or white cloth.
Use the cloth or swab to rub the sticky area until all the residue is gone.
Use a vulcanized rubber to remove any leftover stains.
With over 17 years of experience, we know how to clean various home areas and items, even commonly overlooked ones like your books.
ZEYNEP MEHMETOGLU
Trust Maid Bright for Expert Cleaning Services
Maid Bright is more than just a residential cleaning company — we're experts in our craft. We provide our customers and communities with quality cleaning services.
Our team of professional cleaners is skilled and trained in numerous cleaning disciplines. They have the expertise to clean delicate home areas and items, so you don't have to. Whether you need deep or specialized cleaning, we have the skills and tools to service your home.