September 27, 2017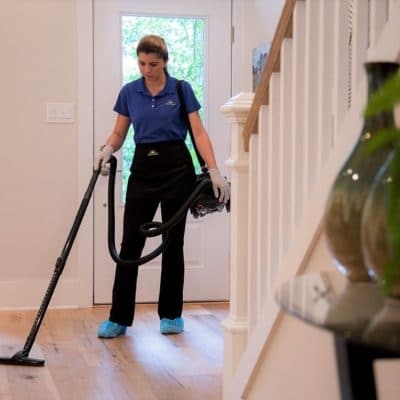 How to clean your Floors and Keep them Clean!
With autumn officially started, keeping the house and especially the floors clean can become challenging with the falling leaves, rainy days and household members in and out for the day. Floors carry the footprint of everyone, including pets throughout the day. Here are some cleaning tips to help keep any floor in the house clean:
1. Vacuum floors once a week from top to bottom to ensure that dust does not build up. Also, you can catch any crumbs from dinner or snacks that anybody gets on the rugs. Be sure to use the correct attachment for the types of flooring you are working with. For example, don't us a roller brush attachment for hardwood floors as they may scratch easily. Instead, use a canister vacuum with a floor brush attachment.
2. For hardwood floors, it is not a good idea to mop them so often because of water damage that may occur. If you need to mop, use a spray mop so that you have full control of how much solution and water is going on the floor. Also, use a mop with a microfiber attachment so that it is gentle on hardwood. Bathrooms and other rooms with tile flooring can be mopped with a steam mop to really clean crevices and grout.
3. An alternative to vacuuming can be a dry duster or a broom and pan for small messes. This way, you don't have to break a sweat each time someone makes a mess.
4. Another way to keep floors clean is to enforce a no-shoe policy indoors. This is important for many reasons. Shoes can carry E.coli and debris from the outside environment onto your floors, rugs and areas of your home making your home unsafe. Find comfy slippers and keep them accessible for you and your guests.
5. Put doormats in entryways and mudrooms so that household members can wipe their shoes off before entering the house.
6. Finally, utilize a carpet shampooer for keeping rugs and carpet clean from dust, debris and pets.
Don't stress over every little mess and scratch, but follow these simple tips to keep up with the cleaning!

Schedule Your Free In-Home Estimate