March 06, 2019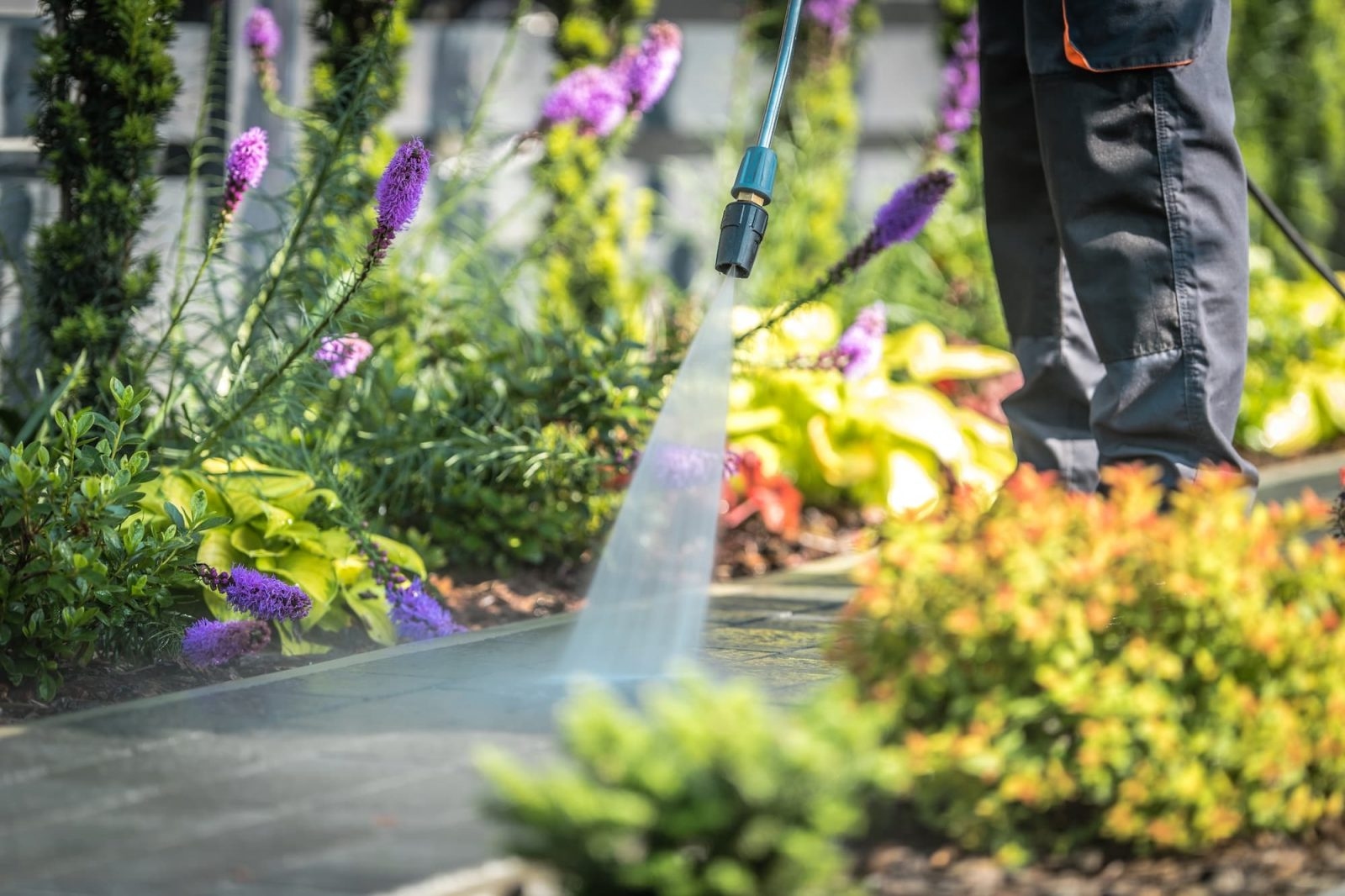 Top 6 Areas of Your Home That Will Shine After Power Washing
Consistent, professional power washing of your home's entire exterior protects its curb appeal and
enhances your property's appearance
overall. Pressure washing also helps protect outside surfaces of your property from damage caused by gritty, abrasive debris as well as automotive fluids and lawn care chemicals.
If you're a homeowner who has put off having your home's outside surfaces power washed professionally, you might note the top six areas of your house that will shine after a thorough pressure washing. You might also note how regular power washing protects your house and property from damage and keeps exterior surfaces in good repair.
1. The Roof
Layers of soot, dirt, silt, water stains, acid rain residues, dried-on dust, and other such debris makes any roof look old, worn, and downright dull. Power washing removes years of dirt and grime, restoring the color of asphalt shingles or clay tiles and improving the appearance of a home immediately.
Dirt and debris also dry out roof tiles and shingles, leading to early breakage, splitting, or crumbling. Algae, moss, and storm residues can also work their way under tiles, loosening them so they're more likely to blow away in a storm. A thorough power washing removes that debris, protecting your roof from potential damage.
2. The Windows
Dirt, silt, sand, dried dust, cobwebs, and other grime detract from the appearance of outside windows, making them look old, dingy, and yellowed. Layers of dirt and dust also reduce the amount of sunlight entering your home, making the interior of your house seem just as drab and dull as its exterior!
Soft wash cleaning removes thick dirt from window exteriors without etching the glass. Your home's windows, exterior sills, screens, and frames will look clean and pristine, and your view from inside the home will be improved instantly as well.
3. Exterior Walls
Before you decide that your home needs new siding or a fresh coat of paint, consider that it might simply need a thorough power washing to look like new! Dirt, dust, mud, and pollution residue make exterior brick and siding seem dull and drab, while a thorough pressure washing restores the color of your home's exterior brick and mortar or aluminum siding instantly.
Power washing a home's exterior walls also reveals areas of needed repairs, including cracks in the outside brick and dents and dings in aluminum siding. Pressure washing also removes damaging insect nests, corrosive grit and silt, and damp mud, protecting those exterior walls from damage.
4. A Wood Deck
If your home's wood deck seems to have lost its luster, it might simply need a thorough pressure washing. Dried-on dirt, dust, mud, and other residues make wood slats look dull, gray, and worn, whereas a thorough pressure washing restores the color of that wood and allows it to shine once again.
The cleaning pros at
ProClean Power Washing Sarasota
, the area's leading provider of residential power washing services and experts at cleaning ground-in dirt, sand, silt, and other residues from exterior surfaces, note that deck washing also protects wood from mold and mildew. This added protection is especially vital in tropical areas or locations with lots of rain, snow, and humidity.
5. Driveways, Walkways & Patio Pavers
The pits and pores of concrete, exterior stone surfaces, and patio pavers are notorious for holding ground-in dirt, dust, mud, sand, and other debris, making those materials look drab, dull, and dirty. It's also quite easy for mud, dirt, and other grime to get ground into the porous surface of asphalt, creating a dingy and drab surface.
Regular power washing not only removes dirt and mud and restores the color and appearance of these materials, but high-quality surfactants and detergents also clean away corrosive motor oil and other automotive fluids, snow-clearing salt, and lawn care chemicals.
Your property's driveway
, walkways, and patio will then look clean and new while being protected from early damage.
6. The Gutters
Most homeowners overlook the appearance of their home's gutters, but unsightly streaks of mud and dirt under exterior gutters can make an entire house seem dirty and unkempt. Dirt and grime under the gutters can also indicate that they're dirty and clogged, leading to rainwater washing over their sides and along the home's exterior walls.
A thorough power washing of the interior and exterior of gutters removes built-up dirt, mud, silt, storm debris, and other residues. Rainwater is then directed to downspouts and away from the home, and the exterior walls of the house are protected from damage as well as unsightly water stains.