October 04, 2019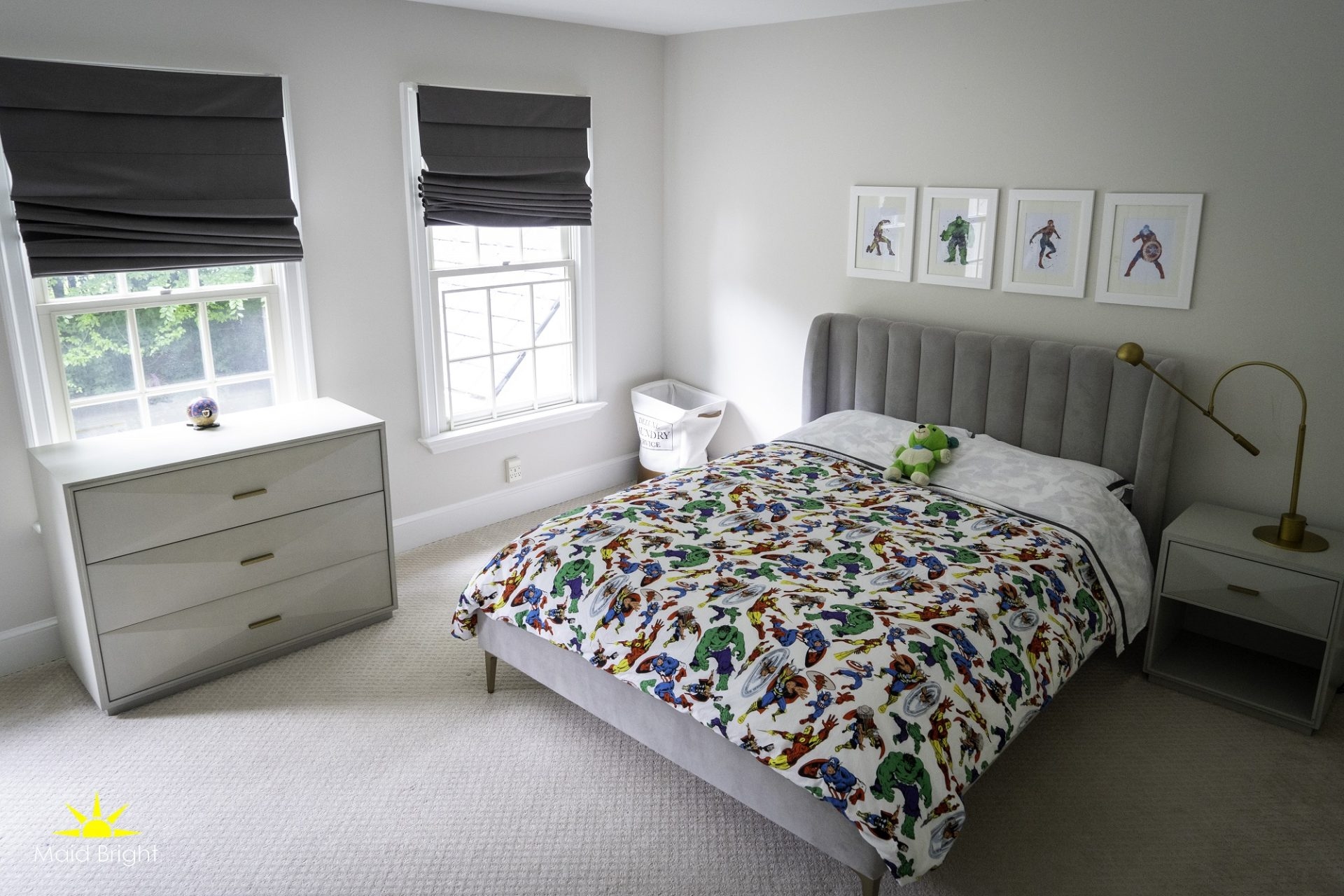 Fall Cleaning Guide: Bedroom and Bathroom Edition
Continuing with our fall cleaning guide, our focus will now be on the rest and relaxation rooms of the house: the bedrooms and bathrooms. With these areas clean and ready for the seasons ahead, you can relax knowing the rest will be a breeze.
Beds:
The first step will be to strip all of the bedding and wash mattress covers, pillows, duvets, duvet covers, and sheets. The process of washing the linens should be done every week. Designate a day to wash the pillow covers and sheets. Once a month, wash the duvet cover.
Pro tip: Vacuum your mattress at season change to get rid of dust mites.
Closets:
Season changes are a good time to sort through and organize your closet. Wash, dry clean and store away summer clothing. It is a good idea to cover these clothes with plastic covers or put them away in covered bins. Also, donate or purge any items that are damaged, or you no longer use.
Ceiling Fans and Light Fixtures:
If your bedroom has a ceiling fan, chandelier or lamps make sure to dust these items and wipe them down. The dust that accumulates on these items can be potential allergens in your home.
Surfaces:
Clear the surfaces of nightstands and dressers so they look polished and clean. Also, use this time to wipe down these surfaces of any dust. Add some fall scents or flowers for a fall fresh look.
Pro tip: Vacuum all of the flooring and area rugs in your bedroom. If you want to deodorize the rugs, sprinkle a little baking soda and let it sit. Vacuum two times to freshen your carpets.
Bathrooms:
Go through the drawers in your bathrooms and purge or recycle any items that are no longer being used. Get rid of anything that is expired such as shampoos, body washes, toothpaste, etc.
Wash the bath mats in a hot cycle to get rid of any germs or dust that may have accumulated on them.
Dust all of the surfaces.
Wash inside of the sinks and disinfect the toilets and shower/tub.
Pro tip: Use a different cloth for the sink and toilet cleaning. It is essential not to cross-contaminate the different areas.
Use an ammonia-free glass cleaner to wipe down mirrors or shower doors.
Stock up on necessary bathroom items such as toilet paper, hand soap, shampoo, body wash, and fresh scents.
Wipe down switch plates, door handles, faucets and walls.
Lastly, vacuum and mop the bathroom after all of the dusting has been finished.
Add a fresh fall scent to your bathroom.
Maintain a weekly bathroom cleaning schedule.