November 25, 2017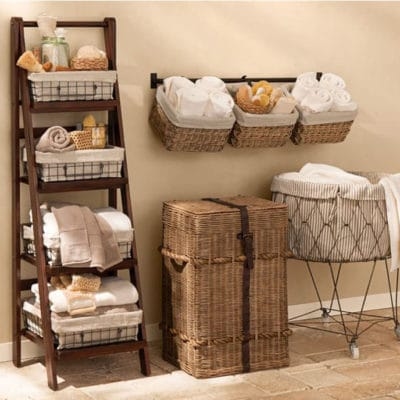 Declutter and Organize your Bathroom
Bathrooms are an often-visited space in the home and the need for organization is crucial. Small spaces can lend themselves to more restriction of space and chaos due to overcrowding of personal belongings, so organizing and decluttering will allow your bathroom to be a functional space. You can have a serene and peaceful bathroom space by using the right products to control clutter.
Clean out all of your junk and purge items you no longer use like old nail polish, eye shadow, old lotions, shampoos, etc., This will make you feel lighter and you will know what to organize.
Clear the counter-tops and declutter the area around your sink. The counter-top should just have essentials like your toothbrush, toothpaste, hand soap and lotion.
Store items like q-tips, cotton balls, soaps and bath salts in glass containers. These not only look nicer, but this way you can get rid of the plastic containers they come in. Make a bath corner and display these items there on a bath cart.
Utilize baskets for items such as toilet paper, towels and washcloths.
Clean out your medicine cabinet. Instead of storing medicine there, make a separate First Aid/Sick bin for medicines and store them under the bathroom sink. This way, you can make use of the medicine cabinet for nail polish, deodorant, essential oils, hair ties, combs, etc.
To organize hair tools, put them on a hook inside of the bathroom sink door. This way, they will be out of sight and the cords will be less tangled.
Use drawer organizers or separators for cosmetic items. Organize by type of items, ie,lipstick, eye make-up, foundation, blush, brushes, etc.
Utilize a bathroom caddy or ladder with shelves over the toilet to store more items and give the bathroom a casual look.