July 08, 2019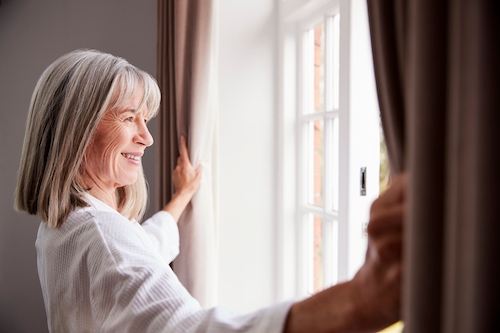 Your Guide To Cleaning Your Window Coverings
Windows 101: Window Coverings And How To Clean Them
Window treatments are the decorative final touch to complete your rooms and create a warm room but are also a way to protect your furniture and flooring from being damaged by sunlight.
With so many options available to choose from, the possibilities are endless. However, window treatments are often overlooked when it comes to cleaning. Dust and dirt can build up on window treatments and can become an allergen in your home.
Are you worried that might happen to your home? Don't be! Here at Maid Bright, we know how to take care of every type of window covering.
Keep Fabric Drapes and Curtains Dust-Free
Some drapes and curtains can be machine washed, but always consult the label and manufacturer's recommendation. Other drapes and curtains can only be dry cleaned.
To remove dust from curtains, use the upholstery attachment and low suction. If it's a delicate fabric, avoid using any brush attachment or high suction.
If the curtain or drape has a spot, use a mild detergent and blot the spot. Never scrub or rub the curtain to avoid wrinkling or damaging the fabric. Fabric blinds can be dry cleaned professionally for a deep cleaning.
Cleaning Wooden Blinds
Wood blinds can be dusted with a feather duster. It is important to be cautious when cleaning wood blinds. Wood blinds that get wet can discolor the wood or cause the wood to warp.
A special cleaner for wood can be sprayed on a clean cloth to wipe each slat gently. Wood blinds are durable, but special care is needed to preserve the wood.
Homemade Cleaners
You don't
have to use chemical cleaners to take care of your blinds
. Keep your home chemical
and dust
free with a few
simple ingredients
.
½ cup of water
½ cup of distilled vinegar
⅛ teaspoon of essential oils (about 10 drops)
1 teaspoon of dish soap
Mix the solution and place in a spray bottle. Then, it's ready to use! You can spray it onto your blinds and wipe them gently with a rag.
How To Clean Vinyl and Plastic Blinds
Vinyl and plastic blinds are most likely the most cost-effective window treatment and the one that is easiest to clean. They can not only be feather dusted, but also washed.
To adequately clean these types of window treatments, do the following: open the blinds and let them down all the way to expose all of the slats. Make sure all of the blinds are in the horizontal position and vacuum any loose dust.
Fill a bucket with warm water and a about an ounce of dish soap and wipe each slat from one edge to the other. If you decide to wash them in the tub, make sure the blinds are completely dry before putting them back up.
The Bottom Line: Keep Your Blinds Clean
As always, consult the manufacturer's instructions for any window covering. If needed, use a professional to clean the window treatments at least twice a year. Because window coverings are not part of a routine house cleaning, they are often overlooked.
Give us a call
for any recommendations on getting your window treatments professionally cleaned.
Up Next...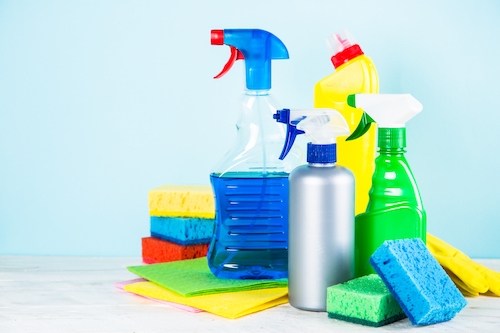 July 01, 2019
July Products We Love