October 18, 2022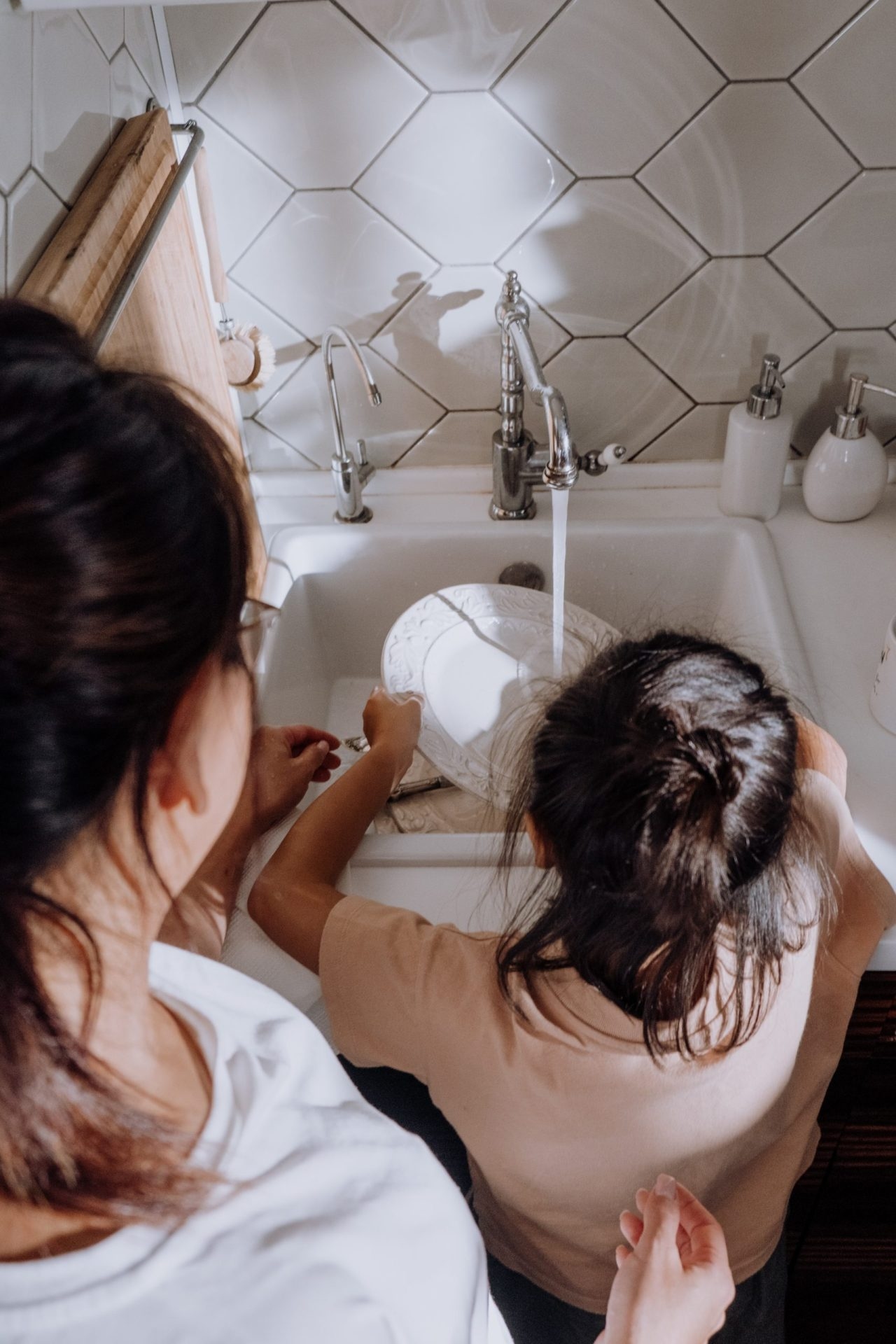 10 Cleaning Tips for Busy Parents
Maintaining a clean home in today's busy world is challenging. The average person spends
over two hours a day cleaning
, even after working or watching the kids all day. Keeping your home clean can be even more challenging with children. You may clean a room only to turn around and find your kids have made a mess behind you.
These ten cleaning tips for moms and dads will help you make cleaning up
part of your daily routine
, leaving your home looking and feeling clean in no time.
1. Start With Your Least Favorite Chore
Typical advice for starting a day is to get your least favorite task out of the way. When you do your least favorite chore first, you will:
Feel accomplished.
Take note of your progress.
Be more motivated to do the other chores.
Plus, your least favorite chore will be the one that feels like it takes the most time. Once you finish, you will feel like you complete your other chores quickly and have a more enjoyable time doing them.
2. Schedule Cleaning Times
Set specific times aside for certain chores. For example, you can have your kids clean up and organize their toys every evening after dinner. Staying consistent will help keep your children's rooms organized and clean. Having a set routine will increase your productivity because you and your family will know what to do and when to do it.
3. Clean While You Cook
Cleaning while you cook is one way to make cleaning your kitchen easier and less daunting. Kitchens can quickly become the messiest area in your house. Dishes pile up as you cook, crumbs find their way onto your floor, and countertops become sticky with residue. Try these tips for cleaning as you go:
Load up your dishwasher or soak mixing bowls and prep dishes, wipe down countertops, and sweep up any crumbs while the rest of your food cooks.
After you eat your meals, have your family place the dishes directly into the dishwasher or a sink full of soapy water so you can wash them immediately.
After you put away the clean dishes, clean the sink using the spray head and a sponge with soap or a disinfectant wipe.
4. Clean All the Floors at Once
When you're busy, you may feel like you don't have the time to clean all your floors, especially if your house has a lot of rooms. Separating your floors into groups based on similar cleaning methods will save you time — you'll already have the right tools and won't have to keep going back and forth. Start by dry mopping hard flooring and vacuuming any rooms with carpet. You can also use a wet mop if you have the time.
If you have too many floors for daily cleaning, focus on high-traffic areas like the living room and kitchen and clean the other floors when you have more time.
5. Put Your Kids to Work
Kids can enjoy cleaning when they see it as a fun activity. They will enjoy helping out mom or dad, and you can make it fun by playing music and singing or turning it into a game. You can even offer prizes like the first choice during movie night for the one who cleans their area the best.
Keep in mind that chores for kids need to be simple and easy, such as sweeping or dusting. Ensure the chemicals they use are child-friendly and that the task is age appropriate.
6. Utilize Extra Storage
Placing storage bins in messy rooms can help keep the room looking clean until you can clean it. For example:
Put storage bins in the living room to collect your children's toys, so you can sort them and take them back to their rooms later.
Add tall laundry hampers in the laundry room to store clothes until you can wash them.
7. Wipe Down the Bathroom Daily
Wiping down the toilet seat, sink and shower with a disinfectant wipe will kill germs and make your bathroom smell fresh and look shiny. Taking out the trash and collecting any laundry is also a good idea. These tasks don't take very long and will keep your bathroom clean.
8. Pick Up As You Leave a Room
When you go from one room to another and see something that belongs in the room you are going to, take it with you. Doing this consistently lets you keep your house better organized in just a couple of extra seconds. You'll also save time because you won't have to return to the room later for the item.
9. Make Your Bed Daily
Making your bed doesn't have to take too long and will make any bedroom look cleaner. Plus, there is something rejuvenating about sleeping in a made bed — somehow, the sheets will seem to be softer and fresher. Try these tips to freshen your bed quickly:
Speed up the process of making your bed by eliminating the flat sheet.
Use a lint roller to remove pet hair quickly if you have pets.
Spray your bedding with fabric refresher to make it smell freshly washed.
Depending on how old your children are, you can have them make their bed every morning too.
10. Do a Load of Laundry
If your household doesn't have that much laundry, you can do the laundry a few times a week. However, if the laundry seems to be never-ending, you should try to do a load daily.
Whether you wash and dry the laundry before work or when you get home, you'll need to make time to fold it that day. Even if you don't get around to putting it away, folded laundry will look tidier and take up less space.
Hire Maid Bright for Your Cleaning Needs
Even with the tips above, it's possible to be too busy to keep up with housework. If that's the case, Maid Bright is here to help. We're a family-owned and operated cleaning service that serves the DC Metro Area, northern Virginia, and Maryland. Our house cleaners are professional, prompt, and detail-oriented.