January 23, 2023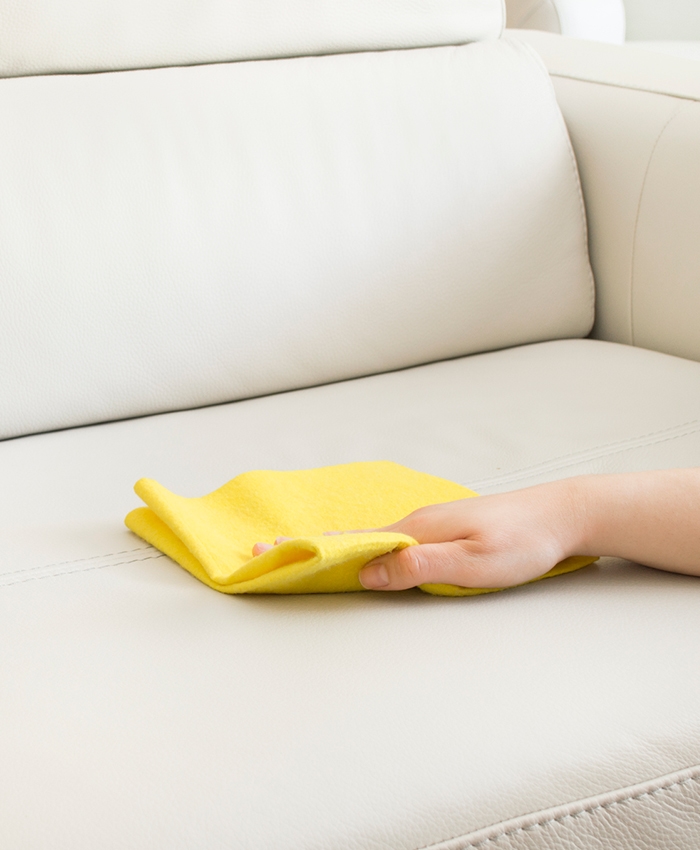 How to Clean Leather Furniture
Leather is a plush and luxurious material for furniture. It often costs more than fabric upholstery, so you want to ensure you take care of it. Thankfully, caring for leather furniture is simple — all you have to do is clean and condition it.
Cleaning your leather furniture keeps it fresh so that it will remain in excellent condition for longer. You should strive to
clean your leather furniture regularly
to maintain it. Once in a while, you'll also need to deep clean your leather furniture.
The Benefits of Leather Furniture
With so many fabrics available, many wonder why people choose the expense of leather furniture over others. Some find its grandeur and warmth appealing, while others think it looks better after wear and tear than the other materials.
Here are some of the benefits of leather furniture:
It ages well: Leather is a natural product, so its texture and color change over time. Many find the patina of high-quality leather attractive. It also tends to become more comfortable with age and the scratches and scuffs from everyday use enhance its unique appearance.
It lasts longer: A leather sofa, recliner, or other leather furniture piece will last longer than most upholstery fabric. Usually, homeowners only buy leather furniture once in their life. It has a natural durability that can withstand children and pets. However, you can also invest in protected leather for enhanced durability.
It's hypoallergenic and climate-controlled: Leather helps reduce indoor air pollutants by not collecting as much pet hair, dust, pollen, or other allergens. Additionally, its breathability allows it to retain the room's temperature, helping it stay cool in the summer and warm in the winter.
Maintaining Different Types of Leather Furniture
Cleaning protected and unprotected leather requires different methods. Before deep cleaning your furniture, you'll need to know what type of leather you have. The various leather furniture types are:
Unprotected: Other names for this leather are pure aniline, unfinished leather, or full aniline. The lack of a protective coating gives this leather an opulent look and supple feel but leaves it more susceptible to stains and dirt. Manufacturers highlight the leather's natural beauty by dying it with aniline, which has no surface pigment.
Protected: Pigmented leather is the most common type of leather for furniture. Manufacturers dye it with a polymer coating that they can emboss, embellish, or print on. It usually features a protective layer that makes it more resistant to scratching, fading, and scuffing. You can also find semi-aniline leather furniture, which combines the best features of pigmented and aniline leather. Furniture makers dye it with aniline, then add a pigmented protective coating. Some manufacturers use a thicker polymer and pigmented layer for increased protection.
How to Deep Clean Unprotected Leather Furniture
Leather cleaning products can damage aniline leather. The best way to deep clean aniline leather is by following these steps:
Dust: Like your routine cleaning, start by dusting aniline leather with a clean, dry microfiber cloth.
Vacuum: Use a vacuum with a brush attachment to remove all the remaining dust and debris you can.
Clean: Slightly dampen a microfiber cloth with distilled water and wipe the leather down. Ensure you only use distilled water — tap water contains minerals that can bond with the leather's surface and create streaks.
Distilled water is typically enough to clean unprotected leather and help it retain its shine. If you want to use a cleaning product on aniline, check with the manufacturer to ensure it's safe.
How to Deep Clean Protected Leather Furniture
Lay down drop cloths or towels: Place your drop cloths and towels around the furniture to catch any drips from the cleaner.
Vacuum: Use your vacuum's brush attachment to remove dirt and dust.
Wet your cloth: Dip your microfiber cloth in your vinegar cleaning solution and wring it out. You want it to be damp, not wet.
Clean the leather: Wipe the cloth over the leather using circular motions.
Dry the leather: Once you've cleaned the leather, wipe it dry with a microfiber cloth.
How to Remove Stains From Leather Furniture
Sometimes, deep cleaning isn't enough to get stains out of leather. Treating a stain immediately is vital to keep it from setting and becoming permanent. Here are methods for removing various stains:
Water: You can remove water stains by moistening the area again, then blowing it dry or letting it air dry.
Oil: You can remove oil stains by using baking soda to absorb the grease. Sprinkle it over the stain, rub it in, and let it sit for several hours. Remove the powder with a soft cloth. Repeat until the stain is completely gone.
Mold and mildew: Similar to ink stains, you can use rubbing alcohol to remove mold and mildew. Using a mixture that's one part rubbing alcohol and one part water, dampen a cloth and wipe the affected area. Wipe the area again with a clean, damp cloth.
Schedule Your House Cleaning With Maid Bright
Maid Bright is a family-owned and -operated business serving the Maryland, Virginia, and Washington, D.C. area since 2004. We're a leading cleaning service that aims to deliver a positive experience to our clients. Residents trust us to provide our cleaning expertise for every job.