November 11, 2021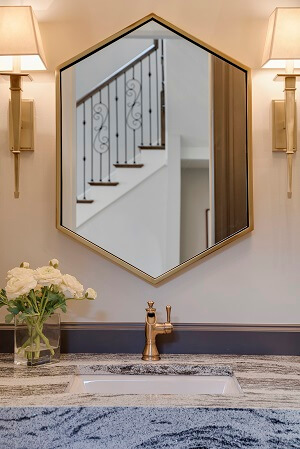 How to Clean Brass Fixtures
When it comes to the fixtures in your home, few materials can rival the durability and timeless beauty of brass. Whether in the form of cabinet handles, sink faucets, or light fixtures, to get the most out of your brass fixtures, you'll need to regularly clean them to prevent tarnishing, reduced luster, and oxidation.
Wondering what to use to clean brass? Caring for your brass fixtures is a relatively simple process but incredibly important to preserve their appearance and eliminate tarnish buildup.
While in some cases a tarnished brass look might be preferred, this article will focus on maintaining the original finish of your brass fixtures. Most necessary cleaning supplies are readily available household items, and the cleaning and polishing process takes less than two hours to complete.
Keep reading to learn all you need to know to remove tarnish buildup and keep your brass fixtures looking brand new.
What Should You Use to Clean Brass?
If you need to make your brass shine, one of the most important steps in maintaining your brass fixtures is regularly dusting, as this helps keep your brass' luster and prevents tarnish from building up on your fixtures.
It will always be more difficult to try to restore your fixture's finish when there is significant tarnish buildup than preventing tarnish buildup in the first place, so dusting once a week with a microfiber cloth is a great strategy to prevent buildup and won't harm antique brass.
There are many different
varieties of brass
, so it's always a good idea to check your fixtures to ensure your cleaning method won't harm their appearance.
Though not incredibly common, antique brass and some modern brass fixtures are unfinished or unlacquered, which leads to a patina developing over time. Because unfinished brass has no protective coating, any cleaning beyond the dusting method is not recommended, as cleaning with polishes and abrasives could remove the tarnish along with a portion of the original surface.
Thankfully, most modern brass fixtures are finished, so there is no need to worry about stripping away your fixture's surface, though discretion should be used when choosing polish to ensure the fixture finish will not be damaged. Generally, it is best to avoid strong, commercially produced brass and metal polishing products, as many contain harsh chemicals that are harmful to humans and can strip the finish from brass fixtures.
For this reason, many people opt to clean their brass fixtures with household staples to prevent damage to their fixtures' finishes.
The Best Homemade Brass Cleaners
So how do you polish brass naturally? Though companies make products specifically designed to clean brass, you might find it easier and less risky to use common household items. Easy availability, low price, and great results make these solutions perfect for cleaning brass fixtures without harmful chemicals:
Ketchup: This staple condiment doubles as a great household cleaner for copper and brass surfaces, thanks to the acid contributed by vinegar in the production process. Simply apply ketchup to your brass fixtures and let sit for an hour before using a damp cloth or toothbrush to remove any buildup, then wiping off any remaining ketchup and immediately drying the brass.
Lemons and salt: This method uses the potent chemical reaction that takes place when salt is paired with an acid (in this case, the lemon). Halve a lemon and remove the flesh, sprinkling salt on the inside of the rind. Clean your fixture with the salted side of the lemon rind and reapply salt as needed. When finished, polish the brass with a soft cloth.
Vinegar: For this method, you'll mix two tablespoons of vinegar with one tablespoon of salt, and add this mixture to one pint of water. You'll then want to heat the water until warm, and apply with a cloth, being sure to rinse and dry the brass fixtures immediately after cleaning. This method works great to remove green oxidation from brass.
Soap and water: A tried and true classic, soap and water is a remarkably simple and highly effective method for keeping your brass fixtures clean and polished. Any mild dish soap will fit the job, simply pair with warm water and clean with a non-abrasive cloth. Remove all soap from the fixture when finished and dry immediately with a soft cloth.
How Often Should You Clean Brass?
While regularly cleaning brass is vital for preserving your brass fixtures, be careful not to overdo it. Dusting or buffing with a microfiber cloth is great on an as-needed basis and is an easy addition to your weekly cleaning routine.
For serious cleaning and polishing, it ultimately comes down to personal preference, as it's perfectly fine to clean your brass fixtures as little as twice a year, or as often as once a month.
Brass is an incredibly durable material, so as long as you take the time to learn whether your brass is unfinished or finished — and what type of finish it has — and how to clean it appropriately, you won't run the risk of damaging your fixtures' appearance.
However, when cleaning, always be sure to avoid abrasive materials. Brass is a relatively soft metal — falling at a
three on the Mohs hardness scale
— so some cleaning supplies, such as steel wool, can scratch your fixtures. We highly recommend avoiding abrasives altogether, as the process of removing scratches can be much more tedious than removing tarnish. In almost all applications, a microfiber cloth or any knit-cotton material will suffice.
A great finishing touch to protect your freshly polished fixture is using linseed oil, mineral oil, or
olive oil to preserve your fixture's surface
and prevent tarnish buildup. Using a terry towel or other soft cloth to apply a thin coat of either oil to your brass fixtures and buff.
Get Your Home Cleaning Estimate
In need of expert house cleaners to keep your space looking flawless? Maid Bright is a family-owned and operated local business that's been cleaning local private residences in the Washington, D.C., metro community since 2004. We have a proven track record for providing first-rate service and superior cleaning results and have received recognition through numerous awards, including the Angie's List's Super Service Award for 10 consecutive years.
Central to our mission is customer-friendly cleaning services and an emphasis on positive home-cleaning experiences for each and every visit. We provide a complimentary, obligation-free in-home consultation so you can
learn more about how Maid Bright can help you
before committing to a service.
We offer a variety of house cleaning services, including one-time, weekly, and bi-weekly services, as well as
spring and fall cleanings
for homes and
apartments
. You can count on Maid Bright for thorough cleaning services that let you get back to life, not cleaning.
We respond to inquiries rapidly so you can
get the cleaning services you need
as soon as possible.
Book your cleaning today