January 09, 2015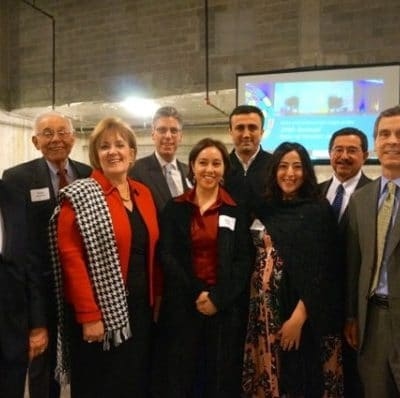 Best of Reston Announces 2015 Award Winners
The
Greater Reston Chamber of Commerce
and
Cornerstones
announced the 2015 Best of Reston honorees — as well as new co-chairs of this year's event – at Comstock's Reston Station Thursday night. The honorees represent individuals and businesses who have given back to the community. They will be honored at a gala benefiting Cornerstones on April 30.
The last two Best of Reston galas raised a combined $1,178,000. That money enabled Cornerstones to double its stock of affordable housing in our community, said Jill Norcross, Chairman of Cornerstones' Board of Directors.
"As a leading developer in Reston, Comstock takes its responsibility of building a strong community very seriously," said Maggie Parker, Comstock's Director of Communications and Public Outreach. "A community is more than its stations, roads and buildings; it is made up of the people who come from all walks of life. It's an honor to be asked to
raise money for this incredible community resource."
Parker also announced that the Best of Reston has already raised $325,000 — 65 percent of this year's goal — from Reston businesses and individuals.
The 2015 honorees:
Larry Butler — Individual Community Leader
Butler,
Reston Association'
s Senior Director of Parks and Recreation, has used his passion for the outdoors in volunteer work that includes the Reston Triathlon, the Reston Sprint Triathlon and the Reston Kids Triathlon. The latter event offers scholarships to 50 kids in need to get involved in the sport.
"His can-do attitude, insight and advice, and leadership in making connections across the community create the added value in every event or activity in which Larry is involved," the Best of Reston committee said.
Fran Steinbauer — Individual Community Leader
Steinbauer is an original Restonian, serving as founder Bob Simon's civil engineer in the planning of the community more than 50 years ago. He has served on the board of Reston Association, Cornerstones, Greater Reston Chamber of Commerce and the former Reston Homeowners Association.
"His home is Reston and he has put his heart into it," Best of Reston organizers said.
Leidos — Corporate Business Leader
New science and tech corporation
Leidos
opened its headquarters at Reston Town Center less than two years ago, but has quickly become immersed in the community, working with the American Cancer Society's Relay for Life; the American Heart Association's Run Your Heart Out, Reston; Habitat for Humanity; Greater Reston Arts Center and Initiative for Public Art Reston, among others.
Maximus — Corporate Business Leader
Maximus'
corporate headquarters is in Reston, where it supports Herndon-Reston FISH's work to help those in need, FACETS, The Women's Center and the Washington Redskins Foundation, among others.
Maid Bright — Small Business Leader
Maid Bright
, a family-run house cleaning business, supported the community by providing dinners to the county hypothermia shelter; cleaning homes free of charge for cancer patients and families moving to transitional housing; participating in Cornerstones' Help the Homeless Walk; and donating $20,000 for Syrian refugees.
His Hidden Treasures — Civic/Community Organization Leader
Lois and Troy Hughes founded this on profit ministry that helps people work their way out of homelessness and grow self-esteem in newly furnished homes.
His Hidden Treasures
helps transform transitional housing into personalized homes, with restored and donated furniture, as well as brand-new beds for clients.
Casey Veatch — Vade Bolton-Anne Rodriguez Legacy Award
This native Restonian is a business leader with Veatch Commercial Real Estate who also gives back in a variety of capacities, helping Cornerstones, Leadership Fairfax, his church, and youth sports teams.
"Most importantly, Casey inspires and models to others how finding your passions and connecting them to your capabilities can move mountains," the Best of Reston organizers said.
Photo: 2015 Best of Reston honorees