July 27, 2016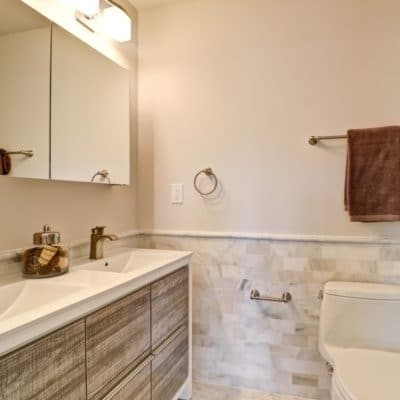 Dirt, hair, dust, mildew, soap scum, cobwebs…everyone's most dreaded cleaning task: THE BATHROOM. This high traffic room in our homes gets used so often, but is the last place anybody wants to clean or even think about. Due to shampoos and body washes they are also more prone to accumulate residue from these items. It is important, however, for hygiene and functionality that bathrooms are up kept daily and weekly. The following are some
tips on getting in and out of your bathrooms effortlessly
.
Start by clearing the counters and floors of any items such as lotions, toothbrushes, toiletries and bath mats.
Vacuum the floors and wipe down baseboards, if any.
Next, spray your toilet, sink, bathtub or shower with a disinfectant cleaner. There are many commercial cleaners out on the market, but homemade cleaners work just as well and are safer for you and your family. They are also more environmentally friendly. Also, using microfiber towels instead of paper is better because of cost saving and less waste. After the job is finished you can throw the towels into the wash and reuse.
Scrub the toilet with a toilet brush or disposable toilet cleaner, that way you won't have to worry about germs that accumulate on toilet brushes and any kids that might come into contact with the toilet brush.
Wipe down the sink, shower or bathtub and toilet being careful to use different towels.
If there is any residue/soap scum in the bathtub or shower this needs to be addressed. Again, there are commercial products, but a baking soda and water paste will work just as well. You can also mix the baking soda with vinegar for tougher stains. Using a squeegee after each shower will also help keep soap scum at bay!
Lastly, spray the bathroom mirror with a glass cleaner and wipe off and take out any trash to eliminate any odors.
It is essential to clean the bathrooms weekly to avoid any bigger chore in the bathroom and make cleaning easier. Also, it is a good idea to change and wash hand towels once a week to get rid of any germs on the towels. Finally, invest in a diffuser with a scent that is preferred by your family; the bathroom will always smell fresh!