January 11, 2021
A Room-By-Room Guide For Cleaning Your House
You're used to seeing pristine homes in TV shows and movies, but real homes are bound to get messy. Daily household chores keep your home clean on the surface, but grime eventually accumulates in the nooks and crannies. When your house is overwhelmed with built-up dirt, bring new life into your home with a regular deep-cleaning schedule.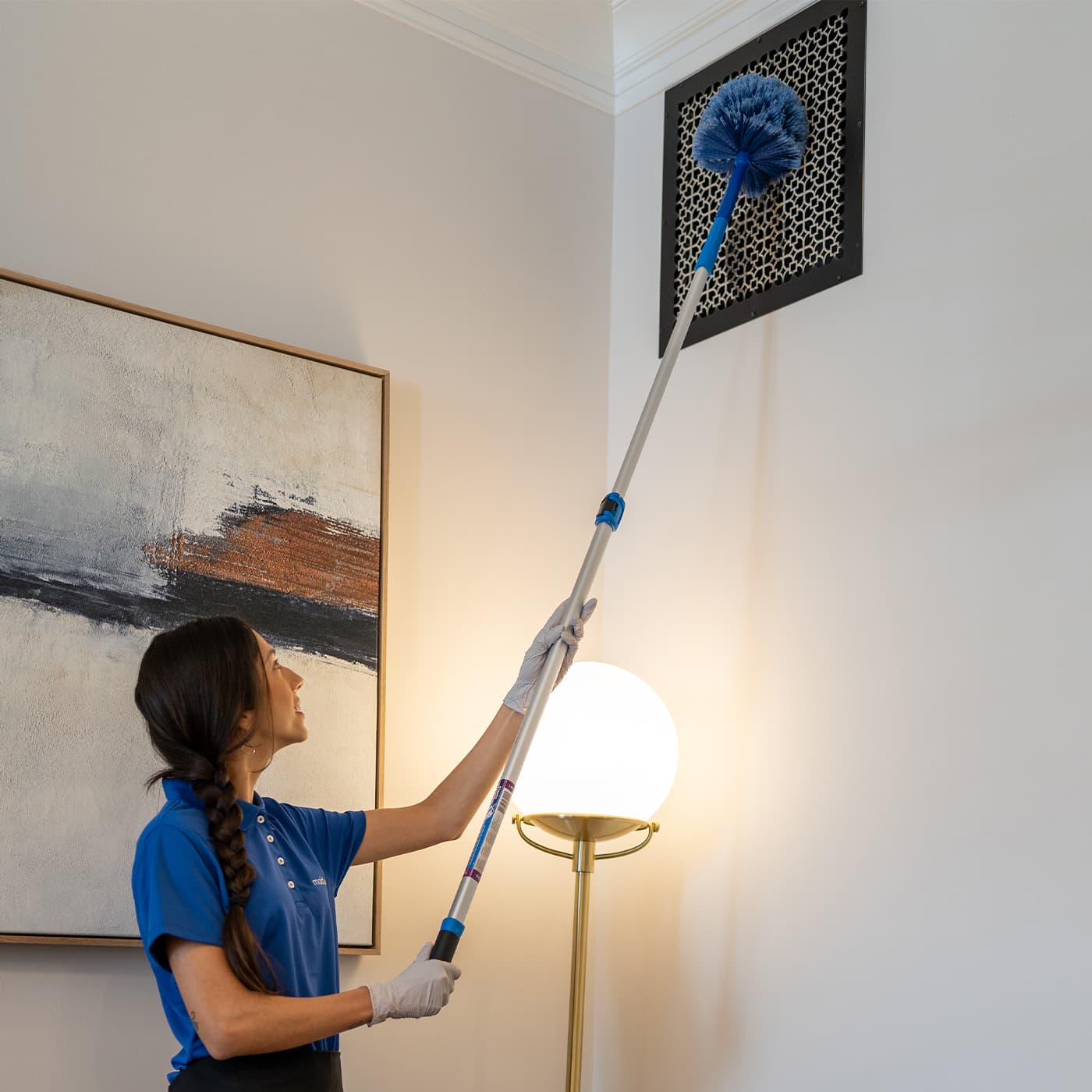 How Often Should You Deep Clean Your Home?
Aside from your daily cleaning regimen — including doing the dishes, cleaning your bedding, sweeping the kitchen floor, and more — you should set aside one weekend every three months to deep clean your home. Some people prefer breaking down deep-cleaning tasks to make them easier. Although it's recommended to deep-clean every room on the same weekend, if breaking down the tasks makes the process more tolerable, then do what's best for you. Stick to a deep-cleaning routine by designing a cleaning schedule. Highlight four weekends throughout the year to dedicate to cleaning. On your cleaning schedule, keep a room-by-room cleaning checklist to ensure you're covering the essentials. Along with your cleaning checklist, keep a house-cleaning product list. Reference the deep-cleaning checklist as you approach your cleaning weekend, and prepare by buying products with scents you enjoy.
House-Cleaning Products Checklist
Vacuum
Vacuum attachments
Mop
Bucket
Broom
Cleaning rags or paper towels
Dishwashing soap
All-purpose cleaner
Sponges
Baking soda
White vinegar
Toilet brush
Grout and tile cleaner
Glass cleaner
Dusters
File organizer
Laundry detergent
The brands you choose won't noticeably affect your cleaning. But, your personal preferences may influence the brands you buy. Some cleaners are environmentally friendly, and some may have scents you prefer. Choose products that get you excited to clean.
What Room Should You Start With When Cleaning?
Go into your deep-cleaning weekend with a game plan. Start by cleaning the room you're least excited about. For a lot of people, this means starting with the bathroom. Work your way room by room until you end with the room you're most excited to clean — which is usually the living room because it's typically the easiest.
Another option when developing a game plan is applying a task-by-task method. Cleaning can be broken down into tasks like:
Sweeping
Mopping
Wiping down counters
Cleaning the windows
Dusting surfaces
Gathering dishes from various rooms
If cleaning a whole room seems daunting, start slowly by cleaning off surfaces from around the entire house and tackling each task individually. There is no "best" method of deep cleaning your house. Build a game plan that keeps you motivated to clean, not one that is daunting and prevents you from starting.
Room-by-Room Cleaning Checklist
Break your cleaning checklist into rooms. Your cleaning checklist won't look the same as your neighbor's because you likely have different layouts, furniture, fixtures, and so on. Go around your house, room by room, and create a cleaning list to keep your cleaning structured. Your house cleaning guide, broken down by rooms, may look like this:
1. Kitchen
Kitchens are one of the busiest rooms in your home. It's where you cook dinners, grab a late-night snack, and potentially where you eat your meals. Because kitchens are the hub for activities and food preparation, they're one of the most important areas to keep clean. To deep clean your kitchen, complete the following tasks:
Empty the old food from your fridge.
Wipe the drawers inside your fridge.
Clean out your pantry.
Clean the outside of your fridge.
Dust the top of your fridge.
Wipe the stovetop and burners.
Wipe the interior and exterior of your microwave.
Clean your oven.
Do the dishes.
Wipe off walls, cabinets, and baseboards.
Launder dishrags and decorative cloths.
Clean countertops.
Sweep or vacuum floors.
Mop floors.
Finish your kitchen cleaning routine by squeezing fresh lemon juice into your sink's drain. Drains capture leftover foods, emitting odors that you don't want in your kitchen. Lemons kill bacteria and neutralize trapped odors, making for a perfect finish before moving to the next room.
2. Bathrooms
The bathroom also sees quite a bit of daily traffic. It's no secret that bathrooms aren't the cleanest rooms. Common bathroom activities, like showering, produce conditions that encourage mold and mildew buildup, which can affect your health. Deep clean your bathroom with the following list:
Empty your bathroom trash.
Organize the products on your counter.
Clean any makeup brushes.
Wipe down the mirror.
Clean the vanity.
Clean your bathtub or shower floor.
Scrub the bathroom grout.
Wipe off the showerhead.
Clean the toilet.
Clean sink and shower hardware.
Wipe down walls and baseboards.
Sweep floors.
Mop floors.
Replace shower curtain liners.
Try using bathroom-specific products when cleaning your bathrooms. Bathroom-specific products have formulas that specifically target mold and mildew growth, making them more effective.
3. Living Room
Living rooms are the family gathering place of the home. It's where you have your family game nights and movie marathons, or where you like to relax with your favorite book. It's hard to enjoy your family or me-time when your living room is cluttered and messy. To deep clean your living room, complete the following:
Dust and polish your furniture.
Launder blankets and pillows.
Vacuum the sofa and living chairs.
Launder the curtains.
Dust curtain rods.
Dust blinds.
Wipe down windows.
Clean window sills.
Clean ceiling fans.
Dust and clean decor.
Dust lampshades.
Dust electronics.
Sanitize remote controls.
Vacuum floors.
Mop floors or shampoo carpet.
When you're done, celebrate your deep-cleaning victory by lighting your favorite candle.
4. Bedrooms
You spend a lot of time in your bedroom. Though most of that time is likely spent sleeping, you want a clutter-free and clean room for restorative sleep. Deep clean your bedroom with these tasks:
Launder your bedding.
Flip your mattress.
Pick up and launder your laundry.
Sort through your clothes.
Dust furniture.
Donate unwanted clothing.
Clean windows.
Launder curtains.
Dust curtain rods.
Dust blinds.
Wipe down floorboards.
Vacuum floors.
Mop floors or shampoo carpet.
Afterward, enjoy a good night's sleep in your fresh-smelling bedding and clean bedroom.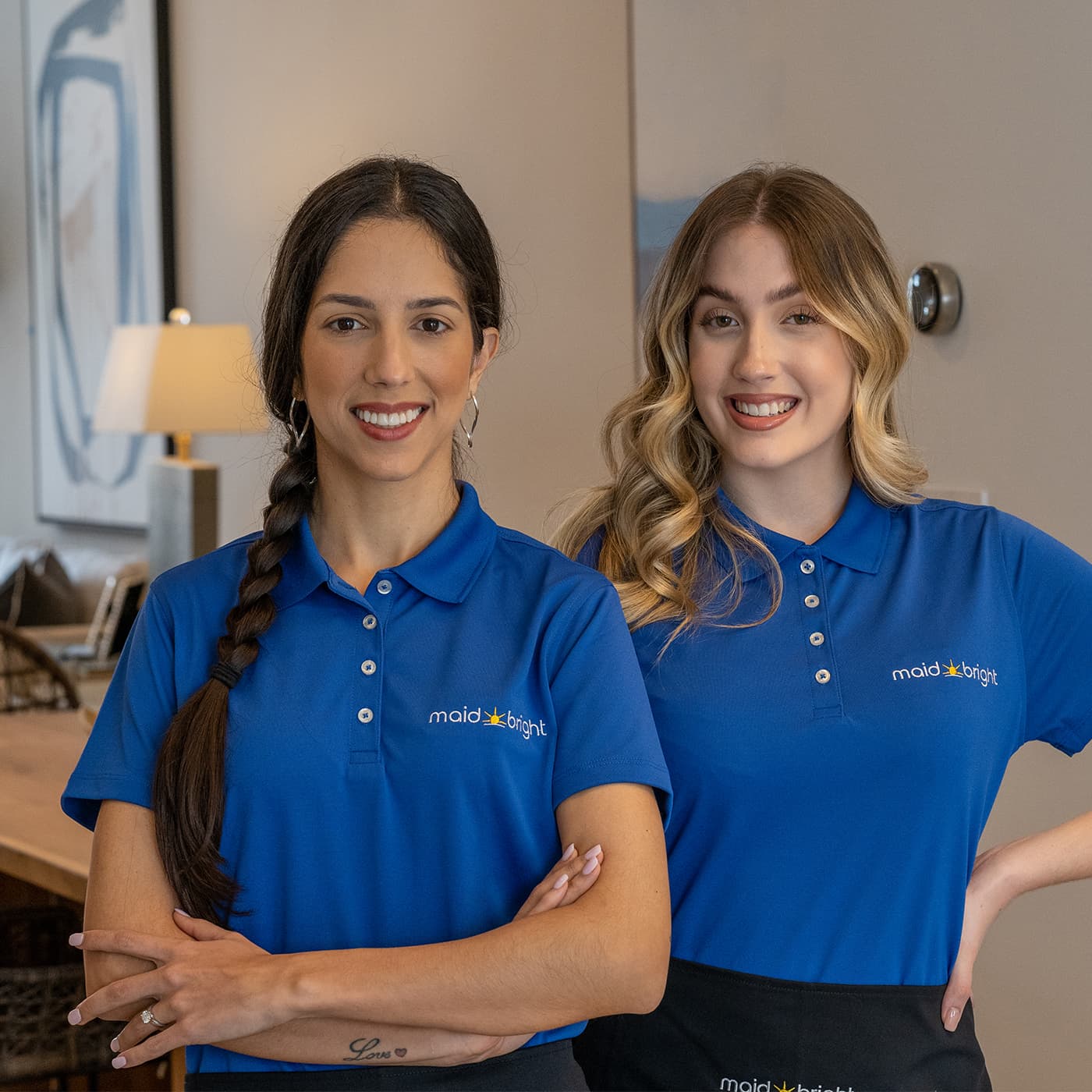 Don't Have the Time to Deep Clean? Let Maid Bright Take Care of It
Some people don't have enough time in their busy schedules to dedicate to deep cleaning, and some people just don't enjoy cleaning. Whatever the case, Maid Bright can help. Maid Bright is an award-winning cleaning service for the Washington, D.C. area. When the time comes to deep clean, schedule a cleaning service with us! We'll send a team of trustworthy cleaners to spruce your house to your satisfaction. Schedule a free in-home estimate by filling out our contact form today. Let us know what you need, and we'll work hard to make it happen.